Are you an artist or crafter looking for new places to sell your work? It can be tough to figure out where to sell handmade items locally, but don't worry—we're here to help.
This blog post will give tips on finding local shops to sell your crafts at, introducing yourself to shop owners, pricing your crafts for selling, and promoting the products you're selling at local stores so you can build a thriving craft business.
By the time you're finished reading, you'll have all the information you need to sell handmade products locally so you can build your craft business.
How To Find Local Craft Consignment Shops
The best way to find craft consignment shops near you is by searching online. A quick Google search for "craft consignment near me" or "handmade craft consignment shops near me" will bring up a list of local stores that might be a good fit for your products.
Once you have a list of potential stores, it's time to research to see if they are a good fit for your products.
Some factors to consider when looking for craft stores to sell your products:
Are the store's customers the right demographic for my product?
Is the store well-lit and organized?
Do they have a variety of price points?
Do they sell similar products?
To determine if a store is a good fit for your products, look at their website or catalog and see if they carry similar items. Also, visit the store to see how the products are displayed.
If the store is a good fit for your crafts, put the shop's name, address, and contact number on a spreadsheet.
Once you have a list of all the potential stores you are interested in, it is time to reach out to the owners.
How To Contact Local Stores About Selling Your Crafts
The best way to contact a store about selling your crafts is to call them or go into the store and speak with the owner or manager.
When you call the store, introduce yourself and explain that you are an artist or crafter interested in consigning your work with them.
If you can visit the store in person, look around and introduce yourself to the owner or manager. Let them know you're interested in consigning your handmade items with their store and ask if you can set up a time for a meeting.
What To Bring To A Meeting
Business cards
Portfolio of your work
Price list
Samples of your work
At the meeting, be prepared to talk about your work, what kind of products you make, how often you create new pieces, and what the price range is for your products.
The store owner or manager will also have questions for you, so be prepared to answer questions about your work, what materials you use, how you create your pieces, and how often you create new products. Be prepared so you can make a consignment relationship with the owner. Remember, they are busy, so keep things short and stick to the point of the meeting.
Pricing Your Crafts For Selling At Craft Consignment Stores
The next step is to price your crafts for sale. When you're pricing your products, there are a few things to keep in mind:
The product's retail price should be 2.5-3 times wholesale.
The wholesale price is the cost of the materials and labor to create the product.
For example, if it costs you $10 in materials and takes 2 hours to make a product, your wholesale price would be $20 ($10 + $10).
To calculate the retail price, multiply the wholesale price by 2.5-3. In this example, the retail price would be $50-60 ($20 x 2.5-3).
The other thing to remember when pricing your handmade products is that most stores will take a percentage of the sale, typically 20-60%.
For example, if you price a product at $100 and the store takes 50%, you would receive $50 when the product is sold.
The store owner or manager will let you know their consignment fee before you agree to sell your products in their store.
Finalize The Consignment Agreement
Before agreeing to sell your handmade products at a consignment shop, take the time to read and understand the consignment agreement. This document will spell out the terms of your relationship with the store, including how long your products will be on display, how much commission the store will take, how much retail space you have for your products, and what happens if your products are sold. It is essential to ensure that you are comfortable with all the terms of the agreement before signing it. Once you have read and understood the agreement, you can then move forward with confidence, knowing that you and the store are clear on the terms of your consignment arrangement.
Promoting Your Products Being Sold In Local Stores
If you're selling handmade crafts at local gift shops, there are a few things you can do to promote your products.
Clearly label your products with your name and contact information. Customers will be more likely to buy from you again if they're satisfied with their purchase.
Give each shop a flyer or business card to display near your products. This will make it easy for customers to find your contact information if they're interested in buying more of your crafts.
Promoting them on social media and in newsletters is a great way to get the word out about your products. When creating posts or articles about your handmade crafts, be sure to include pictures and descriptions that highlight the craftsmanship and uniqueness of your work. Also include the address and contact information for local gift shops that sell your products.
In addition, consider sending out a newsletter that features your products in a local gift shop.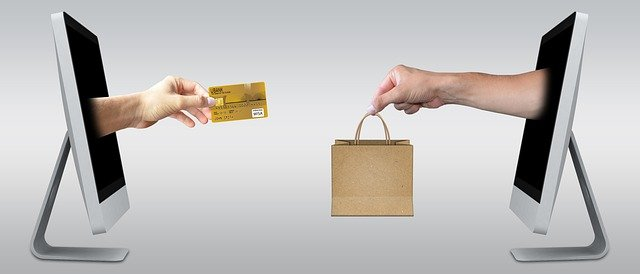 Sell Handmade Items Online
You build a reputation as a reliable and skilled crafter when you sell handmade products locally. People who see your work in person are more likely to trust that your online store is legitimate and that the products are high quality. In addition, selling locally helps to generate word-of-mouth marketing, which can be essential for driving traffic to your online store. If people enjoy your products and tell their friends about them, those friends will be more likely to visit your website and make a purchase.
Selling handmade products locally can also help to build relationships with other small businesses and craftspeople. These connections can lead to opportunities to sell your products through other channels, such as pop-up shops or craft fairs. By selling handmade products locally, you can create a strong foundation for success in selling online.
How To Sell Crafts Online
With the rise of platforms like Etsy and Instagram, selling handmade goods has never been easier. If you're considering selling your wares online, here are a few tips to get you started.
First, decide what kinds of goods you want to sell. Are you a painter? A potter? A sketcher? Knowing what medium you'll work in will help you choose the right platform for selling your goods. For example, Etsy would be a great choice if you're a painter, as it's focused on handmade and vintage items. If you're more of a crafter, Instagram might be a better bet, as it has a broader range of users.
Once you've chosen your platform, it's time to start creating listings for your products. When writing descriptions, be sure to focus on the unique features of your items – what sets them apart from mass-produced goods? Use high-quality photos to show off your work, and don't be afraid to price your items competitively. Remember, customers are looking for unique, well-made products – so if you can offer that, you're sure to find success selling handmade goods online.
How To Promote A Handmade Business Online
When promoting a handmade business online, the key is connecting with your audience and building relationships.
Start by creating a solid social media presence and engaging with potential customers regularly. Share photos and stories from your workshop, highlight the unique features of your products and offer coupon codes and discounts to encourage people to buy from you.
It's also essential to have a well-designed website that showcases your work in the best light possible. Ensure high-quality photos, detailed product descriptions, and clear ordering information.
Don't forget to spread the word offline as well! Hosting workshops, participating in local craft shows, and giving talks at community events are great ways to get people interested in your business.
By taking the time to connect with your audience both online and off, you'll be sure to find success promoting your handmade business.
Conclusion:
Selling handmade crafts locally is a great way to get started in the world of entrepreneurship! By following the tips in this blog post, you'll be on your way to finding local shops to sell at, introducing yourself professionally to shop owners, pricing your crafts competitively, and promoting your products effectively.
Related Posts:
How To Sell Art Prints To Stores
4 Reasons Why You Should Have An Artist Blog
Best Places To Sell Crafts Online