Are you thinking about selling your art online but you are not sure how to get started? In this post, I am going to share with you what you need to know about selling art online so you can start generating an income from your creations.
What You Need To Know About Selling Art Online
How many posts have you read that make it seem like selling art online is easy?
You will often see new posts about selling art on Pinterest, best Instagram strategies for artists or how to get a thousand followers on Facebook.
These posts often make it seem easier than it actually is. Yes, there is some valuable advice that you will want to look into but the results you are after will not happen overnight.
Unfortunately selling art online is not as easy as some posts might make it out to be.
Selling art online is as much work as selling your artwork at craft shows. To be honest it might even be more work but the results you can achieve are much greater.
Instead of just having a chance of selling your art to people who are walking past your table at a craft show you have an opportunity to sell paintings, drawings, handmade crafts and prints of your work to people around the world.
It sounds exciting, doesn't it?
Thinking about selling your art to people around the world even while you are sleeping is nothing less than exhilarating.
But for this to happen you have to be willing to put in the work.
You have everything you need to build a successful art business right at your fingertips.
You have the ability to communicate and showcase your art to billions of people online.
Nobody controls your fate but you. You are in control of your career. Not galleries. Not art agents. Only you and that is exciting to think about.
How To Sell Your Art
The first step you must take when you are starting to sell your art online is to know what your objectives are.
Below are some questions you might want to consider answering.
Are you going to sell original art?
Are you going to sell prints of your artwork?
Are you going to offer frames for your art?
Are you going to offer prints of your art on merchandise such as greeting cards, mugs, shirts etc?
Are you going to offer local pickup?
What shipping service will you be using?
Are you going to ship worldwide?
You will be able to develop art marketing strategies that will produce real results by having a clear vision of your objectives.
Related Resources:
How to Write Goals You Can Achieve Workbook
Best Websites To Sell Art
Once you have your objectives written you will be able to decide what type of platform you will be using to showcase and sell your artwork.
There are many options that are available for you to showcase your artwork. You can choose from third-party platforms like ArtBoost , ArtFinder , Etsy , and Artspring or you can your own website.
Related Post:
Should You Sell Art On Third Party Websites?
Are websites for artists important for artists to sell art online?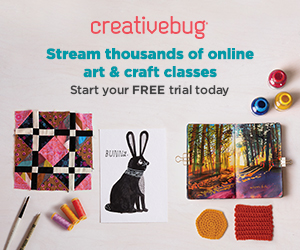 Painting Repeat Patterns by Hand: A Daily Practice by Cleo Papanikolas on Creativebug!
It is important for you to have an online art gallery that will showcase the art you are creating while having an option for potential buyers to make a purchase.
Is it important for artists to own artist websites or is ok to use a third-party platform?
I know many artists who are doing well working with platforms like Etsy and there is no right or wrong answer. It all depends on what your objectives are.
For example, if you are planning on selling a few handmade crafts here and there, a third-party platform might be all you need. However, if you are planning on selling art both online and offline, a personal website you own is important.
A website that you own is a sign of professionalism and will separate you from all of the other artists selling art online.
When you own a website you will have a unique domain name that will direct people to your site. If you are using a free third-party platform your domain name will include the site's name in the domain name which makes it look less professional.
When you have a domain name that only includes the name of your business it shows potential buyers that you have invested in your business.
Not only will a unique domain name have you seen as an authority in your niche but it will also make it easier for your buyers to find you online.
Related Post:
How to Choose a Perfect Artist Domain Name
Disclaimer: This post may contain affiliate links. If you make a purchase by clicking on an affiliate link, Nevue Fine Art Marketing may earn an affiliate commission at no additional cost to you. Affiliate relationships include, but are not limited to, Bluehost, Tailwind, Skimlinks, SareASale and StudioPress. To learn more visit Affiliate Link Disclosure Policy
Another reason to own an artist website is that you own it. There are no limits to what you can do with your site and it can keep modifying it as your business grows.
It is also easier to build a unique brand with a website.
Related Resource:
Create an Artist Brand Workbook
How To Sell My Paintings
After you have decided what type of platform you will be using to showcase your art online you will want to have a way for your target audience to learn more about you and you can do this by creating an "About Me" page for your website.
Your "About Me" page will be the second most visited page on your site and it is easy to understand why it is. This is where a person can learn more about you prior to them investing in your artwork.
Let's face it, buying art is an investment and dishing out a few hundred dollars to someone you do not know is difficult to do.
You have a better chance of selling your paintings or drawings by sharing your story on your "About Me" page.
Now that you have a website and an "About Me" page let's take a minute to talk about how to sell your own paintings and drawings online.
It all starts with creating landing pages for each piece of art you are selling.
A landing page is a page where a visitor goes to learn more about a product or service and an option to make a purchase.
The image of your artwork is the most important part of the page. If the image is not professional the visitor will never read the art description. Keep in mind that a person's perception of the quality of your crafts is based only by the image you share.
Related Posts:
4 Best Digital Cameras For Photographing Artwork
The Importance of Photographing and Displaying Images of Art
7 Tips Photographing Artwork to Sell More Art Online
Helpful Tips for Photographing Your Artwork That Work
After you have captured the viewer's attention with a breathtaking image of your art you will want to be able to connect them emotionally to your art with a well-written description.
Related Post:
Effective Tips on Writing Art Descriptions That Sell
Sell Your Art Online For Free
There is really no way for you to sell your art online for free. There are always going to be costs like buying a domain name, hosting, monthly fees for a third-party platform and selling fees.
However you if make good decisions, the costs can be lowered. For example, purchasing hosting and a domain name from HostGator will run you around $9.95 per month (regular price and prices may vary without notice). When you first get started you can get some great deals so make sure you shop around for the best price.
Monthly fees for a third-party site can range from $15 – $50 per month.
Yes, it is easier to get started with a third-party platform but as you can see you can save a lot of money by building a WordPress artist website and best of all you own it.
It is important for you to know exactly what your costs are going to be. Selling art is a business and you have to treat it like a business. There has been no business that has started by saying we hope to lose money. The easiest way for you to not lose money is by knowing what the cost of doing business is.
You will be able to make a better pricing strategy once you know what your costs are.
Related Post:
How to Price Art – Ultimate Art Pricing Guide
Build An Email List
Let's take a minute to recap what we have talked about so far about how to sell art online.
The first step is to know what your objectives are.  You can not develop art marketing plans and strategies if you do not know what you are after.
The second step was deciding on what platform you will be using to showcase and sell your artwork.
The third step was to write an about me page so your audience can learn more about you and we also talked about some of the costs associated with operating a site.
The fourth step you should take is to start collecting emails and developing a strategy to capture all of the emails you can.
Growing your email list is one of the most important tasks you will be continuously doing for your online art business.
Your email list is similar to owning an artist website, you will have total control over when your audience will receive your content via newsletters.
Related Posts:
Ultimate Email Marketing Guide for Selling Art Online
Writing Email Tips That Sell Art | Selling Art Online Strategies That Work
Simple Strategies That Keep Your Email List Opening Your Newsletters
How To Drive Traffic To Your Artist Website
Along with working on growing your email list, you will also be working on driving traffic to your site. This job will take up most of your time and is very important to the success of your business.
There is no way you will sell any of your art if nobody visits your artist website.
You will also want to develop strategies that will encourage your visitors to keep coming back.
How do you get people to your site and have them coming back on a regular basis?
An artist blog will take care of both of those tasks for you.
Every blog post you publish will create a different way for people to find you through the search engines.
People will want to revisit your site if they notice you are publishing new content on a regular schedule.
You can also see some great success by posting your new blog posts on all of your social media sites. One post can go a long way.
Make A Presence Every Day
The last thing I would like to talk about is being consistent with your efforts.
Create a social media calendar for when you will be posting on all of the social media accounts you will be promoting your art on.
I do want to mention that it is better to focus on one or two social media accounts instead of spreading yourself too thin on multiple platforms.
Related Post:
Choose One Social Media Platform to Focus On
There are plenty of tools available to help you share content on social media platforms.
For example, I only spend around 30 minutes a week pinning on my Pinterest boards with the help of Tailwind.
Related Post:
How To Sell Paintings With Tailwind Series 
As long as you put in a little effort every day into art marketing you will start to see your art business grow right before your eyes.
Conclusion:
You now know what it takes to start and grow an online art business.
It is now your turn. Take action now by writing down your objectives so you can decide what the next best step is for you to take.
Dedicate about an hour a day for the next couple of weeks and at the end of the second week, you will have a platform where you can sell original art online.
28 Day Blogging Challenge for Visual Artists
Are you ready to start building an online presence?
Available on Amazon or Download your copy today.
The Productive Artist How to Live Your Dreams
The right mindset and time management skills are essential for any business. These topics are often not talked about but are key elements for your success. You will learn how to have a winning mindset and time management skills necessary for operating a successful art business.
Available at Amazon or Download your copy today.
Get More Done in Less Time The Part-time Artist
Proven strategies that will help you to get more work done in less time so you can sell more art and earn more money.
Available at Amazon or Download your copy today.
Did you enjoy this article? Don't forget to sign up for my free weekly newsletter.
You can also join me on:
Learn how to start, grow and monetize your online art business.
Art Business Planners