Would you like to sell your art but do not feel comfortable promoting or marketing your art to people online or offline? What is art marketing? 
Disclaimer: This post may contain affiliate links. If you make a purchase by clicking on an affiliate link, Nevue Fine Art Marketing may earn an affiliate commission at no additional cost to you. Affiliate relationships include, but are not limited to, Bluehost, Tailwind, Skimlinks, SareASale and StudioPress. To learn more visit Affiliate Link Disclosure Policy
Before you can start to sell your artwork online, you will need to know what art marketing is.
The good news is that you do not need to have a college degree to market your artwork successfully.
With a basic understanding of how to market yourself as an artist, you have an excellent opportunity to sell your artwork and make money off of something you love to do, create art.
Many artists just like you built a thriving art career.
Here is a complete guide how to market you art online:
What Is Art Marketing
Before we get started lets talk about what is involved with marketing art.
At its basic level, art marketing is a systematized process of creating awareness and interest for an artist or artwork that leads to a desire to engage the artist, gallery, or company, to own its products, use its services, or all of the above. Businesses, large and small, use marketing to communicate their offerings, promote their brands, identify new prospects, and strengthen bonds with existing customers. (Source Barney Davey.)
Promoting your art online does not have to make you feel uncomfortable or awkward.
You are not telling people that they have to purchase your artwork or that your artwork is the best.
All you are doing is showcasing your artwork to people who have a passion for what you create.
You are making them aware that you are an artist and you have products for sale, nothing more and nothing less.
How I Started Three Succesful Online Art Businesses
Before we get into some marketing tips, I would like to share my story to let you know that you can earn a decent salary from the arts.
I started a hand-painted sign business in the early 2000s. Within 2-3 years, I was grossing over six digits a year shipping products worldwide.
Late 2014 I started a different business with a medium with a heartfelt passion for graphite and pastels.
Within less than one year, I built the new graphite business up to where I had commissioned jobs scheduled for twelve months in advance.
I did not achieve what I did because I am the best graphite artist. I accomplished this because I learned how to market my art business to the right people (my target audience).
One of the best lessons that I have learned over the years is not being afraid of trying something new.
If your plan is not working, all you have to do is adjust it or discard the marketing plan altogether.
On the other hand, if your plan is working, go full force and don't look back.
I do not want you to think that it is easy. It is hard work.
You need to design an art marketing plan, assess your plan regularly, and adjust your strategy.
It is constant work.
However, if you have a passion for selling your artwork online, you will put in the work necessary to reach your goals. The sky is the limit. The only thing that can stop you is yourself.
From this point on, you will be a student for the existence of your business.
Learn from all successful people and businesses selling products online, even if it's not art.
Study how the entrepreneurs became successful.
Study how large businesses became successful.
Study how small businesses became successful.
Study how other artists became successful in selling art online.
Study how crafters became successful in selling crafts online and locally.
Learn from everyone.
Most important, learn from yourself.
Before Art Can Be Sold It Has To Be Seen
Marketing is an art.
You already have the upper hand over other marketers because you have a creative mind; you are an artist.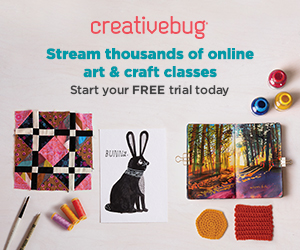 Painting Repeat Patterns by Hand: A Daily Practice by Cleo Papanikolas on Creativebug!
Math and accounting are essential sciences for your business. Marketing is an art because marketing is about creating a demand for your product. Some of that demand is immediate, and some of it is in the future. You can try to use science to predict the future part but you might pick a number based on art. (Source: George Torko)
As a selling artist, you will be wearing two hats.
Part of your job is to create beautiful art people would love to have displayed in their home.
The other part of your job is to develop strategies that will have your art seen by the masses.
Do you think the top-selling books on Amazon are at the top of the list by accident?
Dr. Steven R Gundry, Rachel Hollis, and Chanel Cleeton believed in their work and understood the importance of marketing.
As authors, they also wore two hats. They had to be both an author and a marketer.
For example, Rachel Hollis's book Girl, Wash Your Face: Stop Believing the Lies About Who so You Can Become Who You Were Ment To Be did not achieve five stars and reach over 1,800 reviews on Amazon by accident.
Rachel's book is inspiring and helping thousands of women live a happier life, but this could not have happened if no one knew her book existed.
How sad would it be to know that so many women's lives would not have been changed for the better if Rachel did not work as hard as she did to market her book so she could get her message across?
The bottom line is that it does not matter how great a product is if no one knows it exists, it will not be sold.
Creating high-quality art that people want is the first step. Developing strategies to have your artwork seen is how you will sell art.
Let's take a moment to look at Rachel's journey.
Rachel has achieved great success, such as being a bestselling author, TV personality, in-demand speaker, and founder and CEO of Chic Media, the foremost authority on premium digital content for women. Named one of Inc. Magazine's "Top 30 Entrepreneurs Under 30," (Source: Amazon)
Rachel did not reach this success by accident. She had a vision, believed in herself, set goals, worked hard, and learned how to market herself and work.
You can have the same success by having a clear vision of what you want, create high-quality art and learn everything about marketing your self as an artist and finding ways to get your art seen by as many people as you can.
You can learn more about Rachel Hollis by visiting The Chic Site.
If you want to be successful in selling your art online, spend some time learning from the greats.
It does not matter if they are artists or not.
They have reached success because they have taken the time to learn the art of marketing.
Learn from them and watch your business thrive.
What Is Art Marketing – Art Marketing Is Telling Your Story
What is art marketing?
Marketing art is the ability to communicate your story to the people who have an interest in what you have to say.
The keywords are "to the people who have an interest in what you have to say."
These people will become a part of your tribe. Your tribe will support your brand and help you to reach new people.
In time your tribe will grow, and you will see your business grow larger than you could have ever envisioned.
For your marketing to be effective, your message will have to directly address your audience's needs as well as offer them value.
You only have seconds to grab their attention.
All of your efforts have to be on target every time.
Think about how many advertisements you encounter each day.
How many can you say that you remember?
The only advertisements that you will remember are the ones that are valuable to you.
All other ads in the newspaper, magazines, radio, TV, bulletin boards, social media sites, etc. block out.
Your brain automatically blocks out information that you do not need or want.
Could you imagine how exhausted you would be at the end of the day if you accepted all of that useless information? 
The information that you block out is futile because it does not provide value to you.
Identifying A Target Audience
Distinguishing who your target audience is among the most essential components for an emerging artist to consider.
Without identifying your target market or whether a potential client is out there, you can't believe your art business will thrive.
Artists who understand how to identify target audiences of potential art collectors have a better chance of landing a sale.
Learning to distinguish between various audiences makes it easier to figure out what segments of buyers will support your small business and whether they will become loyal art collectors.
Not identifying whom your target audience will have you wasting time and money marketing your art to people who are not interested in purchasing your art.
Implementing a general art marketing strategy and hoping your buyers will come from all segments or demographics is no longer enough because the marketplace has become too specialized and oversaturated.
You must take into account age, gender, lifestyle, household income, and demographics.
Hoping to create art for every possible niche is a route to failure.
Identifying a target audience provides a clear focus of whom you should showcase your art.
For More Information About Target Marketing visit:
Successful Marketing Examples
Here are just a few examples of companies with a great marketing plan:
Apple does fantastic job marketing. They will have you believe that you need the newest iPhone a year before it comes out. Apple knows what you want, and every year they give it to you. They are creating value for you.
McDonald's: you may not like fast food, but you cannot deny knowing the golden arches.
McDonald's Vision statement is "to be the best quick service restaurant experience". Being the best means providing outstanding quality service, cleanliness, and value to make every customer in every restaurant smile.
McDonald's had this vision since 1955.
Ray Kroc was 52 when he started McDonald's. He had a keen vision to have a restaurant chain across America. His vision gave him the tools to design a marketing plan. An idea alone does not build a successful business. A marketing plan, patience, and hard work create success.
Two of my favorite quotes from Ray are:
"If I had a brick for every time I've repeated the phrase Quality, Service, Cleanliness, and Value. I think I'd probably be able to bridge the Atlantic Ocean with them." ~ Ray Kroc
"I was an overnight success all right, but 30 years is a long, long night." ~ Ray Kroc
Ray's vision started when he visited a small restaurant that offered a limited menu of burgers, fries, and beverages. The thriving restaurant Ray visited was operated by Mac and Dick McDonald.
Kroc explained his vision Mac and Dick, he envisioned McDonald's all across the U.S.
In 1955 McDonald's System, Inc. was established.
By 1958, McDonald's sold 100 million hamburgers.
Today you can stop by a McDonald's in many countries around the world.
Ray had a vision, passion, drive, and patience to do whatever needed to be done to succeed.
Ray's marketing strategy was much different in the late 1950s then marketing strategies are today. We are lucky to have the internet and to be able to connect with people around the world. Could you even imagine selling 100 million hamburgers in three years without the help of the web?
The Difference Between Marketing And Selling
Many artists feel uncomfortable when it comes to marketing because they do not want to feel "pushy" or be a "salesperson".
Marketing your art is not selling.
Selling is defined as giving or handing over (something) in exchange for money.
Art sales only occur after a productive art marketing strategy has done its job by creating attention to the artwork.
In marketing, it is said that a customer has to see an ad seven times to remember it. Marketers like to talk about "The Rule of Seven": the idea that people need to see your marketing message seven times before they take action. (Source: Successful Software)
Art Marketing Ideas
Here is a list of art marketing tips and strategies I have used over the past fifteen plus years.
High-quality Photography
YouTube Marketing
Amazon Marketing
Setting Art Marketing Goals
You need to have a clear vision of your art business objectives before you can develop an art marketing plan that will produce positive results.
What style of art are you going to create and sell?
Are you going to sell giclee prints?
Are you going to offer services like teaching private art classes or online tutorials?
How much money do you want to make?
How much do you have to sell to reach your income goal?
How long will it take for you to reach your income goal?
For more information on how to set business goals, visit:
Artist Goal Planners In Light Blue
Develop A Brand For Your Art Business
Branding for artists is a marketing practice in which an artist creates an art business name logo that makes it easy for their fans to identify them and their artwork online.
Branding is essential because not only is it what makes an unforgettable impression on people, but it allows your buyers to easily identify you online.
Your unique brand is a way of distinguishing yourself from all of the other artists selling art online.
Your brand should be a true representation of who you are as an artist and how you wish to be perceived.
For more information about branding, visit:
Pricing Art
Consistent pricing is the secret for lucrative art sales.
So many emerging artists struggle when it comes to developing a pricing strategy.
How do artists put a price on their efforts and artwork?
The most useful remedy for most artists is to choose a pricing formula that works well for them and compliments their art business goals.
A pricing formula will simplify your business decisions, plus it makes it less difficult to discuss your prices to potential buyers.
For more information about pricing art, visit:
According to Inc., the benefits of content marketing are:
More on-site content
Higher visibility in search engines
Higher domain authority
More referral traffic
More social traffic and followers
Increases conversion potential
Improved brand reputation
Tighter customer/reader relationships
Universal utility
Decreases marketing costs and compounding value
You can see why I am always talking about blogging.
The more blog posts you publish, the more people will discover your artist's website online.
If you haven't started a blog or build a website yet, I recommend using WordPress. WordPress is an e-commerce solution and a blog all in one.
How To Launch An Artist WordPress Site With BlueHost
Launching an artist WordPress site has never been easier.
First, visit BlueHost and pick which plan works best for your goals.
Pick a domain name for your artist website.
Related Post: How to Choose a Perfect Artist Domain Name
The next step is to fill out your account information and confirm what package you would like to enroll in.
The next step is to fill out your billing information and create a password for your account.
Once you have completed that it will be time to pick out a theme for your new artist website.
Congratulations you are a new owner of an online website where you will be able to sell your artwork.
Build your online website easy with BlueHost.
If you are alread blogging but you want to improve your blog visit:
For more helpful tips visit Blogging Tips.
Final thoughts on what is art marketing:
My hand-painted sign business was all based on internet sales. I had a different marketing strategy than Ray's, but they both had the same focus, being able to communicate our story to the people who had an interest in what we had to say.
I built my latest businesses, Nevue Art Studio Commissioned Graphite Drawings and Nevue Fine Art Marketing, on both traditional and internet marketing.
It does not matter if you do traditional marketing or have an online art marketing strategy. What matters is learning how to get your message across. You can discover how to get your message across by taking the time to learn everything about your customers. Learn who your customers are.
What is art marketing?
Marketing fine art is making people aware you are an artist, and you have art for sale.
Resource:
"McDonald's Egypt :: Our Vision & Mission." McDonald's Egypt :: Our Vision & Mission. N.p., n.d. Web. 13 Feb. 2016.
"The Ray Kroc Story." :: McDonalds.com. N.p., n.d. Web. 13 Feb. 2016.