Being a small business owner, every opportunity to network and promote your brand is valuable. This is where having business cards can come in handy.
When selling your crafts at fairs or markets, handing out a card with your contact information not only makes it easy for potential customers to remember you but also helps to legitimize your business.
A physical representation of your brand gives the impression that you are dedicated and professional. Business cards can also be used as mini advertisements, including a discount code or promoting a sale. In this fast-paced world, people are often looking for convenience and efficiency.
By carrying business cards, crafters selling their crafts make it easy for customers to connect with them and make future purchases.
Creating a unique and professional business card can be exciting and nerve-wracking for a craftsman. Ultimately, it should showcase your handmade products or services and your unique style and brand aesthetic. However, striking that balance can be tricky.
One challenge is ensuring the design still looks good in small sizes – remember, business cards are typically kept in wallets or small piles on desks. Additionally, finding the right font and layout to convey the right tone and message can be difficult.
Moreover, there can also be pressure to include too much information – while contact details are essential, try to avoid overwhelming potential customers with unnecessary information. Crafting the perfect business card takes time and effort, but ultimately it can significantly benefit your handmade business in making a solid first impression with potential clients.
Here is what you should have on your craft business cards.
Craft Show Sales Tracker
Get Your Craft Sale Tracker Today
What Needs To Be On A Craft Business Card
Business name – Your business name should be legible and prominently on the card. If you have a logo, make sure it's high quality and placed in a location that is easy to see. If you don't have a logo, consider using a simple image or icon representing your craft.
Tagline – A tagline is a short, catchy phrase that accurately sums up what your business does. It should be easy to remember and placed prominently on the card.
Contact name – Include your full name or the name of the primary contact person for your business.
Business URL – If you have a website or Etsy shop, include the URL so potential customers can easily find it.
QR code – You can include a QR code that takes people directly to your website or social media page when scanned with a smartphone.
Email address – Include a professional email address that you check regularly. This is how most people will contact you, so make sure it's the one you use.
Phone number – Include a phone number where you can be reached during business hours. If you have an answering machine or voicemail, make sure it's professional sounding.
Physical address – If you have a storefront or office, include the address so people can come to visit you.
Social media – Include links to your social media accounts so people can connect with you online.
Discounts – You can include coupons or discounts on your card to encourage people to use your services or buy your products.
You do not have to include all the information above. Just choose what is needed for your marketing goals.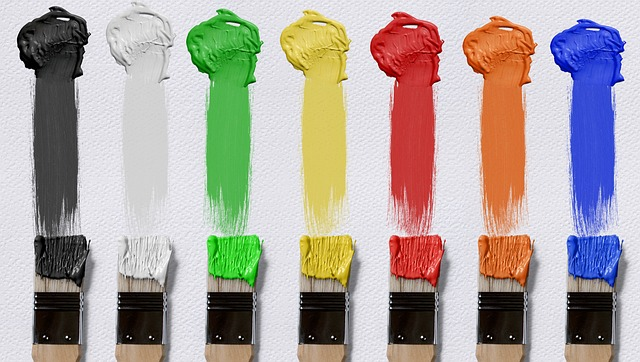 Disclaimer: This post may contain affiliate links. If you make a purchase by clicking on an affiliate link, Nevue Fine Art Marketing may earn an affiliate commission at no additional cost to you. Affiliate relationships include, but are not limited to, Bluehost, Tailwind, Skimlinks, SareASale and StudioPress. To learn more visit Affiliate Link Disclosure Policy
Crafting Business Card Ideas
Are you a crafter looking for unique business card ideas?
Consider including a mini sample of your work on the card, such as a tiny knitting swatch or a hand-stitched patch. You could also include photos of your finished products or a QR code that leads to your website or online shop.
If you specialize in a specific craft, consider choosing materials that reflect your niche – for example, using thick watercolor paper for a painter or sticking with eco-friendly materials for an eco-conscious jewelry maker.
Experiment with different shapes and textures to make your card stand out and leave a lasting impression on potential clients and collaborators.
When crafting the perfect business card to promote yourself and your talents, the sky's the limit.
Hire A Designer
Business cards can make all the difference when it comes to first impressions. They not only act as a physical reminder of who you are and what you do, but they also showcase your professionalism and level of commitment to your craft.
While some may choose to design their own, hiring someone on Fiverr to do the job can ultimately save time and ensure a polished result. Not only do these freelancers specialize in design, but they also have the experience and skills necessary to create an impactful card that accurately represents your brand.
In addition, using Fiverr allows you to view multiple designers' portfolios, ensuring that you find the right fit for your business needs.
Where To Get Business Cards Printed
When it comes to purchasing business cards, convenience and affordability are key. Online printing companies offer these advantages in spades.
Websites like Vistaprint, Zazzle, Canva, and GotPrint allow you to design your own custom cards using templates or upload a design of your own.
With the click of a button, you can choose from a variety of paper options, including eco-friendly materials, and select add-ons like rounded corners or foil printing. Plus, many sites offer discounts and promotions throughout the year to help you save even more on your order.
Where To Hand Out Business Cards
As a crafter, one of the best ways to attract potential customers is by handing out business cards. But where exactly should these cards be distributed?
One option is at craft fairs and markets, where attendees are likely interested in handmade items. This also allows for face-to-face interactions with potential customers, allowing them to showcase examples of your work and answer any questions they may have.
Another option is to leave business cards at local businesses that sell similar products or complementary items, such as a stationary store or boutique. This can help to attract customers who may not necessarily be seeking out handmade crafts but stumble upon your card while shopping elsewhere.
Consider leaving cards at libraries or community centers, where individuals may be searching for unique gift ideas or ways to support local makers.
Conclusion:
When starting a craft business, it's essential to have all of your materials and tools in order-including your business cards! Your card should include all the essential information a customer needs to contact you or purchase your products.
Related Posts:
Printing Greeting Cards To Sell (Complete Guide)
How To Promote Yourself As An Artist
Best Print On Demand For Greeting Cards
Best Places To Sell Your Art Prints