Are you thinking about selling your art online, but you do not know where to start?
In this post, you will discover the top 16 websites to sell art online.
One of the best strategies for selling art online is to own a website where you can showcase the artwork you are selling and post content (blogging) that will drive traffic to your artwork.
I use and recommend WordPress for artists who are interested in starting an online art business.
Related Resources:
Even though I recommend WordPress, there are other options you will want to consider.
Each of the platforms I have highlighted below is unique and will not be a perfect match for everyone.
Take some time to review what they have to offer to see if they are suitable for your business goals.
This post features online art galleries, art commission websites, and POD (Print On Demand) platforms, so no matter your goals, you will find something here that will work for you.
Best Websites To Sell Art Online
Below are the top website platforms for artists with a brief introduction to each.
Take some time to review each website before just jumping.
It is essential to know your objectives before you start to sell original art and art prints online.
Related Resource:
How to Write Goals You Can Achieve Workbook
WordPress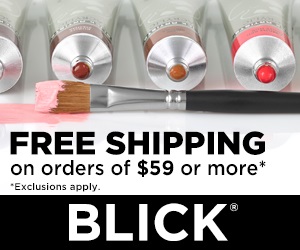 Disclaimer: This post may contain affiliate links. If you make a purchase by clicking on an affiliate link, Nevue Fine Art Marketing may earn an affiliate commission at no additional cost to you. Affiliate relationships include, but are not limited to, Bluehost, Tailwind, Skimlinks, SareASale and StudioPress. To learn more visit Affiliate Link Disclosure Policy
Visit WordPress
I am going to start with WordPress.
There is a learning curve for building a WordPress site, but I have to mention that it is easier than you think.
After just a few days of writing blog posts and uploading art on the WordPress platform, you will find it as easy as managing your Facebook business page.
WordPress Benefits:
Thousands of themes allow you to change the design of your website quickly.
Thousands of plugins make it easy to extend the functionality of your WordPress site.
You can have an art gallery that showcases your artwork and provides a way for them to purchase.
Plugins are available for you to sell prints of your art.
Create blog posts that will drive traffic to your site.
Safe and secure
WordPress has an engaging community.
You own the site. You have total control of your site's look and feel, which makes it easier to stand out.
Relate Posts:
Etsy
Visit Etsy
Etsy got started in 2015 and has become one of the greatest creative marketplaces to buy and sell art and crafts.
Etsy allows you to set up a storefront where you can sell your art, prints or crafts.
If you are interested in an easy way to start selling your art online, Etsy might be the perfect platform for you.
An additional bonus is that your art or shop could be featured on the Etsy blog which increases your chance of landing more sales.
Visit Etsy's Fees and Payments Policy for information on all of the selling fees associated with selling art on Etsy.
Related Posts:
Related Resource:
Fine Art America
Fine Art America is a POD (Print On Demand) website for artists and photographers who are interested in selling prints of their artwork on museum-quality prints, canvases, frames metal prints, acrylic, and other merchandise.
Fine Art America makes it easy for you to generate more money by selling prints of your original artwork.
All you have to do is create a listing and they will do the rest.
I do want to mention that you will have to market your listings to land a sale.
Visit Fine Art America
Related Resource:
How To Get Started Selling On Fine Art America
Artfinder
Artfinder is a juried gallery that showcases a selection of talented artists. You will have total control of your store, pricing, and listings.
Artfinder offers free stats and insights that will show you how your listings are performing.
You will have a chance that Artfinder will feature you as an artist which will give you extra visibility.
There is a 33% commission fee Artfinder takes for artwork sales.
Visit Artfinder
Saatchi
Saatchi showcases over 65,000 artists around the world.
Creating an account on Saatchi is free plus offers secure online payments and artist protection.
Saatchi makes selling art by shipping your art to the collector for you, you only pay for the shipping costs.
After a sale, you will receive 65% of the sale.
How you will get extra exposure selling on Saatchi:
Attention from their curators, who look carefully at all artworks
Art Advisory service for personal recommendations to collectors and trade clients
Social media promotion to their+1.1M followers
Popular editorial features: Invest In Art, One To Watch, Inside The Studio, New This Week, Artist of the Day
Paid online and offline advertising
PR support
The Saatchi Art printed catalog
Visite Saatchi
Artplode
Artplode was created in 2014 and was designed for galleries and art dealers to buy and sell artwork. They also allow artists to sell their artwork to private customers.
There is a $60 listing fee rather than paying a commission fee when a sale occurs.
Showcase your art to potential buyers around the world. You will have complete control of the sale, including the content and images of the listings and the ability to contact people interested in purchasing your art.
Visit Artplode
Shopify
Shopify is an alternative to WordPress.
Shopify Features:
Fully customize your online store
Add new sales channels in seconds
Manage unlimited products and inventory
Fulfill orders in a single step
Track sales and growth trends
Visit Shopify
Amazon
I am sure you are familiar with Amazon but have you thought about selling your art on one of the biggest e-commerce platforms?
Amazon launched its Amazon Art section in 2013 and is a legitimate way for artists to get their artwork in front of a large audience.
You will have to be pre-approved if you are interested in selling your artwork on Amazon and if you are excepted there is a $39.99 per month shop fee plus additional selling fees.
Visit Amazon Art
Society6
Society6 allows you to sell prints of your artwork on art prints, canvases and other merchandise such as bath mats, carry-all pouches, iPad and Laptop Skins and more.
Society6 Features:
You control the rights to your work
Easy to upload images of your artwork
You set the prices for your art prints
Enable your art for additional products
Promote your prints and other products
Track your earnings
Visit Society6
RedBubble
Redbubble is an Australian POD (print n demand) company founded in 2006.
Redbubble is an easy to use platform for artists interested in selling prints of their artwork on a large variety of merchandise.
RedBubble Features:
Retain ownership and control of your artwork
Have total control over what you sell your art for
Handle all transactions
Print and ship products to the buyers
You collect the royalties
Visit RedBubble
Rise Art
Rise Art is an online art gallery where artists can upload and sell their original art.
Rise Art Features:
Art sales, rentals, and client commissions
You have total control over how you use your profile
Art advisory service for personal recommendations
Specialized seller console
Professional framing service
Shipping and logistical support
Artist seminars and tutorials
And more….
Visit Rise Art
ArtFire
ArtFire is a platform similar to Etsy where artists and crafters can sell handmade goods, vintage items, and craft supplies to millions of people worldwide.
ArtFire Features:
Promotional tools
Low listing fees
Learn from makers and artisans around the world
Easy order processing tools
Powerful inventory and discount tools
Friendly support
Brant your shop easily with no coding
Visit ArtFire
FASO
FASO is a third-party platform created for artists interested in selling artwork online and are not interested in spending a lot of time designing an artist website.
FASO Features:
Marketing tools and channels
Own your own domain name
Related Post How to Choose a Perfect Artist Domain Name
Free SSL
Responsive themes
Free email and newsletter app
Integrated blog
Social media share buttons
Visit FASO
Art Storefronts
Art Storefronts offers everything you need to run your own online art gallery.
Art Storefronts Features:
Get a proper art gallery website with a buying experience that will convert the maximum amount of visitors into buyers
Get all the back-office tools you need to run your online gallery business
Get marketing education & ongoing coaching to help you acquire customers
Visit Art Storefronts
ArtBoost
ArtBoost is an online gallery that allows artists to sell their original artwork to people around the world. You will also have the option to integrate ArtBoost to your Facebook Business Page.
ArtBoost Features:
Free user and unlimited gallery
We take a low commission of 15% on sales
International exposure
Monthly articles and guides helping you do more
Visit ArtBoost
Deviant Art
Deviant art is one of the largest social media platforms for artists. This platform allows artists to showcase their artwork as well as sell prints of their original work.
Visit Deviant Art
Final Thoughts On Websites To Sell Art Online
Deciding on a platform to use is the first step you will need to take to make money selling paintings.
The list of selling art online best sites above will give you plenty of options to consider.
The next step after launching your online art gallery is to learn everything you can about online art marketing.
With the popular websites to sell art online highlighted above, you can now sell your work internationally and reach a larger audience.
You Might Also Be Interested In:
How Can I Sell My Artwork Online
How to Grow Your Artist Brand with Twitter
Popular Art Marketing Courses
Are you ready to take your art business to the next level?
Investing in marketing courses and tutorials will maximize your profit and speed up the growth of your business.
Below are some of the most popular art marketing courses that will grow your online art business:
Most Popular – How to Make a Living Selling What You Make by Megan Auman
Most Popular –  Build a Successful Creative Blog by April Bowles-Olin
How to Build a Business While Learning Your Craft by Megan Auman
Pinterest Marketing for Makers & Designers by Megan Auman
Did you enjoy this article? Don't forget to sign up for my free weekly newsletter.
You can also join me on:
Learn how to start, grow, and monetize your online art business.