Are you tired of your usual art routine and looking for a fresh, vibrant medium to experiment with? Look no further than alcohol ink. This unique art form allows for a range of stunning, colorful possibilities. In this article, we'll take you through everything you need to know about working with alcohol inks – from how it works to advanced techniques for creating breathtaking pieces. Whether you're a seasoned artist or just starting, there's something to learn here. So, grab your supplies, and let's unleash your creative side with alcohol ink art.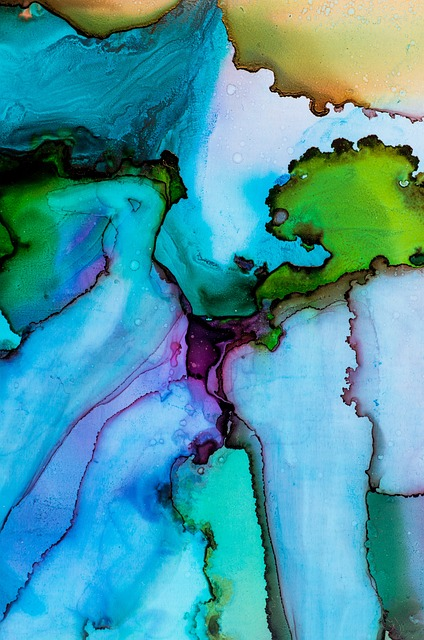 Disclaimer: This post may contain affiliate links. If you make a purchase by clicking on an affiliate link, Nevue Fine Art Marketing may earn an affiliate commission at no additional cost to you. Affiliate relationships include, but are not limited to, Bluehost, Tailwind, Skimlinks, SareASale and StudioPress. To learn more visit Affiliate Link Disclosure Policy
What Are Alcohol Inks
Alcohol ink is a unique art medium that creates stunning, colorful pieces with various possibilities. To understand how to work with alcohol ink, it is essential to understand what it is and how it works. Unlike acrylic paint, alcohol ink is a solvent-based ink that contains alcohol, dye, and pigment. It is highly saturated so that it can be spread across surfaces more quickly and efficiently than acrylics. It has a flowing consistency reminiscent of watercolor, allowing the inks to mix seamlessly on the page or canvas. Depending on the brand, some inks may contain additives to give them a glossy sheen or special effects.
Alcohol ink can come in alcohol markers or as the ink used with a brush or airbrush.
How Do Alcohol Inks Work
Alcohol ink is a medium that has grown in popularity in recent years due to its vibrant colors and unique properties. The ink is made up of dye and alcohol, which evaporates quickly and can be used on various painting surfaces, such as glass, ceramic, metal surfaces, and Yupo paper. These properties make it an ideal medium for creating abstract art, as the ink can be manipulated and blended to create a range of effects, from smooth transitions to bold, contrasting colors.
When alcohol ink is applied to a surface, it spreads quickly due to the alcohol's evaporation, creating a unique texture and blending of colors. The way the ink spreads can be controlled by using different techniques, such as blowing air onto the ink, spray bottles, or using a brush to move it around the surface. Because alcohol ink dries quickly, artists must work quickly and decide quickly about the colors and effects they want to create.
Understanding how alcohol ink works are essential to creating stunning pieces of art. By manipulating the ink using different techniques and working quickly to develop stunning blends, artists can produce unique, eye-catching pieces, unlike any other medium. You'll need several materials to create this fluid art and style, which we'll explore in the next section.
Materials Needed For Alcohol Ink Art
To create stunning alcohol ink art, you'll need specific materials typically found at art supply stores or online. The primary material needed is, of course, alcohol ink. These inks are highly pigmented and designed to work with non-porous surfaces, such as ceramic or Yupo paper. Additionally, you'll need rubbing alcohol or a blending solution to thin the inks and create different effects.
Other helpful materials include paintbrushes or droppers for precise application, a palette or non-porous surface for mixing colors, and gloves or other protective gear to prevent the skin from coming into contact with the ink. Some artists also use airbrushes or straws to manipulate the ink, but these are not essential.
Understanding the materials and how they work together is critical to achieving the desired effects in alcohol ink art. In the next section, we'll explore the optimal painting surface for this unique medium, further enhancing the final result of your dried ink artwork.
Optimal Painting Surfaces For Alcohol Ink Painting
To create stunning alcohol ink art, it's important to understand that the surface you paint on can impact the overall outcome of your artwork. While alcohol inks can be used on various surfaces, some surfaces work better than others.
The optimal surface for alcohol ink painting is non-porous and smooth. This can include Yupo paper, glossy photo paper, or ceramic tiles. This is because alcohol inks spread and blend when applied to porous surfaces such as regular paper or canvas.
Using a non-porous surface allows the ink to sit on top of the surface and remain visible without blending into other colors or bleeding through the paper. Additionally, a smooth surface allows for easy manipulation of the ink using tools like straws, airbrushes, and droppers.
To prepare the surface, you can clean the surface with pure alcohol to remove any dirt or dust and then use tape to create a border around the edges. This will allow for easy removal of any excess ink.
Once you understand the materials and optimal painting surfaces needed for this medium, you'll easily create stunning art pieces. Have fun experimenting with different techniques and colors to produce unique works of art!
Preparing Your Work Area
To create stunning alcohol ink art, it's important to have a clean and organized work area. This will help you stay focused, avoid distractions, and ensure you have everything you need within easy reach.
Start by choosing a well-lit area with good ventilation, as alcohol inks can emit fumes. Cover your work surface with a plastic tablecloth or a silicone mat to protect it from spills or splatters. Make sure to have a few paper towels or a rag handy to clean up any excess ink quickly.
Next, gather all the necessary supplies, such as alcohol ink, a non-porous painting surface, brushes or applicators, and protective gloves. Keep your inks and tools within arm's reach and organized by color to make your work easier and more streamlined.
A dedicated space for your alcohol ink art will help you get into the creative mindset and make the process more enjoyable. With everything you need within reach, you can focus on exploring different techniques and creating beautiful artwork.
In the next section, we'll explore some alcohol ink art techniques for beginners that you can use to bring your creative vision to life.
Alcohol Ink Technique Tips For Beginners
To get started with alcohol ink art, it's important to master some basic alcohol ink techniques. These techniques will help you understand the medium and create stunning artwork. One of the key techniques is working with the flow of the ink. Unlike some other mediums, you can't control alcohol ink completely. If you try to force it, you might end up with a muddy mess. Instead, you want to let the ink do its thing and work with its natural flow.
Another essential technique is layering. Alcohol ink is transparent; you can layer colors to create depth and dimension. Start with a light color as your base and then layer darker colors on top. You can use a brush, dropper, or straw to move the ink around and create interesting patterns.
Finally, experiment with different surfaces. Alcohol ink can be used on various materials, including Yupo paper, ceramic tiles, and glass surfaces. Each surface will give you a different effect and challenge you differently. Play around with other surfaces to see what works best for you.
By mastering these techniques, you'll be well on your way to creating stunning alcohol ink art. In the next section, we'll explore additional methods to take your artwork to the next level.
Techniques for Creating Stunning Alcohol Ink Art
One of the great things about alcohol ink is that it allows for experimentation and creativity. Combining different techniques, materials, and colors will enable you to create various effects and styles in your artwork.
One popular technique for alcohol ink art is called "drip and blow." To try this technique, drip a few drops of ink onto your surface and use a straw to blow the ink around. This creates a unique and organic pattern that can be blended with other colors for even more depth.
Another fluid painting technique is "carbon paper transfer." With this technique, you can transfer a printed or drawn image onto your surface using carbon paper. Once the painting is transferred, you can use alcohol ink to color it in and create a one-of-a-kind piece.
Finally, you can use a heat gun or a hair dryer to create texture and movement in your alcohol ink art. Directing the heat onto the ink can create exciting patterns and blends that add depth and complexity to your artwork.
By experimenting with these techniques and others, you can discover your style and create stunning alcohol ink art that genuinely captures your creativity. In the next section, we'll explore additional tips and tricks to help you take your artwork to the next level.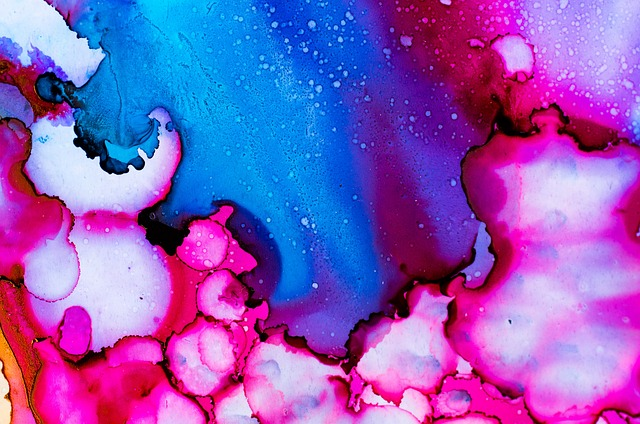 Alcohol Ink: Additional Tips And Tricks
One of the exciting things about working with alcohol ink is the endless possibilities for experimentation. Here are some additional tips and tricks to help you create stunning alcohol ink art.
– Try using rubbing alcohol: Adding rubbing alcohol to your alcohol ink can create unique textures and patterns in your artwork—experiment with adding different amounts of rubbing alcohol or a blending solution to create other effects.
– Use a palette knife or pipette: Instead of using a brush, use a palette knife or pipette to apply the alcohol ink. This will give your artwork a different look and allows for more precision and control over the placement and intensity of the color.
– Layer your colors: Alcohol ink is translucent so layering colors can create depth and exciting color combinations. Start with a light color and gradually build to darker shades to create a gradual gradient effect.
– Incorporate gold or silver metallic ink: Adding metallic ink can give your artwork a touch of elegance and sophistication—experiment with incorporating gold or silver metallic ink into your color palette.
– Take a break: Sometimes, stepping away from your artwork and returning with a fresh perspective can help create something unique and special. Don't be afraid to take a break and return to your work with renewed energy and vision.
By experimenting with these techniques and more, you can take your alcohol ink art to the next level.
How To Use Alcohol Ink On Yupo Paper
One of the unique properties of alcohol ink is that it works beautifully on non-porous surfaces, including Yupo paper. When working with alcohol ink on Yupo paper, it's essential to remember that the ink will not absorb into the surface like it would on normal paper. Instead, it will sit on the paper, creating stunning effects.
To start with alcohol ink on Yupo paper, apply drops of ink directly onto the paper and allow it to spread and blend on its own. Alternatively, you can use a brush or straw to manipulate the ink and create specific designs.
Yupo paper is also great for creating multiple layers of ink, as the ink will not bleed or blend like on standard paper. This allows for greater control and precision when building up colors and creating depth in your artwork.
With a bit of practice and experimentation, alcohol ink on Yupo paper can produce stunning results that are truly unique. And if you're looking to take your alcohol ink art to the next level, the next section will explore how to apply alcohol ink to metal surfaces.
Applying Alcohol Ink To Metal Surfaces
Another surface to explore when creating alcohol ink art is metal. Applying alcohol ink to metal surfaces can produce a beautiful and unique effect different from traditional Yupo paper. One benefit of using metal surfaces is that the ink dries quickly, allowing for fast layering and building up of colors.
To begin, clean the metal surface thoroughly to ensure the alcohol ink adheres appropriately. You can use a soft cloth and rubbing alcohol or solvent for this. Next, apply the ink to the metal surface using a brush, dropper, or spray bottle. The ink will spread and blend excitingly on the metal surface, creating a textured and marbled effect.
You can experiment with metal surfaces like aluminum or stainless steel sheets, trays, or old keys. The possibilities are endless, and the results can be stunning.
However, it is essential to protect your alcohol ink art on metal surfaces as they can be susceptible to scratching or fading over time.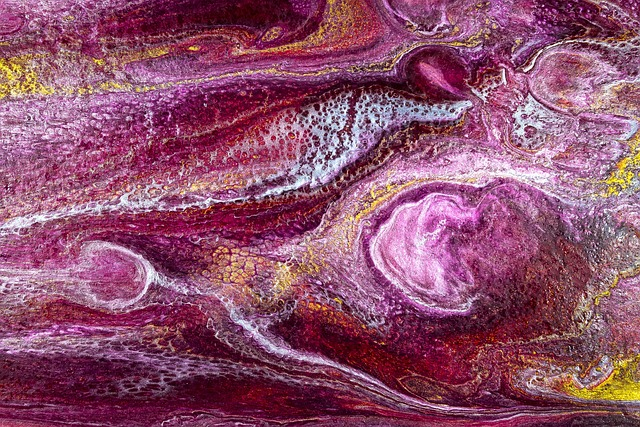 Can You Use Alcohol Inks With Acrylic Paints
Alcohol inks can also be combined with acrylic paints to create unique artwork. The key is to remember that alcohol inks are translucent, so the colors will blend together and create a gradient effect.
To use alcohol inks and acrylics together, paint your surface with acrylic paint. You can use an acrylic pouring technique or apply the paint with a brush. Allow this to dry completely, and then add your alcohol ink. Alternatively, you can use a brush or straw to manipulate the inks and create specific designs.
The combination of acrylics and alcohol inks creates unique effects that are truly one-of-a-kind. Experiment with various colors and techniques to see what works best for your project.
How To Protect Your Alcohol Ink Art
Once you have created a stunning alcohol ink art piece on metal, it's essential to protect it so it lasts for years. Here are a few tips to safeguard your artwork:
1. Apply sealant: To prevent your alcohol ink from fading or scratching, apply a sealant to the surface of your metal artwork. Use a clear acrylic or spray sealant that will provide a protective layer without altering the colors of your artwork. However, test the sealant on a small area before applying it to your artwork.
2. Frame your artwork: Another option for protecting your metal alcohol ink art is to frame it behind glass. This will not only preserve your artwork, but it will also enhance its beauty and make it easier to display.
3. Handle with care: It's important to handle your artwork with care to avoid scratches or damage. Keep your artwork flat or place it in a protective cover when transporting it. Also, avoid touching the surface of the metal with your fingers to prevent oil transfer.
By following these simple tips, you can protect your alcohol ink art on metal surfaces and ensure it lasts for years.
Through the basics of alcohol ink and tips and tricks to create stunning pieces, we hope to have inspired you to unleash your creative side and add a new medium to your repertoire. With the right supplies and techniques, alcohol ink art can be a rewarding and stunningly beautiful art form. Remember to experiment, share your creations on social media, and have fun. For additional help, search for an alcohol ink tutorial on YouTube, follow other alcohol ink artists on Instagram. or enroll in a class. One thing to keep in mind is that alcohol evaporates quickly, so you must have a plan before you start your own alcohol ink project.
Related Posts:
How to Transform Your Photos into Stunning Wall Art with Shutterfly
What to Consider When Printing Art On Metal
Alcohol Ink Techniques for Beginners