The Ultimate SEO Guide for Artists
NOTE: This is a guest post by Marie Barnes. Learn more about Marie at the end of the post.
Art must belong to the people. A modern way to bring creativity to the masses is to advertise your work over the Internet. While promotion methods that give instant effects can be expensive, SEO, like social networks, is something you can do for free, with your own hands. In this article, The Ultimate SEO Guide for Artists,  we talk about the basics of SEO promotion, taking into account the specifics of the artist's site.
Promote Your Name
A personal brand is important to an artist. You need to make your name your personal brand and teach Google to recognize it. Therefore, it is recommended that you include your name in the domain of your site, place it on the main page, and then optimize all the pages of your site, mentioning your name in every convenient case.
Avoid Popular Keywords (Or Use from in the Right Bunch)
In order for SEO algorithms to work in your favor, you need to choose the right semantic core for the site. It is very important to maintain a balance between popular and wide-covering words like an artist, a sculptor, a draftsman, and queries that may not yet be known to Google.
For example, if you are just starting to develop your personal brand as an artist, then Google most likely does not yet know your name and does not perceive it in conjunction with your work and site. Your task is to teach search engines to recognize you correctly. To do this, you need to find the right combinations of keywords. To do this, divide all keywords into large groups:
We have already given examples of these words, but you can enhance their meaning and make the search for your site more targeted at the same time if you add the keyword "the artist Your Name".
geolocation and marketing. We specifically combined these keywords into one group, since it is unreasonable to separate them. For example, an art gallery in Denver, buy paintings in New York. By analogy with the previous paragraph, you can make your keywords more specific by adding your location and your name to the queries.
trending. If you create content for a blog, then it's profitable to move along with trending keywords. For example, "trends in contemporary art." Plus, of course, you need to offer a new vision, but we'll talk about that later.
keywords inherent in your art direction. By analogy, you can promote your site by creating content for those who are interested in the kind of art in which you work. An example of a key request is watercolor painting techniques.
Personal keywords are your name, plus the unique names of your paintings and exhibitions.
Record Meta Tags for Photos of Your Work
This is another way to make Google understand what is shown in your paintings. Since at this point, Google is only able to read textual descriptions, then you need to provide your pictures with meta tags.
Meta tags are also some kind of key queries. When you will form a meta tag for your paintings, be sure to include the name of the painting, the technique, your name, and the direction of the painting.
In this way, you will get the opportunity to be indexed for all queries, and Google will display your pictures in search results in the Images section.
Upload a Video of Your Work and Add a Transcription
Video improves the behavioral factors on the site and the engagement of the audience, and thereby gradually move the site to the top of search results. But if you shoot a video of your workflow, supplement it with your comments, at the same time teach users something useful, and most importantly – add an SEO optimized transcription, your video page will fly up immediately for all indicators. Be sure to try it!
Get Backlinks
Backlinks are another signal to Google that your site is worthy of attention. To promote an artist's website, the best way to get them is to share valuable content and publish it on third-party resources.
At the same time, do not forget that the publication platform should also be credible, and its target audience should at least partially consist of art lovers. This is the only way you can implement the SEO and marketing goals with one action.
Make Your Website Mobile-Friendly
The share of mobile traffic continues to grow, and Google is increasingly analyzing the behavioral factors of users visiting the site from mobile devices. It is important for you to take this into account and make sure that your site is correctly displayed regardless of the screen width.
In addition, taking into account the fact that your site is most likely full of photographs of your work, make sure that they do not lose quality and attractiveness when viewed from a mobile. You need to choose such a resolution of the photos so that they load quickly, do not narrow and do not crawl across the entire mobile screen, do not decay into pixels and do not lose their attractive appearance.
Plus, in addition, you need to think over the functionality of the mobile version, analyze user behavior and leave only the most necessary sections in quick access. You can hide the rest under the main menu.
The List of Tools to Help You
Ready to get started? Don't wait any longer – you already have the basics of a strategy for SEO promotion.
Marie Barnes is a Marketing Communication Manager and an enthusiastic blogger interested in writing about technology, social media, work, travel, lifestyle, and current affairs. She shares her insights through blogging. Follow her on Medium.
Popular Art Marketing And Sales Tutorials
Below are some of the most famous art marketing courses that will grow your online art business:
Most Popular – How to Make a Living Selling What You Make by Megan Auman
Most Popular –  Build a Successful Creative Blog by April Bowles-Olin
How to Build a Business While Learning Your Craft by Megan Auman
Pinterest Marketing for Makers & Designers by Megan Auman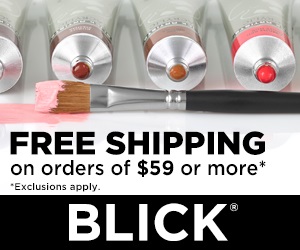 Disclaimer: This post may contain affiliate links. If you make a purchase by clicking on an affiliate link, Nevue Fine Art Marketing may earn an affiliate commission at no additional cost to you. Affiliate relationships include, but are not limited to, Bluehost, Tailwind, Skimlinks, SareASale and StudioPress. To learn more visit Affiliate Link Disclosure Policy
28 Day Blogging Challenge for Visual Artists
Are you ready to start building an online presence?
Available on Amazon or Download your copy today.
The Productive Artist How to Live Your Dreams
The right mindset and time management skills are essential for any business. These topics are often not talked about but are critical elements for your success. You will learn how to have a winning mindset and time management skills necessary for operating a successful art business.
Available at Amazon or Download your copy today.
Get More Done in Less Time The Part-time Artist
Proven strategies that will help you to get more work done in less time so you can sell more art and earn more money.
Available at Amazon or Download your copy today.
Did you enjoy this article? Don't forget to sign up for my free weekly newsletter.
You can also join me on:
Learn how to start, grow, and monetize your online art business.
Art Business Planners