As an emerging artist, you may be all too familiar with the feeling of being lost in the vast and daunting world of the art industry. Finding artists' representation can seem impossible, leaving you overwhelmed and discouraged. But fear not, aspiring artists. You can successfully navigate the process and achieve your dreams with the right tools and guidance.
This article will provide a comprehensive roadmap to gallery representation, covering everything from your artist's submissions to researching galleries to networking with industry professionals. By following these steps, you will be well on your way to success in the art world. So, let's dive in and explore the ultimate roadmap to gallery representation for emerging artists.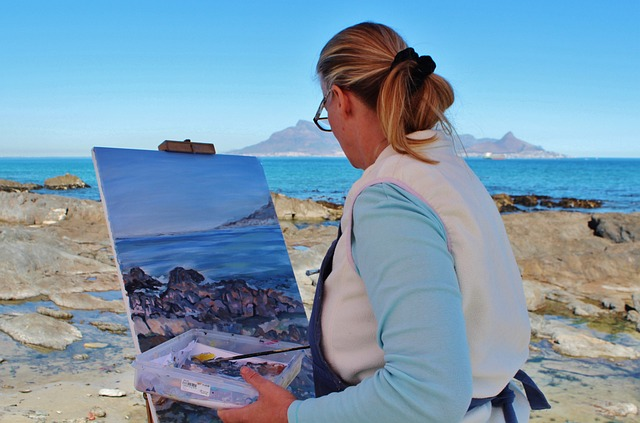 Disclaimer: This post may contain affiliate links. If you make a purchase by clicking on an affiliate link, Nevue Fine Art Marketing may earn an affiliate commission at no additional cost to you. Affiliate relationships include, but are not limited to, Bluehost, Tailwind, Skimlinks, SareASale and StudioPress. To learn more visit Affiliate Link Disclosure Policy
Researching Galleries
Before you start approaching a gallery owner, it's essential to research the ones that align with your style, niche, and career goals. You don't want to waste your time and energy sending your portfolio to an art gallery that doesn't represent your type of art.  You must do your homework if you want your art hanging in a gallery or promoted by non gallery venues or an artist agency.
Start by browsing online gallery websites, the gallery ads, visiting several galleries in your area, and attending art fairs to understand the galleries' aesthetics and their artists' caliber. Keep a list of galleries that catch your attention and investigate them further. Check their websites, read their mission statements, and see past and current exhibitions. Knowing their exhibition history will give you insight into what they look for in their artists.
You can also contact fellow artists in your network or the local art community to ask for recommendations on galleries that support emerging artists. Don't be afraid to ask for advice or guidance from professionals in the industry; they might have inside knowledge that could be helpful for you. Ask if they could suggest galleries that are good fit for your niche.
Remember that an art gallery representation is not a one-way street. You need to find a gallery that not only wants to represent you, but one that you feel comfortable working with and that can help you grow as an artist. Take your time to research and find the galleries that are the right fit for you.
Building a successful gallery relationship takes time and effort, so don't approach too many galleries at once; instead, focus on just a few to maximize your chances of success.
Develop Your Brand
Once you've identified potential galleries that align with your vision, it's time to develop your brand. A strong, professional portfolio is essential for attracting gallery representation, so curate yours carefully.
How To Develop Your Brand
As an aspiring artist, creating a profitable and successful brand is a great way to get your work noticed by art galleries. To build a solid personal identity as an artist, consider defining what makes your work unique. Then, use specific visuals such as color themes and fonts on everything from your website to business cards to create a consistent visual style. You can also tell stories about yourself through marketing materials that target potential buyers.
Taking advantage of online platforms to promote your artist's work on, such as social media or newsletters, can be invaluable in the long run. Emphasizing the process and techniques you use while creating artwork rather than just the finished piece can also help differentiate you from other artists, so consider exploring various formats, like blog posts and videos, to showcase your creative outlet. Above all else, staying positive and dedicated is essential to keep your brand engaged with current and future opportunities.
Preparing Your Portfolio
Now that you have your list of galleries and you have developed your brand, it's time to prepare your portfolio. Your portfolio is your best marketing tool, and the first impression galleries will have of your work. It must be professional, polished, and tailored to your target galleries.
Start by selecting your best and most recent paintings and works that showcase your artistic style and skills. You want to present a cohesive body of work that tells a story and leaves a lasting impression. Keep in mind that quality outweighs quantity, so choose your pieces carefully.
Next, present your portfolio cleanly and concisely. Use high-quality images that showcase your works' details, and arrange them in a logical and easy-to-follow order. Don't forget to include an artist statement and CV highlighting your achievements, experience, and any art schools you have attended.
Lastly, customize your portfolio to fit the galleries you're approaching. Research their submission guidelines and tailor your portfolio and application materials accordingly. Personalization shows that you're serious about working with the gallery and that you've done your research.,
Once your portfolio is complete, it's time to start networking.,
Networking
Once you have a list of galleries, it's time to start networking. Attend art exhibitions and events in your area, and introduce yourself to fellow artists, collectors, and curators. Networking with the right people can help you gain exposure and make valuable connections in art.
Schedule A Studio Visit
After establishing a connection with a gallery, inviting them to your studio is essential. This lets them see your work in person and understand your creative process. Make sure your studio is clean and organized, and be prepared to answer any questions they may have about your work.
Navigating the Art Market
Navigating the art market is critical in securing representation as an emerging artist. It's essential to do your research and understand the current trends and demands of the art world. Keeping up with the market's evolution, networking with collectors and curators, using art magazines and reading industry publications can help you stay updated with the latest developments.
One essential aspect of navigating the art market is pricing your work correctly. Pricing is tricky, but you must be mindful of the market's norms and not overvalue or undervalue to sell your work. You can research similar artworks' prices, speak with galleries and curators, and seek advice from other artists to help determine the best pricing strategy for your work.
Develop A Business Plan
Another critical aspect is creating a business plan that outlines your goals, target audience, marketing strategy, and financial projections. A solid business plan can help you stay on track and measure your progress, ensuring you take the necessary steps to achieve your career goals.
By navigating the art market with these strategies in mind, you'll be more confident in your approach to gallery owners and better prepared to take on the challenges and opportunities of building a robust career. Embracing your art career is the next logical step.
How To Write A Business Plan
Developing a comprehensive business plan for a young artist can be daunting, but it's remarkably achievable with proper preparation and guidance. First, it's essential to consider your artistic vision and how you'd like to create or share that with the world.
Researching other successful professional artists' in the art world can help immensely; understanding their stories, products/services they provide, pricing structures, etc., can give you many ideas on how to form your plan. Next would be to determine your expected expenses, including equipment, materials, and operational costs. Calculating your target revenues by setting realistic goals is also essential – researching market standards to gain more insights into pricing and funding options should be considered. Finally, it'd be beneficial to create an organized document project summary of all these elements so that you can track progress accordingly and make necessary improvements continuously. By putting in the work upfront on your business plan, you can surely see success for yourself as an artist.
Embracing Your Career
As an emerging artist, you must have a clear vision of where you want your art career to take you. Setting goals and creating a plan for achieving them is a crucial step in the process. However, embracing your art career and committing to the journey ahead is equally important.
Embracing your art career means owning your artistic identity and being unapologetic about your creative choices. It means being open to opportunities, taking risks, and learning from failures. It's about recognizing that your art is not just a hobby or a side hustle but a significant part of who you are and what you want to achieve.
Building a successful art career requires hard work, patience, and perseverance. Sometimes it's tough, and you may question whether it's worth it, but staying motivated and focused on your end goal is essential. It's also crucial to surround yourself with a supportive network of fellow artists, mentors, and professionals who can help guide and mentor you.
Conclusion:
In conclusion, embracing your art career is integral to achieving gallery representation as an emerging artist. By committing to your artistic journey and being unapologetic about your creative choices, you'll be better equipped to navigate the art market and take on the challenges of building a successful art career. So, take this next step with confidence and passion, and watch your art career flourish.
Remember that an art dealer is searching for young artists and new talent. You have to work to get your art in front of them.
Related Posts:
Tips For Getting Your Art Into a Gallery
How To Get Started As An Artist: Building An Art Career
How to Sell Art Without a Gallery