Are you tired of staring at blank walls in your home, wondering how to showcase your beautiful canvas art? Do you struggle with perfect alignment and balance when hanging your artwork? You're not alone. Many art collectors face this challenge but fear not. We've got you covered. This comprehensive guide will show you how to hang your canvas art like a pro. We'll cover everything from choosing the proper hardware, preparing your wall, positioning your canvas art, hanging it up, making adjustments, and even maintenance and care. So, let's get started on creating a perfectly curated display that showcases your canvas art in the best possible light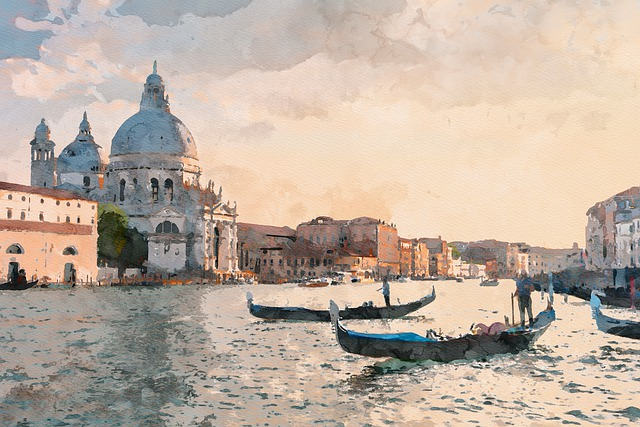 Disclaimer: This post may contain affiliate links. If you make a purchase by clicking on an affiliate link, Nevue Fine Art Marketing may earn an affiliate commission at no additional cost to you. Affiliate relationships include, but are not limited to, Bluehost, Tailwind, Skimlinks, SareASale and StudioPress. To learn more visit Affiliate Link Disclosure Policy
Choosing the Right Hardware
Before we dive into the specifics of how to hang canvas art, let's talk about the importance of choosing the proper hardware. Without the correct tools, your canvas prints won't be safely and securely hung, and you risk damaging the piece and your wall.
One crucial factor to consider is the weight of your canvas print. Different hardware is required for lighter pieces versus heavy ones. For instance, for smaller canvases that weigh less than 20 pounds, you can use a basic picture hook with a nail. However, if your piece weighs over 20 pounds, you'll need a more substantial hook or hanger to support the weight.
A picture-hanging kit is an excellent option for those who need to hang various art pieces. These hanging kits include multiple hooks and nails, giving you the flexibility to hang different types and sizes of art. Check what the hanging kit includes to ensure it has everything you need. And if you plan on hanging multiple canvases, we suggest using an art hanging system.
Another consideration is the type of wall you're hanging your canvas art on. Drywall or plaster walls require different types of hardware than brick or concrete walls. Choose hardware appropriate for your wall type to ensure a secure and long-lasting installation.
Additionally, consider the aesthetic of your artwork when choosing hardware. A sleek, modern look may call for a minimalist hanging system, while a more traditional piece may require a canvas frame and ornate hardware that complements the art. A wooden frame might work well for a natural-themed landscape piece, while a brass hook could be the perfect finishing touch on an abstract painting.
Ultimately, it's important to select hardware that supports the weight of your art and enhances its overall look. Choosing the appropriate hardware for your canvas ensures a secure installation and adds to your display's overall presentation and style.
Preparing Your Wall To Hang A Canvas
Before hanging custom canvas prints, it's essential to prepare your wall to ensure a stable and secure display. The first step in preparing your wall is to assess its condition. If your wall is painted or wallpapered, ensure it is not flaking or peeling. If there are any cracks or holes, these should be filled and sanded before hanging the canvas.
Once your wall is in good condition, consider the weight of your canvas wall art and choose the appropriate hardware. Large canvas prints may require art wire, two nails, and a sturdy hook or anchor, while lighter and smaller canvas prints only need adhesive strips or a simple nail and sawtooth hanger.
Preparing your wall correctly ensures a safe and secure installation and sets the stage for a beautiful display. By assessing your wall and choosing appropriate hardware, you can create a lasting and visually appealing showcase for your canvas art.
You should also consider the location of your canvas paintings. Decide on a place where it will be out of direct heat or sunlight, as this could fade the colors of the painting over time. Make sure that there are no electrical wires, water pipes, and other obstacles in the way of your planned canvas art display.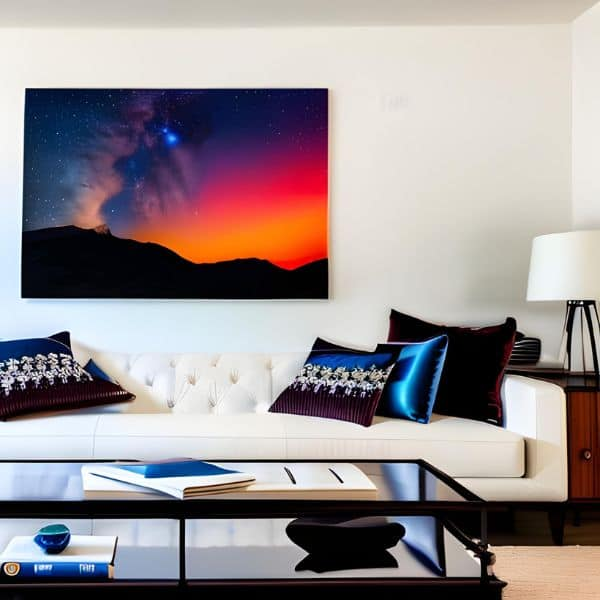 The Right Location for Canvas Art Prints
When it comes to hanging canvas art, location is everything. You want to choose a space where the art can serve as the room's focal point. The wall should be plain, with no competing objects or clutter in the background. Consider the light sources in your room and how they'll affect the print's colors. A spot with ample natural light or where the canvas won't be affected by direct sunlight is ideal. Natural light is often the best option, but picture lighting, such as a basement or hallway, may sometimes be necessary.
Also, pay attention to the size of the print and the wall. You don't want to hang a large print on a small wall and vice versa. If you have a hallway, consider creating a gallery wall with a few canvas prints in varying sizes. Additionally, consider any furnishings or accessories in the room and ensure that the canvas is positioned to complement the overall design.
Positioning Your Canvas Art Prints
With your wall properly prepared, it's time to position your canvas art for optimal viewing. Before committing to a spot, consider the room's overall aesthetic and the canvas's size. When hanging a single piece, the center of the canvas should be at eye level. However, if you're hanging a grouping of canvases, consider treating them as a single unit and positioning them at eye level.
Hanging Your Canvas Painting
Once you've selected the perfect location for your own canvas wall art, it's essential to ensure it's hung straight. Use a level to ensure the canvas is perfectly aligned before hanging it. After all, all the work you've put into preparing your wall will be wasted if your artwork is not level.
With your own wall art perfectly aligned, you can confidently hang it. Make sure to use sturdy hardware and carefully follow the manufacturer's instructions for installation. Once the canvas is securely hung, step back and admire your handiwork.
Making Adjustments
Now that your canvas art is securely hung on your walls, it's time to take a step back and assess the overall look. Are there any adjustments you'd like to make to perfect the effect? Perhaps you want to move a piece slightly to the left or right or adjust the height to match the surrounding decor better.
If you're unhappy with the layout, don't be afraid to experiment with different configurations. Try swapping pieces or hanging them in a different order until you find the best arrangement for your space.
Maintenance and Care
Proper maintenance and care will help ensure its longevity.
First and foremost, avoid placing your art in direct sunlight or any area with extreme temperatures or humidity. This can cause fading, warping, or even cracking. Regularly dusting your canvas with a soft, clean cloth or brush can also help preserve its appearance.
If you need to clean your art, use a damp cloth and mild soap, but avoid getting the canvas too wet or using harsh chemicals. In addition, if you need to move or transport your canvas art, handle it carefully and prevent bending or folding it.
Conclusion:
Hanging canvas like a pro requires more than a hammer, nail steel wire, and eye hooks. Creating a beautifully curated display takes preparation, patience, and the right tools. Choosing the proper hardware, preparing your wall, positioning your canvas print, and making adjustments can create a center point that showcases your art in the best possible light. Remember to maintain and care for your canvas print properly to keep it looking its best. So, take your time, follow these steps, and start hanging your canvas art like a pro today.
Related Posts:
How to Care for Fine Art Prints: The Complete Guide
How To Print Artwork On A Canvas
Best Printing Companies That Print On Canvas
How To Hang Ceramic Tile Wall Art