The terms "drawing" and "sketching" are interchangeable for many people. However, there is a difference between the two terms, and it is essential to understand that distinction if you want to improve your art. In short, drawing is more about accuracy and precision, while sketching is typically created to capture a moment or an idea.
Disclaimer: This post may contain affiliate links. If you make a purchase by clicking on an affiliate link, Nevue Fine Art Marketing may earn an affiliate commission at no additional cost to you. Affiliate relationships include, but are not limited to, Bluehost, Tailwind, Skimlinks, SareASale and StudioPress. To learn more visit Affiliate Link Disclosure Policy
Drawing
When many artists think of drawing, they think of it as being a very technical drawing process. And to some extent, they are right. A detailed drawing does require a certain level of drawing skills and precision. It is often used to create illustrations or detailed drawings like real portraits or gesture drawings.
A finished drawing is usually highly finished, where all the details have been meticulously detailed. Finished drawings are often created with a slow and focused approach, ensuring everything looks right. The bottom line for preliminary drawings is that a finished piece is often sold or hung on a wall for display.
Drawing Mediums Used For A Final Drawing
Many artists use different mediums for their final drawings.
The most popular mediums are:
Colored Pencils – Colored pencils can create detailed, realistic drawings.
Soft Pastels – Soft pastels create more delicate looks as the colors blend more easily.
Ink – Ink is often used for final illustrations and drawings where accuracy is important.
Oil Pastels – Oil pastels are used to create bold and vivid colors.
High-Quality Drawing Paper – Quality drawing paper, like rag paper or bristol paper is essential for creating a final drawing that looks great.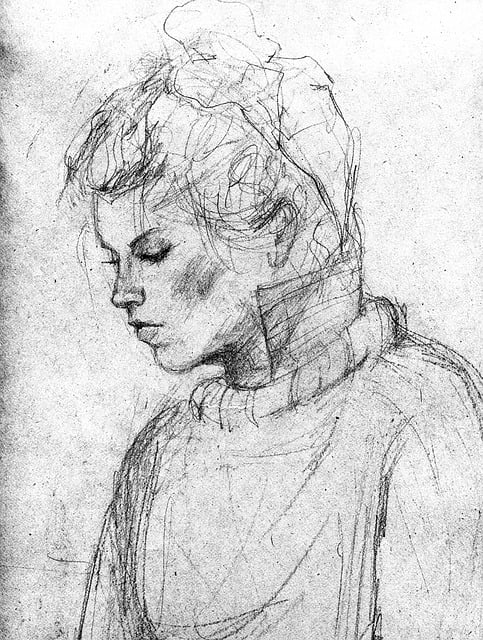 Sketching
Sketching, on the other hand, is seen as being more relaxed and informal. Sketches are often done quickly, without a lot of planning or forethought. They are usually less detailed than drawings, and they are unfinished sketches often used to capture an idea or a moment.
The main difference between drawing and sketching is that drawing is more about accuracy and precision, while line drawing is more about capturing an idea or a moment. This doesn't mean one is better; it just means they are different. And understanding that difference can help you to improve your art.
The Benefits Of Sketching
Sketching Helps You See Things Differently
When you sketch, you must look at your subject matter. You can't just glance at it and move on – you must study it intently to capture its essence on paper. The sketching stage of close observation can help you see things you would have missed.
Sketching Helps You Develop Your Own Style
The more you sketch, the more your own unique style will emerge. This is because as you experiment with different techniques and mediums, you'll understand what you like and don't like. Eventually, you'll gravitate towards certain natural styles and methods, and your sketches will reflect this.
Sketching Helps You Practice Seeing in Three Dimensions
When you sketch from life, you must constantly translate the three-dimensional world onto a two-dimensional piece of paper. This process requires a great deal of spatial awareness, and the more you do it, the better you'll become at judging distances and proportions.
Sketching Helps You loosen Up
Sketching is a great way to loosen up before starting a more finished work or detailed drawing. It allows you to experiment with different ideas without getting too attached to any one of them. And if things don't go how you wanted them to, it's not a big deal – because it was just a sketch!
Sketching Helps You Work Quickly and efficiently
The faster you can sketch an idea, the better. This is because when an idea is still fresh in your mind, capturing its energy on paper is easier. So if you want to work on a rough idea quickly captured and efficiently, a quick sketch is a great way to capture a rough idea quickly.
Sketching Helps You Be More spontaneous
One of the best things about sketches is that they don't have to be perfect – many sketches shouldn't be. This lets you be more spontaneous with your drawings, resulting in more expressive and interesting sketches.
Sketching Helps You Develop Your Observation Skills
The act of sketching itself helps to improve your observation life drawing skills. But even if you never pick up a pencil or brush, simply looking at things closely will help train your eye and improve your observational skills.
Sketching Helps You Overcome Your Fear of the Blank Page
If starting a drawing fills you with dread, sketching is a great way to ease yourself into it. Because sketches are meant to be quick and imperfect, they take away the pressure of having to produce a "perfect" drawing from the very start. This can help build your confidence and make drawing feel less daunting overall.
Sketching Helps You Communicate Your Ideas Better
Whether you're communicating with a client or collaborating with another artist, being able to sketch out your ideas quickly can be extremely helpful. Not only will it save time in the long run, but it will also help ensure everyone is on the same page from the beginning.
Sketching Materials
Lower Quality Papers – These are great for experimentation and practice, as they can handle a lot of erasing and allow you to move quickly.
Pencils – You'll want to have a range of graphite pencils on hand with different degrees of hardness (H, HB, 2B).
Erasers – You'll need a good eraser to correct and clean the lines.
Charcoal – Charcoal can create very expressive lines and strong contrasts.
How To Practice Sketching
Sketch regularly
The best way to improve your drawing skills is to sketch regularly. Set aside sometime each day, or each week, to sit down and sketch. It doesn't matter what you sketch – it could be a still life, a landscape, or a real portrait drawing. Just get into sketching, and you will see your skills improve over time.
Use reference photos
When you are first starting, using reference photos to help you with your sketches can be helpful. You can find reference photos online or in magazines. Once you have a photo that you want to use, take some time to study it before you start sketching. Look at the shapes, the shadows, and the photo's overall composition. Then, start sketching.
Experiment with different mediums
Sketching with pencils is a great way to start, but don't be afraid to experiment with other mediums. Try charcoal, pastels, or even markers. Each medium has its own unique properties that can add something new to your sketches.
Use different types of paper
The type of paper you use for your sketches can also make a big difference. Experiment with different papers until you find one that you like working with. Some papers are better for pencils, while others are better for charcoal, pencil crayons, or pastels.
Take your time
One of the most important things to remember when sketching is to take your time. Don't try to rush through your sketches – it will only lead to frustration. Instead, take your time and enjoy the artistic process of creating art!
Don't be afraid to make mistakes
Another essential thing to remember is that mistakes are part of the learning process of master artists. Don't be afraid to make mistakes – they will only help you learn and grow as an artist.
Practice makes perfect
As with anything in life, practice makes perfect! The more you sketch, the better you will become at it. So keep at it and don't give up.
Conclusion:
The next time you sit down to create something, ask yourself whether you want to focus on accuracy and precision or whether you want to capture a moment or an idea. If you can answer that question, you'll know whether you should draw or sketch. And understanding the difference between the two will help you to create better art. Sketching and drawing are art forms but have many practical and creative uses. Whether you're a professional artist or designer or just like to doodle in your spare time, honing your sketching skills can help you communicate your ideas better and improve your observational skills.
Related Posts:
Sketching Tips To Make You A Better Artist