Creating beautiful and meaningful work is important as an artist, but what about selling it? Understanding which art mediums attract buyers can be the key to success.
In this article, we've reached out to top collectors in the industry to gain insights on which medium they prefer and why. From classic oil paintings to contemporary photography, we'll explore each medium's benefits and unique qualities, giving you the information you need to decide which medium to focus on for your art sales.
So, whether you're a seasoned artist or just starting, this article will provide valuable information to help you create demand for your work.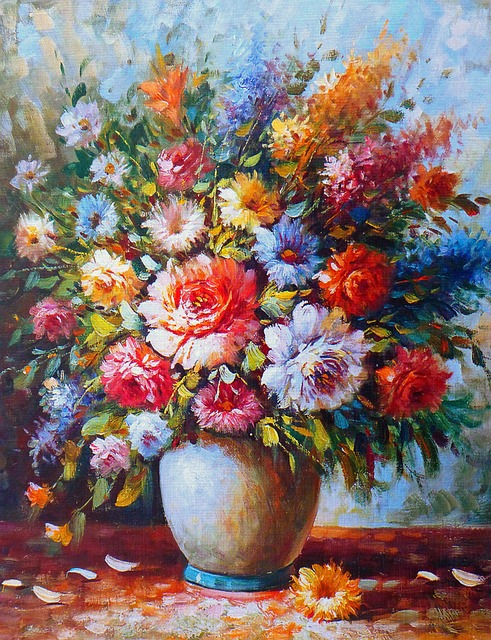 Disclaimer: This post may contain affiliate links. If you make a purchase by clicking on an affiliate link, Nevue Fine Art Marketing may earn an affiliate commission at no additional cost to you. Affiliate relationships include, but are not limited to, Bluehost, Tailwind, Skimlinks, SareASale and StudioPress. To learn more visit Affiliate Link Disclosure Policy
Oil Paintings Are A Classic Choice
While oil paintings may not be the newest or trendiest medium, they remain a classic choice for art buyers. The richness and depth of colors achieved with oil paints are unparalleled, and the texture of a brushstroke on canvas gives a sense of history and tradition. Additionally, oil paintings have proven their lasting power as investments, with famous works selling for millions of dollars at auctions.
However, it's important to note that the classic nature of oil paintings doesn't mean they have to be stuffy or outdated. Contemporary artists are finding new and exciting ways to incorporate oil paints into their work, experimenting with techniques and subject matter to create fresh interpretations of the medium. And with the rise of online marketplaces, there are more avenues than ever for artists to connect with buyers who appreciate the timeless elegance of oil paintings.
Abstract paintings can be found in many mediums, but the style works particularly well with oil on canvas. Many abstract painters use bright colors and dynamic brushstrokes to create mesmerizing, eye-catching pieces. Buyers enjoy abstract art because of their modern aesthetic and emotionally evocative imagery.
Mixed Media Adds Depth And Creativity
Mixed media is popular among artists looking to add depth and creativity to their work. By incorporating a variety of textures and materials, artists can create pieces that truly stand out and capture the eye of collectors.
However, while mixed media certainly has its merits, something must be said about the timeless elegance of a traditional oil painting.
Despite its reputation as an old-fashioned medium, contemporary artists find new and exciting ways to experiment with oil paints, resulting in fresh interpretations of this classic form. And with online marketplaces making it easier for artists selling art online to connect with buyers, oil paintings remain a strong choice for those looking to create pieces that stand the test of time and appeal to a wide range of collectors. With that said, mixed media is becoming more popular in the art world.
Photography
With the rise of social media and the increasing demand for contemporary art, photography has become an attractive choice for collectors. Its ability to capture a wide range of popular art subjects and emotions has made it a popular medium among both artists and buyers. While oil paintings may offer a classic and timeless touch, photography provides a modern and unique perspective that appeals to a new generation of collectors.
Sculpture Is A Timeless Investment
Sculpture is a medium that has been used for centuries to capture human form and emotions. Unlike paintings or photographs, sculptures have a physical presence that any other medium can't replicate. While they may not be as popular among collectors as they once were, sculptures still hold a certain prestige, making them a worthy investment. A well-crafted sculpture can last centuries and hold value, making it a timeless addition to any collection.
Don't Forget About Prints
Prints also offer versatility that sculptures and even paintings can't match. With the ability to reproduce an image multiple times, prints can create a cohesive theme throughout a collection or display various styles and artists. And while original prints can hold their value over time, they're often more accessible to a broader range of collectors.
How To Decide What Medium To Use
As an artist looking to sell art online, deciding on a fitting medium for your work can be overwhelming. However, there are many factors to consider, such as the genre, subject matter, and audience.
Researching successful online platforms and evaluating what mediums are in demand can also help inform your decision. In today's digital age, mixed media and digital art can be popular choices due to their ability to be easily reproduced and shared. When considering more traditional mediums such as oil, acrylic, or watercolor, keeping shipping logistics in mind may be helpful.
Ultimately, an artist must weigh all factors and consider their artistic style and preferences to determine the best art medium to sell their work online. By carefully selecting a suitable medium, an artist can ensure that they can create art that stands out among the competition and reaches the right audience.
Best Selling Art Subjects
As an artist wanting to build a successful art business, it's crucial to research the best-selling subject matter. By conducting thorough research, artists can tap into the most profitable markets and understand what types of art resonate most with buyers. This information can be invaluable in guiding an artist's creative process and business decisions.
Utilizing data on popular subject matter can allow an artist to develop a competitive edge and make informed decisions about advertising, pricing, and marketing strategies. Ultimately, researching best-selling subject matter is critical to building a thriving art business and establishing oneself in the art world.
How To Find The Most Popular Art Subjects
Look at Bestselling Subjects
One of the best ways to find popular art subjects is to look at what is selling well. You can do this by visiting art galleries and museums or by searching online. If you see a lot of artwork with a particular subject matter, then it is likely that people are interested in that type of artwork.
Look at What is Trending
Another way to find popular art subjects is to look at trends. You can do this by looking at online trends or talking to art dealers and gallery owners. If you see a lot of artwork with a specific subject matter, then it is likely that people are interested in that type of artwork.
Ask Other Artists
If you have trouble finding popular art subjects, you can ask other artists for their opinion. Talk to artists who are selling their work or have had success in the past. They will likely be able to advise you on what types of subjects are popular among buyers.
Do Some Research
In addition to talking to other artists, you should also do some research on your own. This means looking at both historical and contemporary trends. You can start by looking at what was popular in the past and then see how those trends have changed. This will give you a good idea of what might be popular in the future.
Experiment With Different Subjects
Finally, don't be afraid to experiment with different subjects. You never know what might be famous until you try it out. So go ahead and try painting various subjects, and see which ones resonate with buyers the most.
Conclusion:
In conclusion, no one answer fits all when it comes to the best medium for art that sells. Each medium has unique qualities and benefits that attract different collectors. The timeless beauty of oil paintings, the creativity of mixed media, the contemporary touch of photography, and the value of sculpture are all valid reasons for collectors to invest in a particular medium. However, it's crucial to always stay true to your artistic vision and style and to create a demand for your work in any medium.
Related Posts:
Best Paint For Painting A Plaster Sculpture
5 Awesome Art Techniques Using Various Mediums
What Kind Of Art Sells Best – Art Selling Tips