Last Updated on
Would you like to have more people read your art blog post after you have published it? In this post, you will discover where to submit your art post after publishing.
Where To Submit Your Art Post After Publishing
Disclaimer: Please note that some of the links on this post are affiliate links and will be clearly marked as so. I will earn a small commission when you purchase a product or service from an affiliate link at no extra cost to you which helps with the costs of operating Nevue Fine Art Marketing. I will only recommend products I have used, found helpful to my business and are companies I trust.
Building an online presence takes a lot of time and effort.
An easy way to drive traffic to your art listings is by writing high-quality content that is search engine friendly. Doing so will allow people who are interested in your artistic style find your content organically.
Unfortunately, it takes for blog posts to be ranked higher in search engine searches.
The good news is that you can speed up the process by manually promoting your art posts on different mediums.
How To Promote Your Blog For Free
Below are where you can submit your art posts after hitting publish.
Make the strategies outlined below part of your blogging habits so you can get more blog traffic.
Facebook Artist Page
Facebook is making it difficult for people to share links that bring people outside of Facebook. It reminds me of the Eagles song "Hotel California." "You can check-out any time you like, but you can never leave."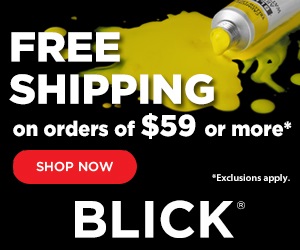 Related Post:
How Facebook's New Goals Affect Artists
Once you are logged into Facebook, Facebook wants you to stay.
Even though Facebook does not share posts on newsfeeds with links as much as other content, I believe it is still a good idea to share your posts on Facebook.
Schedule your blog posts several times on your Facebook Business page to reach more of your followers.
When I share the same post several times on my Facebook Business page I follow a strategy that uses different formats like images, videos, and plain text.
Make it easy for your readers to share your content by having a social share button on every blog post you publish.
I use Social Warfare (affiliate link) for my website.
Personal Facebook Profile
There might be times when you would like to share your best posts on your personal Facebook Profile but I recommend doing this infrequently.
People friend you on Facebook to find out what is new with you on a personal level. You do not want to come off to push by promoting yourself on your personal page.
Twitter
Twitter is where people visit to find real-time news. I post to Twitter several times throughout the day with new posts and older posts.
It is good practice to tweet your posts multiple time with a reasonable gap between tweets.
Social Warfare has a Tweet button that I use to tweet my blog posts. All I have to do is go to the blog post I want to share and click on the Twitter share button.
There are other options available like Buffer or WordPress plugins like Revise Old Post.
LinkedIn
LinkedIn is a great place network with others and to share your new posts with other people in your niche.
I only post my best posts on LinkedIn
Google Plus
People who follow your blog from your Google Plus page are interested in seeing more from your artist blog.
Another benefit is that your Google Plus page will be shown in Google's search whenever someone is searching for your business name.
If you are struggling with time to post your blog posts on Google Plus you can use the Hootsuite app or share it via the Social Warfare WordPress plugin.
Pinterest
If you want to boost blog traffic I highly recommend pinning your artist blog posts on your Pinterest Business account.
Related Post: Pinterest Basics – Artist Business Account on Pinterest
I have increased my blog traffic by over 600% by promoting my artist site on Pinterest and using the Social Warfare plugin (affiliate link) and Tailwind (affiliate link).
Pinterest drives more traffic to my site than all of the other social media channels listed above combined.
Below are some posts that will help you to build a strong presence on Pinterest:
How I Sell My Art Online With Tailwind
Understanding Tailwind Analytics | Pinterest Marketing Strategies For Visual Artists
How To Pin On Pinterest With Tailwind – Smart Schedule
How to Create a Pinterest Profile for Your Art Business
Pinterest Board Tips That Will Attract Your Target Audience
What You Should Pin to Your Artist Pinterest Boards
How to Start Selling Art on Pinterest
Conclusion:
Take action and promote your new blog posts while you are waiting for them to be ranked in the search results.
It takes a lot of work to build an audience online and getting traffic to your blog takes time in the beginning. The good news is that there are strategies like the ones outlined above that will help to speed up the process.
There are thousands of articles available online that will show you how to increase blog views the problem is that it takes a lot of time searching for what you need.
I have made the learning process easier by writing the 28 Day Blogging Challenge for Visual Artists.
You will greatly benefit from the 28 Day Blogging Challenge for Visual Artists if you do not have the extra time to search for posts that talk about how to get blog traffic.
Where To Submit Your Art Post After Publishing Overview:
How To Promote Your Blog For Free
Facebook Artist Page
Personal Facebook Profile
Twitter
LinkedIn
Google Plus
Pinterest
You might also be interested in:
Art Marketing Basics: How Pillar Content Generates Traffic
Increase Your Art Blog Traffic with Simple Pinterest SEO
How To Start A Successful Art Blog
How Long Should Your Artist Blog Posts Be For Best Results
How to Optimize Art Blog Posts with Great Content
You can also join me on:
More resources to help build your online art business.
The Complete Blogger Template Toolkit 
OVER 450+ Templates You Need to Quickly Create Stunning, Jump-Off-The-Screen Image to Grow Your Blog-- Without Having to Learn Design!