Last Updated on
Are you still wondering if you should start an art blog? In this post, you will discover 5 reasons why you should start your art blog today and how it will help you to build an online art business that will generate sales.
5 Reasons Why You Should Start Your Art Blog Today
Disclaimer: Please note that some of the links on this post are affiliate links and will be clearly marked as so. I will earn a small commission when you purchase a product or service from an affiliate link at no extra cost to you which helps with the costs of operating Nevue Fine Art Marketing. I will only recommend products I have used, found helpful to my business and are companies I trust.
Mark Schaefer wrote in his book "The Content Code," (affiliate link) the internet is becoming over saturated with content.
Over 2 million blog posts are published on the Internet every day. (Source: Hosting Facts)
The amount of content being published on a daily basis not only makes it difficult for readers to find quality content but it also makes it a challenge for publishers to have their content found.
An interesting fact that Mark wrote is that we consume 10 hours of content a day. That is over two times the amount of content being consumed prior the internet.
The 10 hours spend consuming content does not even scratch the surface of all the blog posts published.
This information might sound discouraging but if you look at it from a different angle you will be encouraged to write quality content that will have your art collectors returning for more.
Reasons Why You Should Start Your Art Blog Today
It is definitely more difficult for artists and other online businesses to connect with their target audience online because of content overload, but it is content that drives the internet.
If you would like to have people find you over the internet it is imperative that you write high-quality content that your audience will want to read and share with their friends. When you can connect with your readers your art blog will become the go-to source for information that relates to your brand.
In return, your efforts will be rewarded with art sales.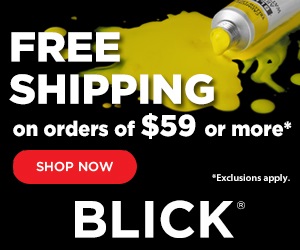 Here are 5 benefits of owning an art blog.
Brand Awareness
Your art blog will help you to build brand awareness and will be the fuel that drives traffic to your art listings.
The lifespan of your blog posts will outlive any social media post no matter if the social media post goes viral or not.
People will be able to find your art blog posts through search engines like Google for as long as you keep them posted.
Social media's lifespan for a post is a day or two if you are lucky, then it is gone never to be seen again.
In order for you to build brand awareness, you need to have your content available for people to find.
Facebook, Twitter, and YouTube are making some changes to their algorithms that will make it more difficult for your posts to reach your audience in the near future.
Visit How Facebook's New Goals Affect Artists to find out what is new with Facebook's algorithm.
It takes more than uploading an image on your website or post an image on social media to build brand awareness.
The content you write for your art blog will be the driving force that will generate the majority of your website's traffic.
Blog Growth
With every post that you publish will be making your art blog easier to be found.
Blogs and websites are discovered through search engines.
When someone types in a query in the search bar, the search engines will produce a list of the most relevant content relating to the query submitted.
The reader will click on a link to a title that they find interesting. That is how a blog gets discovered.
When a reader finds the content valuable, they might search for more content on the blog or revisit the blog at a later time. That is how a loyal reader is born.
Every time you post a new article, you are making it easier for people to find you in the search results.
Answer Questions
Art blogging will allow you to provide useful information for your target audience.
Writing a post that answers frequently asked questions will increase the chance of you landing future sales.
FAQ posts will also save you valuable time by reducing the number of times you have to answer the same question over and over.
You can always add to your FAQ page in the future.
If you are finding that people are asking you similar questions, write a solution to the problem and add it to your FAQ page.
Art Blogs Separates Artists From Other Artists
Blogs allow you to share your unique story and views which separates you from all of the other artists trying to sell art online.
The blog posts you write will help you to attract your target audience (people who are interested in your art style) and build their trust.
After you have built someone's trust, they will look at your artwork differently.
They will feel a connection with every piece you create because they have come to know you on a personal level.
A Place to Sell your art
Unlike most social media sites you will be able to create landing pages for people to purchase your artwork.
Your fans will be able to buy from your blog 24/7.
You will have the opportunity to sell your art even while you are sleeping.
Imagine waking up to find that money was sent to your PayPal account because someone purchased some of your artwork.
Art Blogging Tips
Here are some posts to help you build an audience faster.
Conclusion
It is becoming more difficult being heard in this noisy world.
If you do not start an art blog today, you will be left behind. Tell your story, share your art, and build your audience.
You are an expert in your field, and the world needs to know what you have to say.
What are your thoughts? Are you going to start your art blog today?
5 Reasons Why You Should Start Your Art Blog Today Overview:
Brand Awareness
Blog Growth
Answer Questions
Art Blogs Separates Artists from Other Artists
A Place to Sell Your Art
You might also be interested in:
Did you enjoy this article? Don't forget to sign up for my free weekly newsletter.
You can also join me on:
Learn how to start, grow and monetize your online art business.
28 Day Blogging Challenge for Visual Artists
Pyrography by Dave Nevue
Purchase
Baby Owl Wood Burning Framed Print
The Complete Blogger Template Toolkit 
OVER 450+ Templates You Need to Quickly Create Stunning, Jump-Off-The-Screen Image to Grow Your Blog-- Without Having to Learn Design!