How You Can Start An Art Business Today
Three key ingredients will build a long-term successful art business – planning, marketing, and creating.
Whether you are thinking about starting an art career or wish to earn enough money to support your crafting, the internet has made it possible to accomplish your goals.
Many successful artists have made an art career online, and so can you if you are willing to put in the work.
Those artists who are doing well-selling art online know that there is more to than just making art.
Developing a business plan and working on web design, social media marketing, blogging, and newsletters has helped them grow a global audience.
Start An Art Business In 9 Steps
You will want to focus on nine steps if you art interested in selling your art online or even if you just want more people to visit you at your local craft events.
Creating an online art gallery will be the first step.
Your online gallery is where people can read about art you create and purchase your original art or giclee prints if you plan to sell art online.
Designing a professional website is easy and affordable with platforms like BlueHost.
Here is a video that shows you how easy it is to launch am artist WordPress website.
There are other options available for building an online portfolio besides building a WordPress site.
Take a look at all of the options before you decide.
Visit 16 Best Artist Website Builders to learn more about the other options available.
The hard work will come after you have created and launched your beautiful artist website.
Building a long-term successful art business takes a great deal of energy.
There will be extended hours and emotional ups and downs. Anyone who tells you otherwise is lying to you.
If you are seeking instant gratification, starting an art business might not be in your best interest.
However, if you are willing to put learn about art marketing, everything into your passion, you will achieve your goals.
Do you have business goals, or are you just thinking about selling art online?
If you are interested in starting a small business, take a few minutes to write down what you would like to accomplish.
Your goals will be the blueprint of your business plan.
To help you write your art business goals, download How To Write Goals You Can Achieve Workbook today.
"To be successful, you have to have your heart in your business, and your business in your heart."

~ Sr. Tomas Watson
How To Start An Art Business
Create Art
Now that you have your goals written down and you have thought about which platform you will use to showcase your art online, let's talk about what it takes to become a successful artist.
What I am going to say now is an obvious step but does need to be mentioned.
It is essential to have enough art prepared before you start promoting your art business online.
The more artwork you have, the better.
Prints, greeting cards, and merchandise is a great way to supplement your income and increase the number of products you have on hand.
One painting could provide you with four or more things to sell by offering reproductions of the original.
While you are promoting and selling your artwork, you want to schedule studio time to create new artwork.
It is essential to produce art even when you feel less than creative.
You can not sell something that does not exist.
Try to find different ways to keep yourself motivated even during tough times.
Tips to help you stay motivated:
Have your goals, mission statement and vision statement where you can see them every day
Look at other art
Force yourself to create even when you feel less than creative
Join art challenges
Join Facebook artist groups
Become an art collector
Take local art classes or online art classes
Read how to paint or how to draw eBooks
Subscribe to art magazines
Everyone is different, so you must discover what works best for you to continue to create art even during the tough times.
Just like in every career, there will be days that you will not want to paint or draw.
When those days arise, take a step back and think about everything you have accomplished in life.
You have worked so hard to build a full-time art business.
Sometimes all it takes is a couple of minutes to think about how lucky you are to make a career out of something love to do.
Find Your Niche
Now that we have talked about building an inventory and a place where people can purchase your paintings, let's talk about owning an art business.
You might have heard me say this before, online art sales are increasing every year, and more artists are trying to sell art online every year.
The amount of competition you will have is unimaginable.
The only way that you will become successful selling your art online is to develop an art marketing plan that will separate your art business from all of the other artists selling art online.
How can you separate yourself from other artists who paint or draw similar subjects?
The easiest way to get started is to focus on your niche.
A niche market is the subset of the market on which a specific product is focused. The market niche defines the product features aimed at satisfying specific market needs, as well as the price range, production quality and the demographics that it is intended to target. It is also a small market segment.
(Source: Wikipedia)
It is essential to know your niche, so you will be able to promote your artwork to people interested in what you have to offer.
The people who have a passion for your artistic style are known as your target audience.
It will be easier for you to design a more productive art business plan if you have a clear vision of your niche and your target audience.
You do not want to waste your time targeting and promoting your art to people who have no interest in what type of art you create.
For example, if you paint "horses," your niche would be "horses".
Promoting to people who have an interest in horses will significantly increase the chance of you landing a sale.
Think about it like this. What do you think the food quality will be if you went to a restaurant that had 100 different entries on their menu?
How can a chief be a master of 100 different entries?
Take a few minutes to think about what you would like to be painting or drawing for the next five or ten years.
It is crucial for the growth of your art business to identify your niche.
To separate yourself from all of the other artists online, you will want to be known as an expert in your niche. And to do this, you will want to focus on one style and one subject.
For example, if you like to paint nautical paintings, then focus on creating breathtaking nautical paintings.
If you like to paint horses, fill your online gallery with paintings of horses.
Your online gallery should be filled with landscape paintings if your passion is to paint landscapes.
You get where I am going.
Visit art that sells for more information about what style of art sells best for some inspiration.
Here are some more posts to help you with niche marketing.
For more articles about niche marketing, visit Art Business- Art Marketing Resource.
Learn Who Your Target Audience Is
The next step is to learn who your target audience is.
Like I have mentioned earlier, the people who have a passion for your artistic style are your target audience.
If you can develop a marketing plan that will get your art in front of them, they will become your loyal art collectors.
Before you can develop an effective marketing plan, you will have to learn everything you can about your potential art collectors.
The information you collect will help you to create content that will drive them to your website.
What you should know about your target audience:
Age
Gender
Where they reside
Occupation
Household income
Their interests
Where they hang out online
The data you collect will help you write blog posts and social media posts they will want to read.
The content you publish will connect them to your artwork personally, which will turn them from a potential art collector to a loyal art collector.
Here are some articles to help you learn more about your target audience:
For more articles about the target audience, visit Art Business- Art Marketing Resource.
Create A Mission Statement
A mission statement is a sentence describing a company's function, markets, and competitive advantages, a short written statement of your business goals and philosophies. A mission statement defines what an organization is, why it exists, its reason for being.
(Source: Entrepreneur)
The next step is to write a mission statement.
You might hear some people say that mission statements are not crucial for artists selling art online.
However, most, if not all, successful small businesses and large businesses have mission statements.
An artist's mission statement will help you stay focused on what is essential for your business.
There will be times when you will derail and lose focus on your art business vision as your art business starts to grow.
You might find yourself saying, "I should start painting different subjects or use a different medium."
Obstacles like these will slow down the growth of your business.
I know because I have fallen victim to them.
Once you lose focus on your goals, it will take you months to get back on track.
Why should you take five minutes to write your mission statement?
Writing a mission statement will keep you focused and motivated to work towards your goals.
Download Artist Statement Workbook to help you write the perfect artist statement.
Art Business Logistics
Every state has different laws to pertain to small businesses.
Do some research to decide if you want to classify your business as a sole proprietor or a different business structure that will better fit your business.
Take some time to visit the IRS, your local Clerk of Court's website, and your local town hall to see what steps you will have to take to make your business legal.
Create A Business Plan
Write Your Art Business Goals
Know what your business objectives are and do some research before you start writing a business plan
Like I have mentioned earlier, it is essential to set goals for your business.
If you have not done so as of yet, take a few minutes to get this done.
Ask yourself where you would like to be in ten years, five years, and one year.
Start by writing down your long term goal.
For example, in ten years, I would like my art business to generate six figures a year.
The five-year goal and one-year goal should be broken down with action steps to achieve the long term goal.
For more information about the workbooks and planners:
Annual Art Business Review Workbook
Artist Goals Printable Planners
After writing your business goals:
Research the logistics in the state that you live for running a business in your niche and product that you sell.
Talk to your accountant for information that you will need for your bookkeeping.
Decide on how much income you will need to generate in the beginning.
Document all of this information.
The more detailed you are, the better.
All of the information you write down will help you to develop action plans for your art business.
All of the action plans should be documented in detail.
This way, you can analyze what strategies are working for you and what strategies are not working.
The first couple of years will be adjusting your marketing plan based on the data you gather from analyzing your marketing strategies.
After a couple of years of fine-tuning your marketing strategies, you will start to see your business thrive.
Design An Art Marketing Plan
A marketing plan outlines advertising and marketing strategies.
Think of a marketing plan as a to-do list.
What strategies are you going to implement to reach your goals?
How much revenue do you need to generate?
Are you going to sell your art at craft shows, in galleries, or online?
How mediums are you going to use to build brand awareness?
How much time can you devote to blogging and posting on social media networks?
Once you know how much time you can devote to blogging, social media, writing newsletters, maintaining your artist website, and creating art, you can start to block off times during the week to get the job done.
Keep in mind that you are the CEO of your business. There will be nobody to tell you what needs to get done.
You are in charge, and you will have to keep yourself motivated and organized to grow your art business.
I recommend that you start to enhance your time management skills as soon as you launch your art business.
There are going to be many things you will have to work on during the week.
The last thing you want is to get stressed out because you can't get everything done.
If you have a difficult time with time management download, Get More Done In Lees Time – Part Time Artist.
For more information about writing an art marketing plan visit, How to Write an Artist Marketing Plan That Works
Pricing Strategy
Pricing art is one of the most challenging things artists face.
Figuring out how to make a profit is as challenging, but if you are planning on starting an art business, your goal will be to make a profit.
If you fall short, your business will crumble.
Have you ever heard the phrase "starving artist?"
This phrase is not accurate and has been debunked by many successful artists.
The success of any business, including artists, fall back on the marketing strategy and pricing of products and services.
Before You Can Make A Profit
Before you can start to price your art, you will need to know the costs of doing business.
Make a list of all the costs associated with operating your art business, including paying your salary.
Example of art business expenses:
Art supplies
Studio costs including water, electricity, and heat
Marketing supplies including internet, smartphone, and advertisement
Craft show fees
Shipping supplies
Shipping fees
Hourly wage
To learn how to price your art for a profit download Art Pricing Guide – How To Price Art To Sell today.
Create An Online Presence
Selling art online is easier than you might think.
All you need is a product or service that people want.
A way to let people know the product or service is available for sale and a place where they can purchase the product.
It is really that simple.
I have even better news to share with you. It is easier to build brand awareness now than ever before.
You have the internet at your fingertips.
You have the potential to reach over 4 billion active internet users around the world.
Develop a strategy to build an online presence and start showcasing your art to your target audience.
A notable example of two artists who built a successful online presence would be Melanie and Nicholas Beall.
I stumbled on Melanie and Nicholas's website by simply doing a search on Google for "original horse oil paintings".
Ranking number one in the search results was Melanie and Nicholas Beall's artist website Melanie & Nicholas Horse Paintings by Commission.
Melanie and Nicholas's site does not rank first in Google's search results by accident.
They have spent a tremendous amount of time and energy on their website and blog.
The work they have done has helped them to outrank 1,300,000 results.
There are a couple of points I would like to mention about their site.
Melanie and Nicholas have done a wonderful job making their site easy to navigate and find detailed information about their services and procedures.
The other point I would like to highlight is their daily artist blog.
They understand the importance of creating content that will attract their target audience.
Ranking number one in Google's search is proof that they have become masters at building an online presence.
I am sure that if you visit Melanie & Nicholas Horse Paintings by Commission you will be inspired and motivated to learn more about digital marketing.
Related Post: 4 Ways to Expand Your Online Presence – Art Marketing
Create An Editorial Calendar
Create an editorial calendar for your artist blog.
If you have done any research concerning marketing, you have probably heard the phrase "content marketing."
Joe Pulizzi the founder of CMI is a master of content marketing.
Joe describes content marketing as:
Content marketing is a strategic marketing approach focused on creating and distributing valuable, relevant, and consistent content to attract and retain a clearly-defined audience — and, ultimately, to drive profitable customer action.
Take the time to learn everything you can about content marketing.
Artists like Melanie and Nicholas have become successful because of their willingness to learn about content marketing.
You can become as successful as they are as long as you are willing to put in the time and effort.
Creating an editorial calendar will help to keep you focused on your mission.
The calendar will make it easy to review what you have already published and what you should be writing in the future.
To learn how to create an editorial calendar visit, How to Write an Editorial Calendar That Will Generate Traffic.
Keyword Research
Now that you have your editorial calendar, you will want to fill the calendar with blog post ideas that will drive organic traffic to your artist website.
Organic traffic is free traffic generated from search engines.
When a person is searching for something online, they go to Google or Bink and type in a couple of words in the search bar.
The words that they type in the search bar are known as keywords.
Google or Bing will recommend the best content that relates to the query typed in the search bar.
The person will then scan through the results and click on the link that looks like it will provide them with the information they were searching for.
As a content creator, your job is to write content that your target audience is searching for in the search results.
The first step is to learn what your target audience is interested in learning about your art business.
The next step is to learn what keywords your target audience is using to search for that content.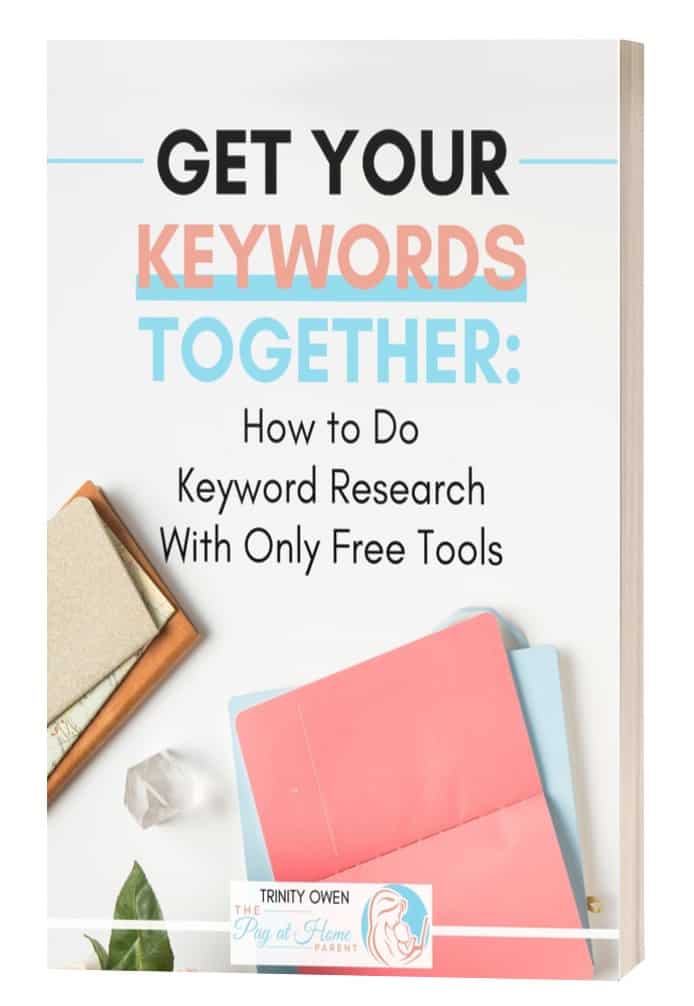 Trinity's Get Your Keyword Together eBook shows you how to get the best keywords for any niche with free keyword research tools.
Trinity shows you step by step on discovering keywords that will drive organic traffic to your site.
SEO Strategies
Search engine optimization (SEO) is the practice of increasing the quantity and quality of traffic to your website through organic search engine results. (Resource: Moz)
There are on-page SEO and off-Page SEO strategies you will want to learn more about.
On-page SEO optimizes the content on your website so the search engines know what your site has to offer so they can refer your site to the right people.
Off-page SEO is more on the technical side, including website speed, mobile-friendly, and backlinks.
Would you like to learn how to build a blog that generated over $15,000 a month?
Debbie Gartner explains exactly how she created a blog that makes her six figures a year.
Take Care Of Your Customers
By now, you know:
What your business goals are
What platform you will use for your online gallery
How to price your artwork
All of the logistics of doing business
How to create content that drives traffic to your site
Once your site starts generating traffic, you will want to develop strategies to keep them coming back.
The easiest way to keep your visitors coming back to your site is to write high-quality content.
The next step is to make sure that every post you write has a call-to-action.
What is a call-to-action?
A call-to-action tells your audience what to do after they have finished reading your post.
Your call-to-action might be to visit your art gallery, visit another post, or signup for your newsletter.
Your objective is to keep your visitor on your site to learn more about you as an artist and become familiar with your artwork.
For more information about the call-to-action, visit:
Call-To-Action Strategy That Generates Sales
Providing valuable content and providing a clear call-to-action is one way you can give excellent online customer service.
Another way you can provide excellent customer service is by having a contact page.
A contact page is a page that provides a way for a visitor to contact you if they have any questions about your artwork.
For more information about contact pages, visit, Should Art Blogs Have Contact Forms?
Another strategy that works well is to have a FAQ page that answers the frequently asked questions about your art business.
Give the best customer service that you can. Your business and reputation depend on them.
Related Post: How to Get Customers to Refer Your Art
Believe In Yourself And Your Art
There will be many emotional roller-coaster rides that you will be taking.
You will have great weeks, and you will have slow weeks.
Work on creating more art and learning about online marketing during the slower weeks. Everything you do today will be rewarded in the future.
Believe in yourself and your artwork.
Work towards your goals every day.
For more information about art marketing, visit Art Business – Art Marketing Resource.
Final Thoughts On How To Start An Art Business Online
Successful art businesses start with art business plans.
It has been said that 50 percent of small businesses fail within the first 2 years.
The most common reason so many businesses failed was that they didn't have a plan.
Starting a business as an artist has never been easier.
Artists no longer have to have someone represent them like an agent or art gallery.
All of the tools and resources are at your fingertips.
Now that you know how to start an art business online is time to take action and get started.
Online Art Business Overview:
Create great art people will want to purchase
Learn who your target audience is
Study your competition
Develop an art marketing plan
Review and revise your business plan
Search for new opportunities
Make a presence online by blogging regularly, post frequently on social media and pin your content on Pinterest
For more information about art marketing, visit Art Business – Art Marketing Resource.
You Might Also Be Interested In:
Popular Art Marketing And Sales Tutorials
Below are some of the most famous art marketing courses that will grow your online art business:
Most Popular – How to Make a Living Selling What You Make by Megan Auman
Most Popular – Build a Successful Creative Blog by April Bowles-Olin
How to Build a Business While Learning Your Craft by Megan Auman
Pinterest Marketing for Makers & Designers by Megan Auman
You can also join me on:
Learn how to start, grow, and monetize your online art business.
Art Business Planners