Would you like to know what people are saying about your art or art business?
In this post, you will discover 4 social media monitoring tools you will want to take a look into.
4 Social Media Monitoring Tools For Artists Selling Online
Social media has provided a way for businesses of all sizes to promote new products to people worldwide.
Times have changed for the way businesses market their brand and products.
What has changed:
Mail-In the past, companies would have to spend a lot of money to send postcards or fliers to people on their mailing list. They had no way of tracking the results of their efforts.
Today, you can send emails to your email list for free and you can research the analytics.
Radio – Business would spend a fortune for a commercial that would be played on the radio. They had no way of tracking their efforts.
Today, businesses are promoting their product with podcasts.
Television Commercials – Businesses spend millions of dollars to produce television commercials that people fast forward.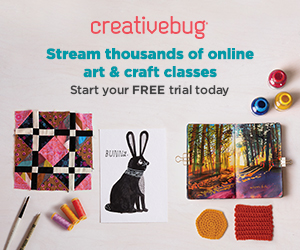 Painting Repeat Patterns by Hand: A Daily Practice by Cleo Papanikolas on Creativebug!
Today, businesses are taking advantage of YouTube, the new television ad that is free.
Newspaper and magazine ads – It cost businesses a lot of money to create ads for newspapers and magazines hoping someone would stop and read their message.
Today, businesses are using blogs for their content marketing strategies.
Social media plays a large role in the change. Like I said earlier, it is possible for you to have people around the world see and purchase your art.
But that is not all that has changed.
People do not have to trust advertisements anymore.
More and more people are purchasing from word of mouth, and social media has made it easy for people to share their thoughts.
How does this benefit you?
If people are talking positively about you and your products, you will be able to build a large following and sell more art.
People will also voice their negative views and if you are not aware of them, it could become the end of your business.
Knowing what people are saying is a powerful tool for you to use.
You will have the chance to provide great customer service if you address any concerns your audience might have.
People will trust you and refer you more if they see that you care about their thoughts.
4 Social Media Monitoring Tools
Here is a list of tools that will help you keep track of what your audience is saying about your art business and artwork.
Hootsuite Insights is a powerful tool that allows you to get real-time insights about your brand.
You can:
Track stories and trends all in one place
Filter and tailor results
Rearrange streams
Reddit Keyword Monitor Pro
Monitoring your brand on Reddit should be a part of your social media strategy. You will be able to monitor your brand, comments about your art, and your competition.
You will be able to address any concerns your following or potential buyers might have. Start building a strong tribe by staying on top of what is being said about your business.
Reputology
Successful businesses understand the importance of their reputation both online and offline.
Reputology makes monitoring the major review sites so you can engage with reviews and address any issues before they get out of hand.
You will never miss a mention from forums, blogs, news, social media, reviews, or videos. This powerful tool might be everything you need.
Final Thoughts On Social Media Monitoring Tools
If you are serious about building an art business, you will want to make sure you are protecting your brand.
Take control of what people are saying about your business. Address and fix any issues customers will have. In time you will see your art business grow larger than you have ever imagined.
Popular Art Marketing And Sales Tutorials
Below are some of the most famous art marketing courses that will grow your online art business:
Most Popular – How to Make a Living Selling What You Make by Megan Auman
Most Popular –  Build a Successful Creative Blog by April Bowles-Olin
How to Build a Business While Learning Your Craft by Megan Auman
Pinterest Marketing for Makers & Designers by Megan Auman
You might also be interested in:
Did you enjoy this article? Don't forget to sign up for my free weekly newsletter.
You can also join me on:
Learn how to start, grow, and monetize your online art business.