Last Updated on
Social media has become an excellent tool for businesses to engage with their following and create brand awareness. Displaying social media links for your audience to share or like on their favorite social networking sites is an easy way to build brand awareness. In this post, discover what you need to know about social media links.
Social Media Links
Disclaimer: Please note that some of the links on this post are affiliate links and will be clearly marked as so. I will earn a small commission when you purchase a product or service from an affiliate link at no extra cost to you which helps with the costs of operating Nevue Fine Art Marketing. I will only recommend products I have used, found helpful to my business and are companies I trust.
You are living in a time where there is a great opportunity for you to sell your art and crafts to people around the world thanks to the internet.
I have been selling my artwork online now for over 16 years.
When I started I had no idea that I would be where I am today. The sky is the limit. The only boundaries you will have is your imagination.
Good news for you is that you already have a creative mind. All you have to do is put your creative thoughts into action.
Selling art online is easier than you think.
Here are the key areas you will want to focus on for your online art business:
Brand Awareness Strategy
Social media makes it easy for businesses of all sizes to reach a larger audience.
It is crucial to the success of your marketing strategy to take some time to learn how to market on each social media platform you will be working on. The more you learn the more successful you will become selling your artwork online.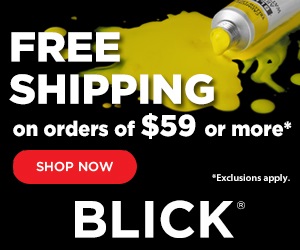 Online Social Media Marketing Courses:
Social Media Sanity: How to Manage your Time on Social Media with Tiffany Han (affiliate link)
How to Advertise on Pinterest: Social Media Training with Pinterest (affiliate link)
Social Media Marketing with Lindsay Adler (affiliate link)
Social Media Bootcamp with CC Chapman, Kim Garst, Ariel Hyatt, Amber Naslund (affiliate link)
Social Media Design Toolkit with Janine Warner (affiliate link)
Connect With Your Customers on Social Media with Erin Dollar (affiliate link)
Some of the most popular social networking sites as of 2016 are:
Facebook
Twitter
LinkedIn
Pinterest
Google Plus
An easy way to start growing your following on social media is to add social media buttons to your website and artist blog.
I recommend that you have both available on your art blog by including social media sharing buttons as well as social media links to your social media business pages.
What Are Social Media Follow Buttons
Social media follow buttons allow your audience to connect with your social network business pages. Adding "follow" buttons on your website will help you build your fan base and build awareness to your social media accounts.
These "follow" buttons can be placed anywhere on your site. Most sites have them on the sidebar, top, and "About Us" page.
Place the links in different places to discover what will produce the best results for your niche.
Click on the links below to create "follow" buttons for your social media networks:
People love to share what they like with their friends and family. Social media share buttons allow your audience to share your website with their favorite social media accounts.
These buttons are a powerful tool for building brand awareness. If a person shares your site on their personal Facebook, all of their friends will see your business. You will be reaching more people by allowing your audience to share your website.
It is important to make it as easy for them to share as possible. Make it a one-click action.
People will not want to spend time and go through multiple steps to share something. One-click options produce the best results.
If you are using WordPress for your website and artist blog you will be able to find a perfect plugin for your brand. Just do a search for social media share plugins for WordPress and you will find hundreds of plugins to choose from.
In the past, I use SumoMe for my social sharing links. SumoMe is a powerful plugin with many tools available. They offer a free and paid membership plan.
Today I use Social Warfare. (affiliate link)
My traffic increase by over 1,000 percent in the first couple of months after installing Social Warfare.
Here is a screenshot of one of my posts so you can see how Social Warfare. (affiliate link) looks and the number of shares it has generated for that post.
You can see the post by visiting Art That Sells – What Artists Need to Know.
Conclusion:
There is more to selling art online than just creating beautiful art and posting it on your artist website.
You must promote your art and make people aware that you have art for sale.
Social Media Links – Easy Way Artists Build Brand Awareness Overview:
What are social media follow buttons
What are social media share buttons
You might also be interested in:
Did you enjoy this article? Don't forget to sign up for my free weekly newsletter.
You can also join me on:
Learn how to start, grow and monetize your online art business.
28 Day Blogging Challenge for Visual Artists
Are you ready to start building an online presence?
Pyrography by Dave Nevue
Purchase
Peaceful Days Wood Burning Framed Print
The Complete Blogger Template Toolkit 
OVER 450+ Templates You Need to Quickly Create Stunning, Jump-Off-The-Screen Image to Grow Your Blog-- Without Having to Learn Design!