Last Updated on
Purchasing products online has been steadily increasing over the past 15 plus years. Shopping online is is more convenient and it easier to find the best prices. Even though in most cases shoppers are saving money on the products they are purchasing online they still do not want to pay for shipping. In this post, I would like to talk about how shipping costs affect art sales and what your different options are so you can keep your buyers happy and make a higher profit.
How Shipping Costs Affect Art Sales
Are customers contacting you about your shipping costs?
If you are constantly being asked about your shipping fees you might want to consider trying a different strategy.
The fact is that people do not like to pay for shipping.
How many times have you decided not to purchase an item online because the shipping costs were too high?
It was a common practice for sellers to underprice products and inflate shipping costs when I started selling my art on eBay over 16 years ago.
People soon realized the games sellers were playing and stopped purchasing from them.
Sellers had no choice but to offer the best prices while charging reasonable shipping if they wanted to continue to see sales rolling in.
Over time shoppers required more, they wanted the lowest price for the product they were interested in and they didn't want to pay for shipping.
Can shipping costs affect art sales?
Yes!
Your shipping costs could affect your sales in a positive or negative way.
If your shipping costs are too high you will potentially lose sales. If your shipping costs are too low you might sell more art but you have a chance or it eating away at your profits if you are not careful.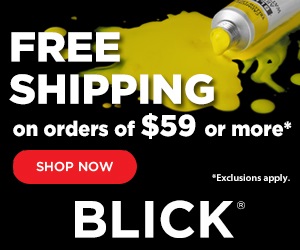 Four Shipping Options To Consider
It is safe to say that you are selling your art to make a profit.
In order for you to make the highest profit from a sale, you will want to take some time to decide on what your best options are for both pricing your art and shipping costs.
Related Post: How to Price Art – Ultimate Art Pricing Guide
Below are some shipping options that are available for you.
Take some time to become familiar with what your options so you can make a better decision that will work in your favor.
Calculated Shipping Costs
Calculated shipping costs charge the shopper a calculated shipping cost depending on location. What your shipping service charges for the shipping will be what the buyer will pay plus any shipping and handling fees you might include.
There are plugins for WordPress that will calculate the shipping costs for you. When the buyer goes to the checkout page and types in their address, the calculator will provide the shipping costs.
WooCommerce Shipping Calculator Plugins:
WooCommerce Table Rate Shipping Pro
Woocommerce Delivery Time Picker for Shipping
WooCommerce Shipment Tracking Pro
WooCommerce Weight Based Shipping
WooCommerce Multi-Carrier Shipping Plugin
WooCommerce Advanced Free Shipping Plugin
The plugins above are some of the most popular plugins for WordPress and will calculate:
Ups shipping cost
Usps shipping cost
FedEx shipping cost
Keep in mind that if you are going to provide a shipping calculator, the farther a buyer lives from you, the higher the shipping costs will be for the buyer. This might discourage a buyer who lives cross-country.
Flat Rate Shipping
Flat rate shipping is when you have a set price for everyone to pay. This works well if you live in the middle of the country.
If you live on the East coast like I do, flat rate shipping might not be the best option.
Shipping to California is a lot more expensive than to ship to Boston. No matter what price I charge for flat rate shipping would not be the best option for either me or the customers.
For example:
I set the flat rate shipping cost to twenty dollars.
For me to ship to Boston, I would pay the shipping service ten dollars. People from the Boston area would be overpriced and this could damage my business name. They would know that they were overcharged and probably would not purchase from me again.
For me to ship to California I would pay the shipping service thirty-five dollars. People from around California would be happy with the shipping costs but it would be lowering my profits.
Free Shipping
Free shipping is what will make your customers the happiest. Everyone loves free shipping.
There are two things that you will need to consider if you offer free shipping.
The first thing that you will want to consider is if you would need to add the shipping costs with the price of the artwork. You need to be careful not to overprice your artwork too much. It will not matter to the customers if you offer free shipping or not if your prices are too high, to begin with.
The second thing that you will need to consider is if you are planning on shipping internationally. If you are you might want to state that free shipping is only for US Residents. International orders must contact the artist for shipping costs.
Free Shipping With Purchases Over A Certain Amount
This plan works well for online sites that are marketing to receiving multiple sales.
This option might not be in your best interest because most art collectors will only purchase one item at a time.
Conclusion:
Shipping costs will be the difference between a sale or no sale. You will want to think about what will be the best plan for you and your customers.
Every artist will have a different situation depending on where you live and if you are selling framed art, framed posters or canvas wall art.
Research other artists that are selling similar products and see what is working for them.
How Shipping Costs Affect Art Sales Overview:
Four Shipping Options To Consider
Calculated Shipping Costs
Flat Rate Shipping
Free Shipping
Free Shipping With Purchases Over A Certain Amount
You might also be interested in:
How To Increase Art Sales By Learning More About Your Audience
Order Shipping Supplies Online – Art Business
Best Shipping Tips for Artists Selling Art Online
Did you enjoy this article? Don't forget to sign up for my free weekly newsletter.
You can also join me on:
Learn how to start, grow and monetize your online art business.
The Complete Blogger Template Toolkit 
OVER 450+ Templates You Need to Quickly Create Stunning, Jump-Off-The-Screen Image to Grow Your Blog-- Without Having to Learn Design!