Artists who earn a decent income online are the ones who have created multiple revenue streams.
Selling prints of your original artwork is a great way to earn extra income while waiting for your originals to sell.
Another way you can generate some extra money is by selling art on Zazzle.
Selling On Zazzle Best Tips For Artists
Driving traffic to your artist website so you can sell your original art is a challenging job.
Even if you get people to visit your site, it does not mean that they are in a buyer's frame of mind.
Utilizing different platforms like Zazzle to reach a new audience will help you to earn more money online.
Benefits OF Selling Your Art On Zazzle:
Over 20,000,000 monthly viewers visit Zazzle
Create a storefront free
Decide on your royalty rate
Hundreds of products to put your artwork on
Easy to upload images on products
I do want to mention that you will have to promote the products you are selling if you are hoping to generate an income on Zazzle.
Below are some tips to make the most out of your Zazzle store.
Complete Your Profile Page
Take the time to fill out your profile page.
On the profile page you can:
Add an "About Me"
Add a URL to your artist website
Add your social media URLs
Customize how your products will be displayed on your page
Profile image
Banner
Create A Lot Of Products
The more products you put your artwork on, the better your chance will be land a sale.
This is because people are searching on Zazzle for different designs on different merchandise for gifts or themselves.
Offering your art on multiple products like mugs, greeting cards, posters, calendars, coasters, etc, will help you reach more people.
The more people who see your products, the better your chance of selling them become.
Importance Of Keywords
You might have heard me talk about the importance of keywords for your art blog and art website in the past.
The same is true for Zazzle.
The keywords you use (Zazzle refers them to tags) to describe your art and products are the words that people are typing into Zazzle's search.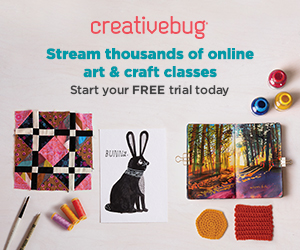 Painting Repeat Patterns by Hand: A Daily Practice by Cleo Papanikolas on Creativebug!
When a customer types in some words describing what they would like to buy, Zazzle will showcase a list of products with the same or similar keywords.
The more specific your keywords are, the better.
For example, let's say that a person is searching for a Clydesdale picture on a mug.
If you have a Clydesdale painting and you offer it on a mug and the keywords you are using to describe your listing are "horse mug", the chances of your mug being seen on Zazzle is slim.
However, if you target "Clydesdale mug" your chances of the buyer seeing your product increase dramatically.
This is because a person interested in purchasing a mug with a Clydesdale will type in Zazzle's search bar "Clydesdale mug".
Zazzle Keyword Tips:
Use specific keywords that describe your art and include the primary colors, and the medium you used to create the painting
Use long-tail keywords like large "brown Clydesdale horse", "Clydesdale horse galloping"
Long-tail keywords are those three and four keyword phrases that are very, very specific to whatever you are selling. (Source: Wordtracker)
Use quotation marks for long-tail keywords in Zazzle. For example, "Clydesdale horse galloping"
If you do not use quotations, each word will be a single keyword.
See what other people are using for similar products. There might be a word or phrase that slipped your mind
You can locate the tags of a product by scrolling down to the bottom of a listing.
Experiment with different words to see what work best for your listings
Related Posts:
Keywords 101 – How To Generate More Traffic to Your Art Gallery
How LSI Keywords Can Help Artists Rank Higher In Search
Zazzle Pricing Tips
Zazzle allows you to change the commission rate you are asking.
The default is set at 10% but can be adjusted while you are creating your listings.
You can also change the commission rate after the listing has been published.
Zazzle is a highly competitive market, and you should use it as a source to supplement your income.
Your profit margin will be lower on Zazzle than it will be on your website, and that is ok if you are using Zazzle to supplement your income.
Many artists separate the products they are selling on their website and what they are selling on Zazzle, so asking prices does not confuse buyers.
For example, on their artist website, they will sell original art and offer prints that they print at home or are printed from a POD site like Printful.
On Zazzle, they offer prints of their art on mugs, greeting cards, calendars, etc.
This makes it easier to be consistent with your pricing strategy.
Public View
Zazzle gives you the option to make your store private, which means that your products will not be showcased in Zazzle's feed of search engines.
Or you can make your store public, which means everyone can see your products.
To change the setting, click on Store Tab, then click Manage, then Settings and unclick or click the Make this store private box.
I recommend having your store set to public view, so you reach more people.
The only reason you might want to have a product in the private mode is for products you will only offer to particular people.
Write A Blog Post About Your Product
Now that we covered the basics of your Zazzle store, let's talk about how you can drive more traffic to your listings.
Publishing blog posts about the products you create will help you to drive more traffic to your listings.
The more quality content you can post, the more traffic you will generate.
You might be asking how you could write a post about a product you are promoting.
The best way is to intertwine your product with a post that relates to your painting or drawing.
For example, If you created a mug with a Clydesdale painting, you could write about fundraisers that are being held for rescuing horses or a post that talks about Clydesdale shows. In that post, you can highlight the merchandise you are selling that relate to Clydesdales.
If you are new to blogging and do not know how to get started, visit:
Share Your Zazzle Products On Social Media
Share your designs on all of your social media networks.
You can easily share your products by clicking on the social share links located on the listing page.
Post your product blog posts on your social media networks as well.
Be consistent with your posting schedule and develop a social media scheduling calendar to make it easier.
Use social sharing tools like Tailwind to save time scheduling your posts. The more productive you can be marketing your art, the more time you can spend creating your artwork.
Make Your Product Customizable
Zazzle allows you to create customizable designs that will increase your sales.
Many people go to Zazzle to find unique designs that they can customize for gifts.
For more information on the different options, visit 3 Options For Customizable Zazzle Designs.
Use Zazzle's Coupon Page
People love coupon codes. An excellent way for you to boost your Zazzle sales is by keeping an eye out for Zazzle coupon codes and share them with your followers on social media and your email list.
Download the Zazzle app on your smartphone for new coupon notifications. This will save you time searching for when the next sale is.
Place On Your Website
Do you have an artist website?
If you do, you can upload your Zazzle products on your WordPress website, which will increase your product exposure.
People might not be ready to purchase an original piece of art but would love to have your artwork on a mug or calendar.
Making it simple for people to purchase your products will only boost your income.
For more information on how to create Zazzle listings for your WordPress site visit How To Sell Zazzle Products On Your Own Site.
Final Thoughts On Selling On Zazzle
Have you heard of Zazzle's passive income?
It merely means that you will continue to earn income from a product you have created.
For example, when you design a mug, that mug will be available for people to purchase for as long as you keep it listed.
Zazzle will do the rest. They will collect the payment, print the product, and ship the product to the buyer.
All you have to do is sit back and collect the royalties.
Would you like to learn how to build a blog that generated over $15,000 a month?
Debbie Gartner explains exactly how she created a blog that makes her six figures a year.
Check out this eBook to learn how to be more effective with your keyword research, Get Your Keywords Together: How To Do Keyword Research With Only Free Tools.
You Might Also Be Interested In:
The form you have selected does not exist.
Popular Art Marketing And Sales Tutorials
Are you ready to take your art business to the next level?
Investing in marketing courses and tutorials will maximize your profit and speed up the growth of your business.
Below are some of the most popular art marketing courses that will grow your online art business:
Most Popular – How to Make a Living Selling What You Make by Megan Auman
Most Popular –  Build a Successful Creative Blog by April Bowles-Olin
How to Build a Business While Learning Your Craft by Megan Auman
Pinterest Marketing for Makers & Designers by Megan Auman
Did you enjoy this article? Don't forget to sign up for my free weekly newsletter.
You can also join me on:
Learn how to start, grow, and monetize your online art business.