Disclaimer: This post may contain affiliate links. If you make a purchase by clicking on an affiliate link, Nevue Fine Art Marketing may earn an affiliate commission at no additional cost to you. Affiliate relationships include, but are not limited to, Bluehost, Tailwind, Skimlinks, SareASale and StudioPress. To learn more visit Affiliate Link Disclosure Policy
Selling Handmade Items Wholesale
Sellin handmade items wholesale is a great way to earn extra income year-round.
Selling handmade crafts at local craft fairs is seasonal, and selling crafts online is often a challenge.
Developing different income streams for your crafting business like selling handmade items wholesale will help you earn an income when there are no craft fairs, and online sales are flat.
However, developing a wholesale marketing strategy takes planning, hard work, and trial and error.
The strategies you use to drive traffic to your handmade craft website will not attract local businesses interested in purchasing your crafts at wholesale.
You will have to develop a different marketing strategy for those local businesses.
Selling Handmade Items Wholesale Benefits
Increase sales because you are selling multiple items at a time
Increase yearly income selling to local businesses year-round
Potential for building a long-lasting partner
Reach a larger audience
Less marketing costs because the companies have a marketing plan that drives traffic to their store
Purchasing craft supplies in bulk will increase your profit margin
There are so many benefits for selling wholesale but the best advantage, in my opinion, is that it is the easiest way for you to build your handmade craft business.
Let's go over how to sell handmade crafts wholesale so you can start earning extra money.
Get Organized
The first step is to get yourself organized.
You will need to have a way to keep and file all important paperwork including:
Potential clients contact information
Current partners contact information
Pricing list
Wholesale supplier company contact information
Sales log
Inventory
Product list
Delivery dates
Decide What Handmade Items To Offer
Once you have yourself organized you will want to sit down and decide what items will be best for you to sell wholesale.
Not everything you make will be a good choice for selling wholesale.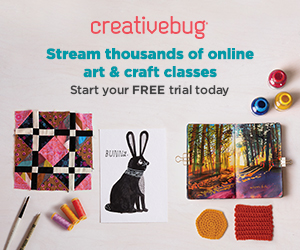 Painting Repeat Patterns by Hand: A Daily Practice by Cleo Papanikolas on Creativebug!
For example, if a product costs you $20 and it takes you 3 hours to make each item and you are selling them for $40 dollars you might not want to offer them because the profit margin will be too low for the time invested.
Instead, make a list of each handmade item you make and include the time it takes you to make them and the cost per item.
Next, make a list of which items you can pump out quickly and the costs of supplies are low.
These will be the best selling handmade items to offer to other businesses.
Know The Cost Of Doing Business
Before you can create a pricing strategy you will need to know the price of doing business or you can easily find yourself losing money.
The first step is to write down all of the costs related to making a product.
Next, calculate an hourly wage by multiplying how long it takes you to create the item by how much you would like to make per hour.
This will become your baseline price.
Obviously offering wholesale prices will lower your profit but in the long run, you might end up making more at the end of the year.
Handmade Wholesale Pricing
To start you will want to make a list of the crafts and the prices you sell them online and at local craft fairs.
These prices (retail prices) are going to be the same prices the retail store will be using.
Usually, wholesale prices are 50% of the retail prices.
For example, If you sell a handmade dog toy for $20 the wholesale price will be $10.
Retail Price – 50% = Wholesale cost
$20 (retail Price) – $10(50% Of Retail Price) = $10 (Wholesale Price)
This is one way you can set your retail prices.
The other solution is to price discount incentives.
For example, 20% off 20 items, 30% off fifty items, and 50% off 100 items.
You can come up with whatever discounts work best for your handcraft business goals but these are some examples that work well.
Research What Will Sell
The next step is to find out what items are selling the best and how much they are selling for.
Take a list of the items you are planning on selling wholesale and
The easiest way to get started is by searching handmade craft websites, blogs, Pinterest, Facebook, and Instagram.
Write down the prices of the items that are similar to yours.
Next, make a list of all the local shops that sell similar products at the same price range as your handmade items.
Include in your list:
Store name
Contact info
Location
Website URL
Social media sites
What products you will pitch
Preparing For Your Pitch
Get organizing before you reach out to businesses about selling your handmade items wholesale.
What You Will Need:
A pricing list including retail prices and wholesale discounts
Business cards with your contact information
A brochure of the handmade items you will sell wholesale (Bring a few products with you if you are meeting in person so they can physically see the quality of your work.)
Product delivery estimate (Make sure that you allow yourself enough time to make the products and deliver them. It is always a good idea to give you add a couple of weeks to the timeline in case there are any obstacles that come along.)
Delivering Your Pitch To Retailers
You might feel uncomfortable when you first start sending your pitch but in time it will become easier.
Keep in mind that the people you will be talking with are just like you.
They are in business to make money just like you are.
Keep the pitch short and explain:
How you found their business
What you like about their business
How your handmade goods fit in with their business
How many years you have owned your handmade business
What you can do for their business
What will finalize the sale is the quality of your handmade items and the profit margin the will generate per sale.
Final Thoughts On Selling Handmade Items Wholesale
Selling handmade products online and at craft fairs is an excellent way to earn a living.
What is better than making a living doing what you love to do?
There is an opportunity to grow your business finding wholesale buyers.
They are out there. All you have to do is start looking for them and you will soon realize there are a lot of businesses buying wholesale handmade items.
In this post we covered:
How to get organized for selling handmade items wholesale
How to price handmade goods
How to decide what will be the best handmade items to sell
how to sell handmade items in stores
Now all you have to do is get started. Before you know it you will be earning more money than you ever thought possible.
Would you like to learn how to build a blog that generated over $15,000 a month?
Debbie Gartner explains exactly how she created a blog that makes her six figures a year.
You Might Also Be Interested In:
The form you have selected does not exist.
Popular Art Marketing And Sales Tutorials
Below are some of the most famous art marketing courses that will grow your online art business:
Most Popular – How to Make a Living Selling What You Make by Megan Auman
Most Popular –  Build a Successful Creative Blog by April Bowles-Olin
How to Build a Business While Learning Your Craft by Megan Auman
Pinterest Marketing for Makers & Designers by Megan Auman
You can also join me on:
Learn how to start, grow, and monetize your online art business.