Even if you've never sold anything on Etsy, you probably know the benefits of selling art Etsy.
Etsy is a creative marketplace with over 33 million customers and $3.9 billion in annual merch sales.
People visit Etsy to find everything from crafty products like jewelry, clothing, collectibles, home decor items, fine art, giclee prints, and vintage items.
People make Etsy possible. We provide a meaningful space for sellers to turn their creative passions into opportunities. We enable buyers to discover unique items made with care. And we treat our employees and our community with respect.
Disclaimer: This post may contain affiliate links. If you make a purchase by clicking on an affiliate link, Nevue Fine Art Marketing may earn an affiliate commission at no additional cost to you. Affiliate relationships include, but are not limited to, Bluehost, Tailwind, Skimlinks, SareASale and StudioPress. To learn more visit Affiliate Link Disclosure Policy
How Selling Art On Etsy Works
Most people selling their art and handmade crafts on Etsy have an Etsy store and have dozens of items showcased in their Etsy shop.
You are more likely to be successful on Etsy if your Etsy shop is filled with many different items to sell.
For example, if you are selling an original oil painting, you might want to consider also selling giclee prints, digital art people can print, and greeting cards of the original painting.
Most Etsy sellers are successful because buyers usually search for a particular item when they go to Etsy.
If you don't have what they are searching for, they will often view other products in your store to see what else you have for sale.
Especially if the item showcased in Etsy's feed came close to what they were looking for.
Of course, if they buy something from you, they are much more likely to return to your store again and look for something else!
Like any business, delivering high-quality customer service is imperative for the growth of your art business.
What Types Of Products Can Be Sold On Etsy
You can sell three main products on Etsy: handmade goods, vintage items, and craft supplies. But what you choose to make is only limited by your imagination. (Source: Etsy)
To learn more, visit What To Sell On Etsy.
When Etsy started, they were a lot stricter than they are now with the types of products that can be sold, but they're a little laxer these days.
This means that you may be very successful if you decide you want to sell something such as reproductions of your original artwork.
Etsy and Artwork
Etsy currently sells artwork, some of which include standard drawings, prints, paintings, photography, mixed media, etc. 
So, if you've been wondering if you should start selling art on Etsy, you'll be in good company if you decide to move forward with your plan.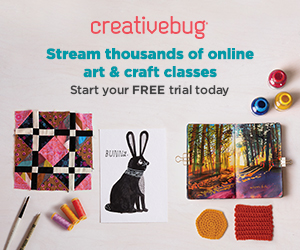 Painting Repeat Patterns by Hand: A Daily Practice by Cleo Papanikolas on Creativebug!
However, there are a few things to consider before you decide.
First of all, Etsy no longer requires the items on their website to be an artisan or handcrafted, which could be considered both a positive and a negative.
While it gives artists a bit more freedom when selling their artwork, some of those artists aren't happy that their item might be listed alongside an item that they consider manufactured or of lower quality than their own.
Still, this relaxing of the rules allows more artists to sell on the website, and more competition is better for everyone.
You also have to consider what it's like to sell on Etsy.
Etsy is notorious for changing the rules that sellers have to abide by, including what your shop looks like and even how your finances are organized.
If you don't feel like fooling with this fairly regularly, Etsy might not be the site for you to sell your artwork.
On the other hand, Etsy loves sellers who offer free or inexpensive shipping to their customers.
If you end up with artwork in your store, which is usually lightweight and inexpensive to ship to customers, this could be a massive advantage for you.
While it's always a bit of a challenge to decide on the fairest shipping price, meaning an amount that is reasonable for the customer and doesn't cost you much money, fine art prints might be one of the easiest products to deal with when it comes to shipping.
Selling Art On Etsy Fees
Although Etsy's fees are very reasonable, Etsy does take a percentage of your sales each month, including your shipping.
Since 2018, Etsy has been taking 5% of the sellers' sales, including 5% of the shipping costs, and while this is certainly not unreasonable, it can still add up over time.
Etsy charges $0.20 to publish a listing to the marketplace.
A listing lasts for four months or until the item is sold, for only $0.20.
There is a 5% transaction fee on the sale price (including the shipping price you set).
Etsy will also collect a 3% + $0.25 payment processing fee when an item is sold if you accept payments through Etsy Payments.
But again, artwork can often be sold for a lot of money, so keep in mind that you can still make a good profit selling art on Etsy.
Etsy's Shipping Policies
Another advantage of selling your artwork and handmade crafts on Etsy is that the company does a lot to protect sellers from the unexpected.
This includes insurance that protects you if the product doesn't arrive at the customer's location and you aren't sure where it went or what happened to it.
This insurance is automatically built into each transaction, and you can purchase additional insurance when you start to print out the shipping label.
Shipping insurance is crucial if you ship your artwork to customers in another country. 
Although most shipments get where they're supposed to go quickly and safely, things can go wrong, and when they do, you can rest a little more comfortably, thanks to Etsy's insurance.
Of course, this doesn't mean you should rely on Etsy to set your shipping prices.
It would be best if you always did your due diligence and research to determine the most efficient shipping method that doesn't cost you a lot of money.
After all, you don't want all of your profit to be eaten up by your shipping costs.
Selling Prints On Etsy
Many artists have discovered selling prints of their original artwork is a great way to earn extra money from an original piece that has been sold.
There are two ways you can sell prints of your original artwork.
The first way is to purchase a high-quality printer and print and ship the prints from your home.
The second option is to use a print-on-demand site like Printful.
With the Printful-Etsy integration, you can spend more time creating new art and marketing strategies while Printful automatically fulfills and ship your orders.
To connect your Etsy shop With Printful, visit Printful and authorize their API's Access to your Etsy account.
Push the products you want to sell on your Etsy shop. When you submit the products through Printful, they will be saved as drafts.
Etsy Marketing Strategy
There is no guarantee that you will land a sale just because you have launched an Etsy Shop and uploaded several paintings, drawings, and giclee prints.
There are many people like you who are trying to sell art and handmade products on Etsy.
Here are some marketing tips to help you sell your Esty products.
Discover Your Niche
Trying to differentiate your artwork is one of the most significant aspects of operating a thriving art business.
Discovering what is trending is important but should not dictate what art style you create.
However, if your work is very comparable to thousands of other artists on Etsy, it will be more challenging to stand out.
Identify what your unique perspective is.
What makes your artwork unique?
Do not try to fit into the crowd. Instead, you will want to separate yourself from the crowd.
Here are some articles that will help you separate yourself from the competition:
Niche Marketing Strategy For Artists
How To Position Yourself As A Thought Leader In Your Niche
Separate Yourself With Niche Marketing
Offer Different Prices
Offering different products at different prices will help you to reach a larger group of buyers.
Not everyone can afford to purchase an original oil painting, but they might want to display a more affordable giclee print in their home.
Offering original art, giclee prints, greeting cards, and even prints of your art on merchandise like mugs or calendars is a great way to increase your revenue stream.
For more pricing information, art visit 10 Tips For Pricing Art.
High-quality Images Sell
The quality of the images you upload play a significant factor in the sales you will be receiving.
Using clutter-free backgrounds and natural light will help you sell more art on Etsy.
For more information about photographing art, visit:
7 Tips For Photographing Artwork To Sell More Art Online
Helpful Tips For Photographing Your Art Work That Work
Sell More Art With High-quality Images
Tags and Keywords
Etsy recommends products based on the tags and the keywords in the title and description.
The keywords should describe your artwork. Also, think about what keywords a buyer might type in Etsy'ssearch bar.
To learn more about keywords, visit Keyword Research Strategies For Artists Selling Art Online.
Art Descriptions
The description of your art will be the final place where you can inspire a buyer to purchase your art.
The description should answer all of the questions a buyer might have about the product they are viewing.
To learn how to write art descriptions, visit How To Write Great Art Descriptions.
State Your Policies
Explain your shipping and return policies on your Etsy shop, including when you ship your products, how long returns or exchanges are accepted, and whether you are responsible for lost or damaged products during shipping.
Some Final Thoughts About Selling Art On Etsy
Should you sell art on Etsy?
Every artist will have different goals, so your unique art business goals will answer the above question. 
Etsy is a very reputable marketplace, and most sellers find their experience with them is top-notch.
If you're an artist and interested in selling your artwork online, it's good to look at both the pros and cons of selling through Etsy and any other platform you're considering selling art on.
Many sellers sell through more than one website platform, which is smart for many reasons.
You can usually get started on third-party sites for next to nothing, so using more than one site is a great way to test them out and see which one works best.
Regardless of the one, you choose in the end, whether Etsy or some other online gallery, it is likely to be much more lucrative for you when you are just starting. 
As your online art business grows, you might want to consider owning a WordPress website.
Related Posts:
How To Sell Art On Etsy – Complete Guide
Sell Art Online Etsy Makes It Easy
How To Find And Follow People On Etsy