Disclaimer: This post may contain affiliate links. If you make a purchase by clicking on an affiliate link, Nevue Fine Art Marketing may earn an affiliate commission at no additional cost to you. Affiliate relationships include, but are not limited to, Bluehost, Tailwind, Skimlinks, SareASale and StudioPress. To learn more visit Affiliate Link Disclosure Policy
Art That Supports A Cause
Artists have used their creativity to help people in need for many years.
Artists can support charities close to their hearts, and the rewards of helping others in need come back tenfold. Artists who raise money for charity help people or animals in need and build name recognition with their supporters.
If you are interested in making a difference in people's lives, donating a piece of art for charities is a beautiful way to help others in need.
Before you get started, take the time to research different organizations to maximize your contribution and your business's growth before you start to donate your creations to any organization looking for handouts.
Selling artwork locally or online is achieved by building name recognition. Artists that donate a piece of art to their favorite organizations can build name recognition with a broader group of people.
Before You Start Selling Art At Charities
You work hard to build your art business, and the cost of art supplies are not cheap. Even if you purchase your supplies at a discount price in online stores like Blick, the costs add up over the year.
Before you start creating art for any and every charity, do some research.
Make sure the organization is using the money generated to help the cause they are supporting.
Visit Charity Navigator to learn more about the charities you are interested in.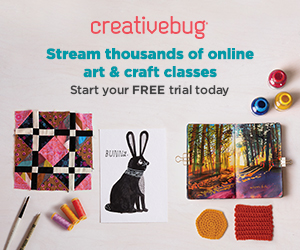 Painting Repeat Patterns by Hand: A Daily Practice by Cleo Papanikolas on Creativebug!
Type in the name of the charity in the search bar and click Enter.
A charity's rating with details about the charity will appear (if the charity has been rated).
Contact the organization if they have not been rated to get the details of the organization. At that point, you will have to make a judgment call and decide if the organization is best for your business.
Creating Art For Charity
An excellent way for an artist to be creative without working on artwork to sell is to make crafts for charities. Many artists enjoy experimenting with different mediums but do not have the extra time. Scheduling time to create art for charities will allow you to have fun and experiment with different mediums.
On the other hand, if you are interested in helping others while building name recognition for your art business, you might want to consider submitting original paintings or reproductions of your original artwork.
For example, I drew a therapy dog portrait, auctioned the original, and sold limited edition prints of the drawing. I decided to give 100% of the proceeds to a horse rescue foundation.
The drawing and prints generated $5,000.00, and a print was displayed in the town hall. This was an astonishing accomplishment for me, and it was profitable for the foundation.
Not only did the money raised help to provide food to the horses, but I also started getting a large number of commission drawings.
This is just one example of how creating art for charities helps people in need and promotes the artist.
Handmade art for charity can come in the form of:
Original paintings and drawings
Giclee prints
Greeting cards
The artwork on merchandise like t-shirts, mugs, and calendars
Cards
Canvas
Handpainted wood signs
Ornaments
These are just some of the items creative people use to generate money for their favorite cause.
Prints For Charity
Donating reproduction prints of original artwork is a popular way artist help charities all over the country.
The artist can choose to donate 100% of the proceeds or decide on a percentage of the profits to donate to the charity.
Before the event, you will want to decide what prints you will be donating to the charity. You could offer a special sized giclee print, greeting cards, or event calendars.
Just keep in mind that the item you choose will reflect your brand, so it is essential to display something you are proud of. You do not have to donate the most expensive art that has taken you months to complete, but you want to make sure that it represents your artwork's quality.
Depending on the event, you might want to donate a reproduction of a specific painting, or you can offer prints of your entire catalog.
When you are researching the event, inquire about the other types of art and handmade crafts featured at the event to present art that compliments the event's theme.
For example, if you help support wildlife, you might want to incorporate paintings of wildlife or nature themes.
Pricing Art For Charity Auctions
Pricing your donations can be a challenge but keep in mind that you are not selling your art at an art show or on your website.
The objective of the auction is to get the bids started so people will have a bidding war.
Price the art low enough to entice the first bid. If the price is too high, you might scare off the bidders, and you will be walking home with the art you were donating instead of generating money for the cause.
Promoting Your Art Business
There is nothing wrong with promoting your art business at a charity auction where you donate your art.
Small and large companies do it all the time. Donations toa good cause is an excellent way for businesses and artists to show people what local charities they support.
The people attending the event will be more than happy to support your art business because they notice that you support their community.
There are different strategies that small local businesses use to build name recognition, like including shirts with the business logo or mugs and drinking glasses with the business name.
Most organizations ask for business cards to include with the products. Still, you might also want to consider placing a label on the back of the print or artwork with your website address and contact information. A brochure would also be an excellent addition. You can also include a calendar showcasing your best artwork. The person who won the auction will see your art every day for an entire year. The objective is to make it easy for them to remember you to visit your online portfolio for future purchases.
Even though many organizations tell you that you will get exposure for your donations, it is good to ask how you will be receiving exposure. Ask if they will be promoting the event with their email list and on their social media accounts. If so, ask them if they need any promotional materials like images, email addresses, or descriptions of the art.
Local Charity Events
Participating in local events would give you a chance to promote your art to people in your area. Use this time to meet new people in your area, use your elevator pitch to get the word out that you are a local artist. Local nonprofit organizations often promote local artists who contribute donations to their events.
Tax Deductions
You are operating an art business to make a profit, not to lose money. Make sure that every charity you are participating in is in your business's best interest.
The objective of supporting charities is to help people in need with your art and make people aware that you are the artist who created the art they admire.
Some artists think that they will be able to use charities as a right off, but that is not the case.
When you donate an item, you can only deduct the cost of the materials and supplies used to create the art.
Always consult your accountant with any questions regarding tax right offs associated with your art business. Laws change, so you want to stay on top of what you can and can not use for deductions.
Final Thoughts On How To Sell Your Art For Charity
Giving charity art and participating in a local art auction helps nonprofit organizations. As an artist operating an art business, your objective is to sell your art to profit.
Research every organization you are interested in supporting and decide which organization provides the most help with the money generated from the event, and if you will be able to build name recognition.
When it is all said and done, be proud that your creative talent makes a difference in people's lives.
More Related Posts About Selling Art
The Holidays The holidays are right around the corner, and people are starting to think about purchasing gifts for their family and friends.  Now is the time for artists to start thinking of different online art marketing strategies to increase holiday … [Read more…]
Are you having a difficult time describing your art?  Describing art is a challenge many artists encounter, and it makes sense because artists communicate visually, not verbally. But learning how to describe a painting is a skill that can be learned … [Read more…]
Do you need to write an artist statement if you are selling art online or at craft shows?  The truth is, you should have an artist statement no matter where you will be selling your art.  If you do not know what an artist statement is or are having difficulty writing … [Read more…]
Have you been thinking about selling your art and crafts online but do not know where to start?  The options available are limitless and, at times, overwhelming for emerging artists who are interested in selling their creations. Artists can own … [Read more…]