Would you like to sell more crafts this holiday season?
Are you trying to find different ways to increase your income?
In this post, I am going to talk about how you can sell Christmas crafts by hosting holiday craft sales parties.
Hosting Craft Sale Parties
Hosting a craft sales party is an excellent opportunity to boost your craft business income and sell off some of your older inventory.
Before you get started, you will want to research to see if there are any regulations on holding an open house craft fair in your town.
You will also want to find out if you are required to collect state sales tax.
Every town and state has different laws, so be sure to look into what your restrictions are before holding a crafting party in your home.
Planning For A Homemade Christmas Crafts Event
Once you know what your town's regulations are, you can start planning your event.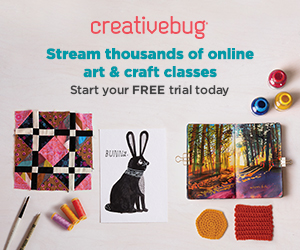 Painting Repeat Patterns by Hand: A Daily Practice by Cleo Papanikolas on Creativebug!
Below are some questions you will want to consider before you set a date.
How many people will you be inviting?
Decide how many people can fit comfortably in your home for the crafting event. You want to make sure it is comfortable for your guests. If they feel crowded, they will not make a purchase and not be interested in returning to next year's event.
Who will be attending your craft party?
Make a list of everyone you would like to invite. The people who you ask should be people who are interested in purchasing your crafts. You might want to consider asking them to bring a guest also.
What day of the week would be best for everyone to attend your crafting party?
It is a good idea to reach out to everyone to see what works best for them. You are not going to be able to please everyone, so you will have to decide what day works for most people. You can always choose to host two craft parties if it is more profitable and convenient for everyone.
What days are open on your calendar?
Double-check your calendar to make sure you are not double booking. The upcoming months are a crazy time of the year. You do not want to ask people to your home for a craft fair if you are already committed to a different event.
What will you be selling?
Make a list of all the Christmas crafts and older inventory you will be displaying.
Treat it just like a craft show. Presentation means everything. The more attractive your display looks, the more Christmas crafts you will sell.
Where will you display your Christmas crafts?
The next step is deciding what room will work best for your display. Decide ahead of time and do a test run to see if it will work best for your Christmas craft event.
Best Crafts To Make And Sell
The next step is to decide what you will want to make for your craft sales party.
Below are some ornaments I Woodburn and paint from The Christmas Craft Bundles 3 by Design Bundles.
The popular Christmas Craft Bundle includes hundreds of amazing Christmas Designs that will make it easy for you to create beautiful Christmas crafts for your home event.
If you are looking for some great designs that you can produce quickly for your craft sale, be sure to take a look at Design Bundle's bundle packages.
In past craft parties, I offer ornaments like the ones above and personalized them while they were enjoying refreshments.
Personalizing my handmade ornaments has worked so well for me in the past, and I am looking forward to hosting this year's Christmas craft sale.
More Christmas Craft Ideas:
Wreaths
Christmas Yule Centerpieces
Snowy Mason Jars
Greeting cards
Painted glass ornaments
Hand-painted Christmas signs
Christmas Crafts Planner
By this point, you know who will be attending your holiday craft sale, where you will be displaying your Christmas crafts, and what you will be selling.
Now is the time to put it all together.
Five weeks before the holiday craft sale – Start sending out invitations.
Send emails, private Facebook messages, and create a Facebook event post.
Ask the people you invited to let you know if they will be attending or not. This will give you enough time to ask others if some people cannot make it.
Three weeks before the holiday craft sale – have all your crafts completed
By this point, you should have all your crafts made, inventoried, and priced.
Two Weeks before the holiday craft sale – make a list of things you need to buy, such as food, drinks, holiday scented candles, holiday placemats, paper plates, napkins, etc.
One week before the holiday craft sale – go to the store and pick up everything you need for the event.
Clean the house and organize the room you are going to display your crafts.
Day of the holiday craft sale – make your house smell like Christmas with scented candles and popery.
Play Christmas songs and set up your display.
Have change available for people who will be purchasing with cash and have your credit card reader charged.
Hosting Craft Sale Party Extras
Your first craft party will be a learning experience.
You will learn:
How many people can fit comfortably in your home?
If you had enough food and beverages
What people were interested in purchasing.
Below are some things that I have learned over the years:
Hire a babysitter to watch young children while mom shops
Ask your guests to bring a friend (if you have enough room)
Give everyone a free small gift for coming to the event.
Ask new people to sign up to your newsletter
Offer discounts
Make items for the party that are unique to what you usually offer
Offer free personalization to ornaments
Let people try your products if you are selling soaps, lotions, honey, etc.
Conclusion:
It is easy to sell Christmas crafts by hosting craft sale parties.
This is the time of year when people are searching for unique gifts for their friends and family.
The first couple of parties you host will feel overwhelming but the tips I provided for you above will make the event go much smoother for you.
Best wishes and I hope you sell all of your Christmas crafts.