Last Updated on
Building a following for your art blog will be a daily chore. One way to receive more traffic is when readers comment, like, and share your posts. In this post, you will discover how to receive more engagement on your art blog posts so you can start building a loyal following and generate more traffic.
Receive More Engagement On Your Art Blog
Disclaimer: Please note that some of the links on this post are affiliate links and will be clearly marked as so. I will earn a small commission when you purchase a product or service from an affiliate link at no extra cost to you which helps with the costs of operating Nevue Fine Art Marketing. I will only recommend products I have used, found helpful to my business and are companies I trust.
Art blogs are different from other types of blogs.
Most fine art blogs do not answer "how to" questions,
Acrylic painting blogs do not give up-to-date global news and do not provide the latest recipe for your favorite chocolate dessert.
Art blogs are meant to share artwork and the personal story of an artist's career which in turn builds a following of art collectors.
I do want to mention that the content that most artists write about will not generate as much traffic as food blogs do and that is ok because your efforts are not meant to generate a tremendous amount of traffic instead it's purpose is to increase the income made from the traffic the blog is producing.
When an art blog is successful, it will build brand awareness, build trust, increase sales, and will connect you with important people involved in the art business.
But how can you generate more traffic and receive more engagement on your art blog?
How To Sell Artwork Online
Trying to learn how to sell your art or where to sell your art online can feel overwhelming when you are first starting out.
However, if you focus on the basics you will discover that it is not as difficult as it might seem at first.
It does not matter if you want to sell art prints online or if you want to sell fine art online the basics are the same.
You have to have a place where people can view and purchase your artwork and you have to let people know that your site exists.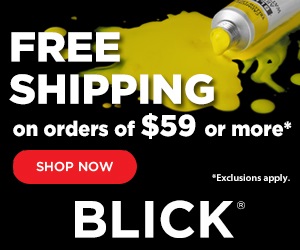 Building a professional artist website has never been easier with BlueHost (affiliate link) one-click WordPress installer and StudioPress Themes for WordPress. (affiliate link)
The real work begins after you have your website launched. You have to learn how to drive people who are interested in your artistic style to your site. This is how you will sell original art online. Build a website and let people know it exists.
How To Receive More Engagement On Your Art Blog
Why should you be concerned about receiving engagement on your art blog?
The amount of engagement you receive tells you how well your marketing plans are performing.
If your art blog generates a lot of engagement you know that you are doing a good job. It shows you that content you are writing is attracting your target audience (people who are interested in your business) and it is interesting enough for them to take the time to comment or share your posts.
I do want to mention that blogs are receiving fewer comments on their posts than in the past. This might have to do with social media. The good news is that if you have share buttons on your posts, people who are interested in your posts will share your content on their favorite social media sites. Social Warfare (affiliate link) is a WordPress plugin that I use for my social share buttons. Not only does Social Warfare have a variety of professional buttons to choose from but you can also make your posts "Pinnable". Social Warfare (affiliate link) is by far the best social share plugin I have tried.
To learn how easy it is to install Social Warfare on your WordPress artist blog visit:
How to Install Social Warfare on WordPress Art Blogs
How to Hide Pinterest Images in Blog Posts with Social Warfare
Below are some easy tips to help you receive more engagement on your posts so more people will visit your WordPress art gallery.
Promote Your Blog Posts
Many artists think that everybody will be reading their posts after they hit publish.
Unfortunately, it does not work that way.
You must let people know that you have published a new post.
Become the squeaky wheel and publish your new posts on all of the social media sites you are on and send it to your email list.
Take some time to learn how to promote your blog posts and become an art marketing expert.
Remember that people can not engage with your posts if they do not know it exists. Start the ball rolling and share your new posts with everyone you know. Those people will help you to share your content.
Focus on Your Brand
Creating a brand for your art business will separate you from all of the other fine art blogs online.
Your artist blog, website, and posts will be a reflection of your brand.
Pay special attention to the content you write, images, videos, and overall flow of your blog. The extra time you put into it will increase the value of your artwork.
Be consistent across the board with your branding strategy.
The goal is to have your audience recognize your content on all social media networks, in the search results, Pinterest and YouTube.
Create Engaging Images
Many artists think that they only need to add images of their artwork on their blogs. You do need to showcase your artwork but there will be times when your artwork will not properly represent the content you are writing about.
Studies have shown that people remember more from pictures than from text or audio.
Use this to your advantage. Add images to all of your posts.
I use Canva to create and edit all of the images you see on my blog.
Canva is a free image editing site that makes creating images for blogs and social media a snap.
For tips on how to create images with Canva visit:
How Artists Can Save Time Marketing Art Online with Canva
How to Create Pinterest Images with Canva
Engage with your readers
When your readers take the time out of their day to comment on one of your posts, respond to their comment.
This will not only help you to receive more engagement on your art blog, but it will also show the reader that you care about their thoughts. That is how you will build trust and a loyal reader.
I totally understand how difficult it can be to get all of the jobs done during the week, but you have to delegate time to do specific tasks that will help you to grow your business.
You do not have to stop what you are doing to reply to a comment every time one comes in.
If you take ten minutes every few days to reply to comments you will find that you can get a lot done in a little amount of time.
For more tips on how to get more done in less time download Get More Done in Less Time The Part-time Artist today.
Tell Your Story
Another way to engage with your audience is to tell your story.
Write about your beliefs, thoughts, and your journey as an artist.
Be personal. The readers want to get to know you as the artist.
Even though they might never get a chance to meet you in person, they will feel connected to you and your story.
For more information on storytelling visit Why Storytelling Marketing is Crucial for Artists.
Comment on Other Blogs
The last tip I would like to share with you to help generate traffic to your artist blog is to comment on other blogs.
You will find that commenting on other blog posts could drive traffic to your blog, build brand awareness, and possibly become friends with the author of the post. Most bloggers are more than happy to help each other succeed.
Conclusion:
It takes hard work to build a blog, it is even more difficult for an artist to build a following for an art blog. The rewards are well worth the time invested.
Receive More Engagement On Your Art Blog Overview
Promote
Images
Engage with others
You might also be interested in:
Did you enjoy this article? Don't forget to sign up for my free weekly newsletter.
You can also join me on:
Learn how to start, grow and monetize your online art business.
28 Day Blogging Challenge for Visual Artists
Pyrography by Dave Nevue
The Complete Blogger Template Toolkit 
OVER 450+ Templates You Need to Quickly Create Stunning, Jump-Off-The-Screen Image to Grow Your Blog-- Without Having to Learn Design!