Have you ever seen those stunning paintings made by acrylic paint pouring paint and wondered how they are made?
The process, also known as flow art, involves using thinned-out acrylic paint and various other materials to create visually stunning works of abstract art. While the basic technique is relatively straightforward, mastering acrylic pouring takes practice and experimentation.
By manipulating the flow of the paint and adding different elements such as silicone or alcohol, artists can achieve a wide range of effects, from marbled swirls to cell formations. And because acrylic pouring is a highly adaptive medium, it can be used on various surfaces such as canvas, wood, or glass.
Whether you are a seasoned artist or starting, acrylic pouring offers endless creative possibilities. So why not try it and see what fantastic artwork you can create with an acrylic pour?
This post will discuss the basics of acrylic pouring, the pouring mediums needed, and provide acrylic pouring for beginners tips to get you started.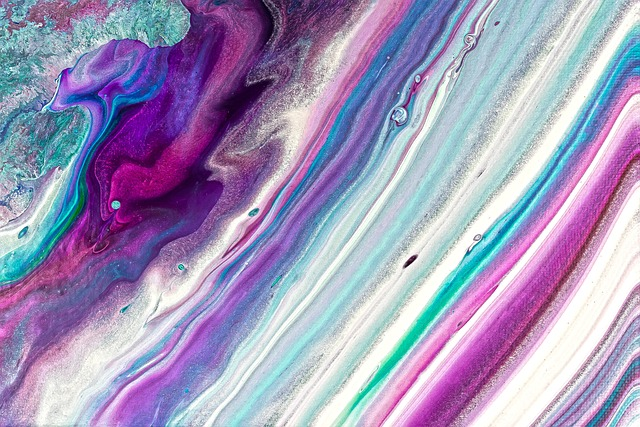 Disclaimer: This post may contain affiliate links. If you make a purchase by clicking on an affiliate link, Nevue Fine Art Marketing may earn an affiliate commission at no additional cost to you. Affiliate relationships include, but are not limited to, Bluehost, Tailwind, Skimlinks, SareASale and StudioPress. To learn more visit Affiliate Link Disclosure Policy
Supplies You Will Need
Creating a poured acrylic painting can be a fun and mesmerizing process. You'll need some fluid acrylics in your desired colors and a pouring medium to help flow and adhesion. Don't forget other supplies such as cups for mixing, stir sticks, gloves, and a canvas board or surface to pour onto.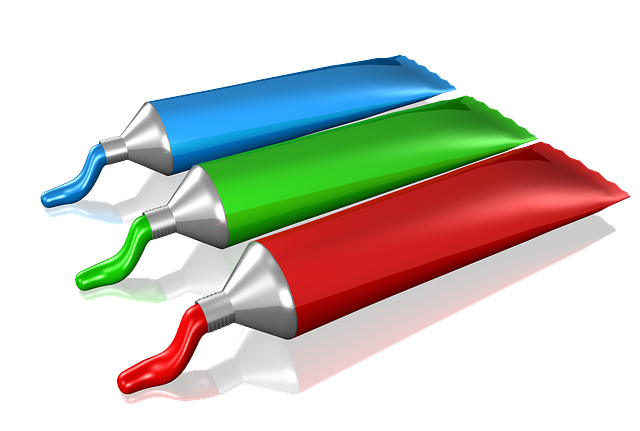 Best Acrylic Paint For Poured Acrylic Paintings
The paint you use can significantly impact the finished result when pouring acrylic paintings. Artists looking for vibrant colors with smooth-flowing consistency may want to try Liquitex Basics or Golden fluid acrylics, which offer excellent pigment and good leveling properties.
Those seeking a high gloss finish may prefer DecoArt Americana Pouring Medium, which can be mixed with acrylic paint to give it a glossy sheen.
No matter what brand you choose, it's important to remember that the key to successful acrylic poured paintings are using paints with good viscosity, so always check the product label before purchasing.
Related Post – How To Make Acrylic Paint More Vibrant
Pouring Medium
When creating a poured acrylic painting, adding a pouring medium to your paint is essential for the piece's success. A pouring medium helps to thin the paint, making it easier to flow and move while keeping its vibrant color. It also improves the paint's surface tension, allowing the paint flow to spread smoothly and evenly on the canvas without leaving brush strokes.
Additionally, the pouring medium preserves the paint's integrity, preventing it from cracking as it dries. Without a pouring medium, your paint will not have the desired consistency or finish for a successful pour painting.
When creating poured paintings or other liquid art forms, choosing the suitable acrylic pouring medium can make all the difference. Each medium has unique properties that can affect how the paint flows and dries, so experimentation is key to finding the best one for your project. One popular option is Liquitex pouring medium, which helps improve acrylic paints' flow without affecting texture or color.
Liquitex Pouring Medium

Liquitex Pouring Medium is a transparent pouring paint medium that dries to a glossy, transparent finish. It is non-toxic, water-based, and flexible when mixed with color. Liquitex pouring medium creates even puddles, poured sheets, and flowing applications of color without crazing or cracks. The colors remain brilliant and retain their transparency. When mixed with color, the pouring medium creates even puddles, poured sheets, and flowing applications of color without crazing or cracks. Use it on its own, or mix it with up to 10% of your favorite color by volume.
However, some artists prefer Elmer's Glue-All because it adds a glossy finish while helping with smooth application. It's also essential to consider additives that can change your projects' consistency and drying time, such as silicon oil or alcohol.
After preparing the workspace and materials, the next step is creating color combinations and pouring them onto the canvas in layers. The result is a beautiful abstract design that captures the unpredictable nature of this artistic technique. Just make sure to seal it with a clear topcoat for added protection. With the right supplies and some practice, anyone can create stunning poured acrylic paintings.
Paint Pouring Techniques
Artists often use several main techniques when pouring paint: traditional pour, puddle pour, flip cup pour, and dirty pour.
A straight pour involves pouring one paint color onto the canvas at a time, while a dirty pour mixes multiple colors before they are poured onto the surface.
Both can create unique and exciting effects, from bold bands of color to subtle ripples and swirls. As with any art, experimentation is the best way to figure out what works for you. Try adjusting the consistency of the paint or using different objects to manipulate the flow as it is poured onto the canvas.
Traditional Pour Painting
Traditional pour painting is a type of fluid painting in which paint is poured onto the canvas from a height, resulting in sweeping patterns and bold colors. While pour painting is often associated with abstract art, it can be used to create various styles. Pour painting is a relatively simple technique that anyone with patience and practice can master.
The following steps will give you a basic overview of creating a pour painting.
Choose your colors. For your first pour painting, it is best to stick with two or three colors. More colors can be used, but achieving a cohesive design can be more challenging.
Pour each color into its own cup.
Add a few drops of a pouring medium to each cup of paint. This will help the colors mix more easily.
Slowly pour the colors onto the canvas, first with the lightest color.
Tilt the canvas as you pour to create exciting patterns.
Allow the paint to dry completely before adding any additional coats or finishes.
Traditional pour painting is a fun and easy way to create bold, eye-catching artwork.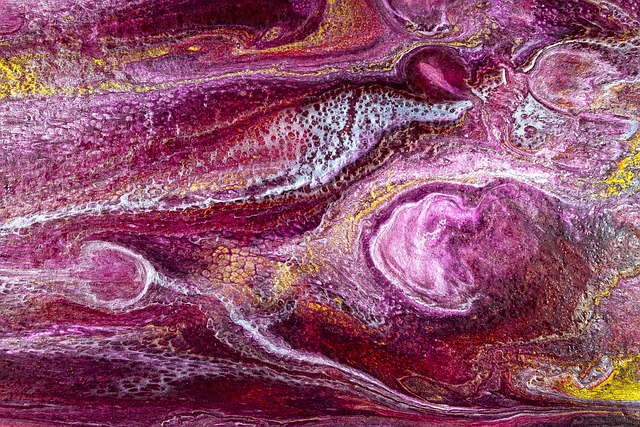 Puddle Pour
Puddle Pour painting is a type of fluid painting that produces unique patterns and shapes. The paint is poured onto the canvas in small puddles and then Tilted to spread the paint. Puddle Pour paintings can be created by using a variety of colors or just a few colors for a more subtle look. The following instructions will provide a step-by-step guide to creating your own Puddle Pour painting.
1) Begin by pouring small puddles of paint onto your canvas. You can use as many colors as you like, or just a few colors for a more subtle look.
2) Once the paint is poured, tilt the canvas in different directions to spread the paint around.
3) Continue tilting the canvas until you are happy with the overall design.
4) Allow the painting to dry completely before framing or displaying it.
Flip Cup Pour
Flip cup is a fun and easy way to add color and life to any painting project. Using just a few simple supplies, you can create a beautiful acrylic pour painting that is unique and full of personality.
Here's a step-by-step acrylic pouring technique guide to creating your own flip cup masterpieces:
1. Begin by gathering your supplies. You will need a cup, paint, and a surface to pour your paint onto. Cups with wide rims work best for this project, as they allow you to distribute the paint around the edge of the cup evenly.
2. Next, pour your paint into the cup. Make sure to fill the cup to the top so you have plenty of paint to work with.
3. Now it's time to start flipping. Hold the cup upside down over your surface and quickly flip it upside down. The paint should begin to pour out of the cup and onto your surface in a circular motion.
4. As the paint continues to pour out, use your other hand to rotate the cup. This will help create a more even paint flow and avoid unwanted puddling.
5. Once you're happy with the coverage, set the cup aside and allow the paint to dry completely.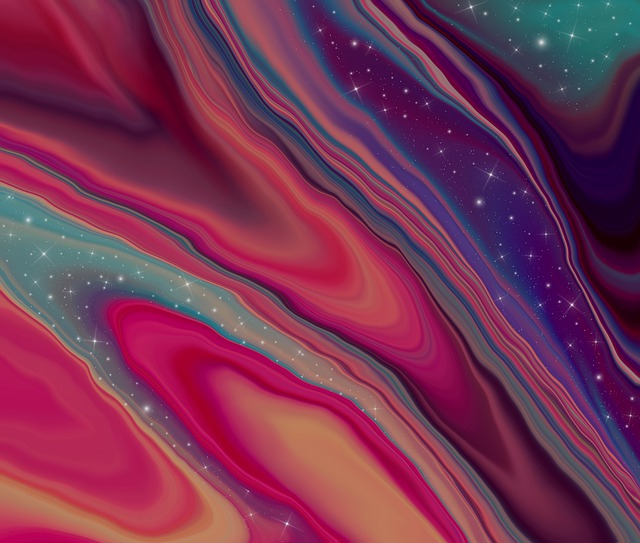 Dirty Pour Techniques
Consider trying a dirty pour technique to add visual interest to your next acrylic painting. This method involves pouring multiple paint colors on top of each other and manipulating them with techniques such as tilting the canvas and blowing with a straw.
Here's a step-by-step fluid painting technique guide to getting started:
1) Mix your colors with pouring medium in separate cups, creating a fluid consistency.
2) Pour your colors onto the canvas in any design you like, leaving enough white space to manipulate the colors.
3) Use tools like straws and sticks to move the paint around and create interesting patterns.
4) Allow the painting time to dry before adding final touches or finishing with a sealant. Experiment with different color combinations and manipulation techniques for unique results every time!
Creating Your Painting
Once you have experimented with the different acrylic pouring techniques and decided on an art form, it's time to start creating! Pour your paint onto a painting surface and let it flow. You can use tape or stencils to create patterns or designs if desired. When the painting is finished, seal it with a topcoat to protect the surface.
Some people like to add embellishments like beads or feathers to their paintings while the paint mix is still wet. Get creative and see what you can come up with.
Conclusion:
We hope this paint pouring for beginners guide has brought you one step closer to becoming an acrylic pouring artist. This technique is easy to learn but takes time and practice to master. So don't be discouraged if your first few paintings don't turn out how you envisioned—it happens to everyone. Keep practicing and most importantly, have fun.
FAQ's
How do I make my colors flow together?
You can do a few things to help your colors flow together. First, make sure you are using an acrylic pouring medium. This will help the paint move and flow more easily. Next, tap or jiggle the canvas after you pour each color to encourage the paint to mix together. Finally, use a straw or other tool to slightly swirl the colors together once they are on the canvas.
What is the best way to clean my supplies?
Acrylic paint can be difficult to clean off surfaces and clothing. We recommend using gloves and old clothes that you don't mind getting messy. When cleaning your supplies, use warm soapy water and scrub vigorously with a sponge or brush. You may need to let the paint soak for a few minutes before it comes off easily.
Is there a specific order I should pour my colors in?
No, there is no right or wrong way to pour your colors. You can experiment with different pouring techniques to see what you like best. Some people prefer to pour their lightest color first and then build up to the darker shades. Others like to pour all of their colors at once and mix them together on the canvas. There is no wrong way to do it, so have fun and be creative.
Can I use other mediums besides acrylic paint?
Yes, you can use other types of paint for this technique, but acrylic paint is the most popular choice because it dries quickly and is easier to work with. You can also experiment with other mediums like watercolors or oil paints. Remember that the results will differ from what you would get with acrylics.
How do I know if my painting is dry?
Acrylic paint dries quickly, so you don't have to wait very long for it to dry completely. However, depending on the paint's thickness and the room's temperature, it can take up to 24 hours for the paint to be completely set. You can touch the painting lightly to see if it feels dry to the touch. If there is any give when you press down, then it is not yet dry.
My painting didn't turn out how I wanted it to. What should I do?
Don't worry. This happens to everyone. The best thing you can do is practice and experiment with different techniques until you find a style you like. You can also try using different colors or mediums to get different results. And if all else fails, you can always start over again.