Pinterest is not only a great site where you can get lost looking at beautiful pictures, but it is also a great way for you to build brand awareness for your art business. In this article, you will discover 4 Easy Pinterest marketing tips that will help drive traffic to your online gallery.
4 Easy Pinterest Marketing Tips for Artists
Pinterest, in my opinion, is one of the best social media sites out there that is not social. It is different from Facebook where people will share their views by commenting on your posts, and your comment back. It is different from Twitter where you share real-time news. You do not need to spend time replying to comments or write long content for people to read. All you need to do is create an eye-catching image. If you can catch a person's interest, they will click on the picture, and they will be directed to your website where they can learn more.
I want to share with you some basic Pinterest tips that will help to optimize your business page and receive more traffic.
Profile Page
People that are interested in your images will visit your profile page. You will have a better chance to have them follow you if you follow these simple steps.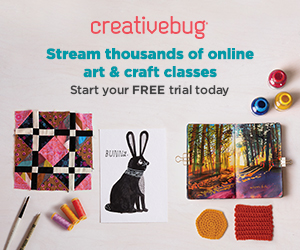 Painting Repeat Patterns by Hand: A Daily Practice by Cleo Papanikolas on Creativebug!
Your Pinterest business name should be the same as your business name. In fact, you should be using the same name on all of your social media sites. This way people will recognize you when they are visiting different social media sites. That is how to build brand awareness 101.
Your profile image should also be the same on all social networks. Some artists will use a picture of themselves for their profile picture. I think that this is a great strategy. You want people to connect with you, and a good way to do that is to let your audience see who you are.
Take some time writing your bio. You will only have 160 characters to connect with the reader. Make every word count.
The last thing that you will want to do is add your website. Your website will be displayed under your profile image for everyone to see. People will be able to click on the link and be directed to your art gallery or artist blog to learn more about you.
Pinterest Boards
Your Pinterest Boards will be a way for you to categorize your pins. By organizing your content with Pinterest Boards, you will be making it easier for your audience to find what they are searching for. You should try to have at least 10 boards.
Create board names that will describe the content that you will be providing. You will be able to change the cover image at any time. Some artists replace the cover image several times throughout the year, while others keep the cover image the same. Try it both ways and see what works best for your audience.
Marketing Strategy
Develop a Pinterest marketing strategy that will help you to reach your goals. If you do not have a clear vision of what your goals are, I highly recommend that you take my Free course, How To Write Goals.
Every pin should bring you a step closer to your destination. Develop a schedule for when you will be pinning and what content you will be providing. Every pin should have a purpose.
Some Pinterest users pin to a particular board on a specific day while others pin several times throughout the day. You will need to decide what will work best for your schedule.
After your plan has been in action for a while, you can review the results using Pinterest's Analytics.
Images
If you already have noticed, you will see many tall and skinny images on Pinterest. I use Canva for my Pinterest images. They have templates that are very easy to use. Just drag and drop and you will be ready to pin. You can upload images of your artwork to Canva to add to your image design.
Be creative with your designs and have fun with them.
Try different sizes and styles to find what works best for you.
Provide a good description of your pins with a call to action. A good call to action and description will help to increase your engagement rate.
Conclusion:
Pinterest might be a great platform for you to showcase your art. If you are deciding on setting up a Pinterest account, start with these 4 easy Pinterest marketing tips.
For more tips visit, 15 Pinterest Business Tips For Artists That Work