There is a wide range of colored media to choose from for different art projects. Professional artists and hobbyists choose between paints and pencil forms, and every medium will produce different results. For example, most watercolor paintings do not have the fine details as a painting done with pastel pencils or colored pencils.
If you are comfortable drawing with a graphite pencil and are interested in adding color to your creations, you might want to consider using a pencil form like pastel pencils or colored pencils. Both have a wide variety of vibrant colors to choose from and are similar to a graphite pencil, but each has its pros and cons.
In this post, we will provide you the pros and cons of colored pencils and pastel pencils so you can make the best decision for your next art project.
Disclaimer: This post may contain affiliate links. If you make a purchase by clicking on an affiliate link, Nevue Fine Art Marketing may earn an affiliate commission at no additional cost to you. Affiliate relationships include, but are not limited to, Bluehost, Tailwind, Skimlinks, SareASale and StudioPress. To learn more visit Affiliate Link Disclosure Policy
What Is The Difference Between Colored Pencils And Pastel Pencils
Colored pencils have a wax binder or an oil binder that holds the pigment together. It is easy to sharpen a colored pencil to a sharp point, making it perfect for fine lines and detailed work.
Pastel pencils are made of pure pigment with a binder which creates a more vibrant color. Unlike pastel sticks, pastel pencils are not as messy and are smudgeable and blendable, allowing an artist to produce a wide range of colors and values.
Colored Pencils Pros And Cons
Benefits of colored pencils:
They have a wide color range
The pencil core keeps a sharp point which allows artists to draw a sharp edge.
Allows artists to have control and precision of detail
Easy to transport, making it easy for artists to draw almost anywhere
Allows artists to create a softer look by drawing lightly on the paper surface
The can produce an oil paints effect by adding multiple layers
They come in a student grade making it more affordable for hobbyists
There are high-quality colored pencils available for professional artists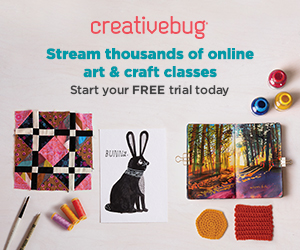 Painting Repeat Patterns by Hand: A Daily Practice by Cleo Papanikolas on Creativebug!
Disadvantages of colored pencil:
Difficult to cover large areas
Difficult to lighten colors
Difficult to remove multiple layers
Do not work well with other mediums due to their oily or waxy binders
Does not smudge or blend easily
It takes a long time to create multiple layers of colors
Best Colored Pencil Sets
Here is a list list of the top brands for colored pencils. Each set has a different color section so look at each set before making a purchase.
Prismacolor Premier Colored Pencils – Prisma colored pencils are one of the top choice brands for colored artists. They feature soft, thick cores made from light-resistant pigments. The colors are vibrant, waterproof, and blendable.
Faber-Castell Polychromos Colored Pencils – Faber-Castel uses the highest-quality pigments, producing a smooth, buttery lightfast color. In addition, these pencils can be easily layered and blended, making a wide variety of colors and shades.
Blackwing Colors Coloring Pencil Set – The set comes with 12 colors encased in a cedar casing. The core of the pencils is soft and smooth for a beautiful drawing surface.
Derwent Inktense Pencils – If you like to create art with rich, intense colors, Derwent Inktense pencils are for you. These pencils are as versatile as watercolor pencils that perform like traditional pen and ink. Create a watercolor look by adding a little water. Then, once dry, you can draw over it with different mediums.
Pastel Pencils Pros And Cons
Benefits of pastel pencils:
Not as dusty as traditional pastel sticks
Harder pastel makes it easier to sharpen to a fine point
Blendable
Smudgeable
Wide variety of different colors
Easy to cover a large area. However, a softer pastel will cover an area quicker.
The wooden case makes them easy to hold and control
Pastel pencils are quicker to work with than colored pencils
Pastel pencils can be used with other pastels like soft pastels and pan pastels
Disadvantages of pastel pencils:
The finished product needs to be protected by glass or glassine paper because the pastel can smudge if touched.
Fixatives can make the color of the pastel darker
Fills in the tooth of the paper quickly making it difficult to add multiple layers. If you are interested in applying multiple layers for different shades, PasteMat is the best paper to work with. You can add up to 7-9 layers of pastel on PastelMat.
Limited range of colors available than colored pencils
The tip of a pastel pencil breaks easily and dulls quickly
Best Pastel Pencils
Caran d'Ache Pastel Pencils – are handmade pastel pencils with 84 vivid shades. These pencils are a little more expensive than others but offer the highest quality materials for professional pastel artists.
Faber-Castell Pit Pastel Pencils: These smooth pastels have a rich pigment allowing artists to add vibrant colors without being used up too quickly. Pit Pastels are easy to blend and can be used with soft pastel sticks and hard pastels.
Stabilo CarbOthello Pastel Pencil Sets – These German-made pencils are well known for their lightfast, high-quality pigments. Each pencil has a semi-soft lead that can be sharpened to a fine point for lettering and fine details. Stabilo CarbOthello pastel pencils are artist grade pencils that produce bright colors and are perfect for any subject.
Derwent Pastel Pencils And Sets – These professional-quality pencils offer the highest degree of purity of hard pastels. The soft powdery texture produces a velvety, smooth coating.
Pastel Pencil vs. Colored Pencil FAQ
Can you use colored pencils on pastels?
It is possible to combine colored pencils and pastels; however, blending and adding pastels over colored pencils is difficult. However, adding colored pencils over pastels to highlight fine details is possible and should only be done at the last stage of the drawing.
Are Prismacolor pencils pastel?
Prismacolor pencils are colored pencils and are well known by professional colored pencil artists.
What are pastel pencils used for?
Pastel pencils allow pastel artists to have more control to create fine details. They can be layered and blended just like hard and soft pastels. Many artists use a combination of pastel sticks and pastel pencils for portraits and wildlife paintings.
How do beginners use pastel pencils?
Pastel pencils are similar to colored pencils. The main difference is that pastel pencils can be effortlessly blended, which will create multiply shades. Many beginners encounter the mistake of applying too much pastel at once, which will fill the paper's tooth, making it impossible to add multiple layers. For best results, add light layers of pastel, blend the pastel with your finger of other blending tools and add more pastel until you are pleased with the shades.
Can you use pastels on canvas?
Like any dry or wet medium, pastels are an art medium used on canvas. The problem with using canvas as a drawing surface for pastels is that the canvas will eat up the pastel pencils very quickly, which could end up being very costly. The best paper to use for drawing detail work is PastelMat.
Final Thoughts On Colored Pencils And Pastel Pencils
Both soft pastel pencils and colored pencils have pros and cons. The bottom line is that what you chose for your art projects is a personal preference. In addition, both mediums have a learning curve, and you will want to try different techniques to enhance your drawing skills. Young artists are encouraged to try working with both mediums to see what medium works best for their art style.
More Art Supply Related Articles
Oil Painting Supplies: What All Beginning Oil Painters Need
Oil Paints Or Acrylic Paints Which Is Better
Best Paint For Painting A Plaster Sculpture
Best Watercolor Paint For Professionals And Beginners
How Much Do Pencil Drawings Sell For