Running an art business is both rewarding and, at times, stressful. The best way to reduce stress is to be organized. Having an organization system in place will allow you to focus on important tasks like marketing, creating, and reducing time searching for misplaced things.
The main reason why many artists find it challenging to stay organized is that there are many things a working artist has to think about during the day, like keeping supplies organized, keeping the inventory of products up-to-date, accounting, and dates of upcoming events.
Luckily, we have over 20 years of experience operating an art business. We will share some organizational tips for artists to improve their time management to focus on important things like creating art and promoting their creations.
Disclaimer: This post may contain affiliate links. If you make a purchase by clicking on an affiliate link, Nevue Fine Art Marketing may earn an affiliate commission at no additional cost to you. Affiliate relationships include, but are not limited to, Bluehost, Tailwind, Skimlinks, SareASale and StudioPress. To learn more visit Affiliate Link Disclosure Policy
Art Supplies
Any professional artist will tell you that one of the keys to success is organization. This is especially true when it comes to art supplies.
Artists who have a system for storing and organizing their supplies can work more efficiently and create better art.
There are several reasons why the organization is so important.
First, it helps artists to save time. When everything is in its place, artists can quickly find their supplies and get to work.
Second, it prevents supplies from being damaged or lost. Art supplies can be expensive, so it's important to store them properly to protect your investment.
Finally, organizing allows artists to see their supplies at a glance, which can help them to plan future projects and make better use of their materials.
For all these reasons, it's clear that artists need to keep their art supplies organized in separate containers.
Here are some ways you can store supplies and stay organized in your creative space:
Lable Containers – use a label maker to make labels for all of your storage containers. This will help you easily identify what is stored where.
Storage Bins – keep all of your essential documents, finished artwork, and works in progress in archival storage boxes. Flat files work well for prints and paperwork.
Mason Jars – keep the art supplies for new projects next to your easel stand or drawing table in mason jars.
Storage Chest – a great way to organize supplies in a small room is by using a 12 drawer storage bin. These bins do not take up a lot of space and keep a small art room organized. They work great for paint and new materials you might not use regularly.
Door organizers – an over-the-door organizer can easily access art supplies and business supplies without taking up much space. Hanging devices are perfect for all the stuff that gets crammed into drawers.
These are some helpful tips that will increase your studio time.
Designate Areas
To create art more effectively, it is important to have a designated area for your supplies in your art studio.
This helps to keep your workspace organized and tidy, making it easier to find the materials you need when you need them. It also helps to prevent accidental damage to your supplies, as they will be stored safely out of the way.
A designated area for your supplies also makes it easier to keep track of your inventory, so you can reorder items as needed.
Have a specific space for different jobs like packaging artwork, finished art storage area, and promotion supplies like business cards and brochures.
Overall, having a designated area for your supplies in your art studio is vital for maintaining a well-organized workspace.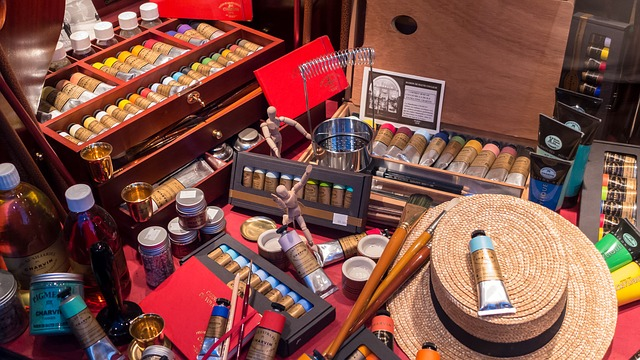 Keep An Inventory Of Art Supplies
As an artist, it is important to keep an inventory of your art supplies for a few reasons.
First, it helps you know what you have on hand to plan new projects.
Second, it enables you to keep track of how much you have used of each product so that you can reorder supplies before they run out.
Finally, an inventory can provide a valuable record if your supplies are lost.
To create an inventory, simply make a list of all the art supplies you currently have on hand. The inventory can be written on paper or documented in Google Docs. Be sure to include the quantity of each item and the brand, type, and size.
Once you have created your inventory, keep it up to date by adding new items and removing those no longer in use.
With a little forethought and planning, you can ensure that your art supplies will always be at the ready when inspiration strikes.
Accounting
At first, you might get away will documenting your sales in a little notebook, but when sales increase, you will want to have a better system for reporting income for the upcoming tax return season. There are many accounting software available for small businesses like Quickbooks. There is a learning curve related to accounting software, but you will get the hang of the process once you do it a few times. If you are struggling, you can find helpful tutorials at Udemy for under $15.00.
Tax time can become very stressful if you are not organized. You could easily spend multiple hours trying to gather all of the information you need to bring to your accountant. It only takes a little time to record sales and expenses daily, reducing unnecessary stress in December.
Use Containers
For any artist, having an organized and functional studio space is crucial for both the creative process and the business of art.
One way to create more space in a studio is to use storage containers.
Artists can keep their work areas tidy and free of clutter by storing materials in designated containers. This makes it easier to find what they need, but it also helps prevent accidental damage to important tools and supplies.
In addition, using storage containers can help artists make better use of the vertical storage in their studio. Rather than scattering materials around the room, they can store them on shelves or in cabinets, freeing up valuable floor space.
There is an extensive range of storage container sizes available online that will help you to keep everything organized in your studio. Use the bins to organize specific supplies for jobs like shipping materials, office supplies, finished artwork, etc.
Place the containers to easily be accessed and label them to quickly locate what you are looking for.
A great place to store bins is in the corner of a room where they will be out of the way.
For any artist looking to create more space in their studio, storage containers can be a helpful solution.
Content Calendar
A content calendar is a tool that helps you plan, organize, and publish your content. It can be used to plan a blog post, social media update, email newsletter, and more.
A content calendar can be either paper-based or digital. Paper-based content calendars can be helpful if you need to visualize your content plans.
Digital content calendars are often more versatile and can be shared with others on your team. They can also be linked to other tools, such as editorial calendars and social media management platforms.
No matter which type of content calendar you use, the important thing is that it works for you and helps you stay organized.
Selling art locally and online is hard work, and many jobs need to get done during the day. If you do not have a calendar for specific jobs, you could lose sales.
Social Media Calendar
Social media platforms like Instagram, Facebook, Twitter, Pinterest, and Instagram have changed the way businesses conduct marketing and how people discover new products and services to purchase. With so many different jobs an artist have to complete in a day, little things like posting on social media can feel overwhelming and take up a great deal of time.
If you're an artist trying to sell your work, one of the best ways to get started is to create a social media calendar.
This will help you keep track of posting times, hashtags, and other important information.
The first step is to choose which social media platforms you want to use. Tumblr, Twitter, and Instagram are all popular choices for artists. Once you've decided on the platforms you want to use, it's time to start filling in your calendar.
Begin by brainstorming a list of potential topics for each platform. For example, you might want to post about new artwork on Tumblr, share behind-the-scenes photos on Instagram, or tweet links to articles about your work.
Once you have a list of ideas, start scheduling them out on a calendar. Remember to leave some flexibility if something comes up that you want to post about right away.
Finally, schedule regular check-ins with yourself to ensure that you're staying on track.
By following these steps, you'll be well on your way to using social media to sell your art!
Phone Numbers
Any artist who wants to be successful should have an organized list of contact numbers that are easily accessible.
This list should include the phone numbers of art galleries, art dealers, and other professionals in the art world.
Having this information readily available will make it easier for artists to get their work seen by the right people.
In addition, having an up-to-date list of contacts will ensure that artists can take advantage of opportunities as they arise.
Inventory Art
As a professional artist, it is important to keep an inventory of your paintings and prints.
This provides a record of your work, but it can also be helpful in terms of marketing and sales.
For example, if you are considering holding a solo exhibition, an up-to-date inventory can give you an idea of which pieces you have available and how many you would need to produce.
Likewise, if you are approached by a gallery or collector interested in purchasing your work, having an inventory on hand makes it easy to provide them with a list of available paintings and prints.
In short, maintaining an inventory is a crucial part of being a professional artist. It may seem tedious, but it is well worth the effort to promote and sell your work.
Photo Archive
As a professional artist, one of the most important things you can do is keep a photo archive of all your artwork.
There are several reasons for this.
First, it provides a record of your work overtime. This can be useful for both yourself and potential buyers, who may want to see how your work has progressed over the years.
Second, it gives you a way to generate new ideas. If you're ever feeling stuck, looking through your archive can help you develop new creative ideas and inspirations.
Finally, it's simply a good way to keep track of your art.
Whether you're looking to sell a painting or just keep it for yourself, having a photo archive is valuable for any artist.
Final Thoughts On Orginizational Tips For Artists
No matter how big or small your art studio is, there are great ideas for keeping storage spaces organized and more efficient. Many storage bins can be found in discount stores to keep the costs down.
You will find that your work time will be more productive if you have your art space organization plan. It might take some creative planning, but the time invested in organizing your workspace will be worth it. Start with the great tips outlined above, then tweak them for a personal touch.
More Time Management Articles
10 Easy Steps To Become More Productive With Your Day
6 Productivity Killers Artists Should Stay Away From
Order Shipping Supplies Online – Art Business
Art Organization Ideas To Keep Art Supplies Organized
Have More Artwork For Sale This Holiday Season – Organize Your Art Studio 
Here's Why Managing Inventory Is Crucial For Business Expansion