Are you still taking time out of your week to drive to your local store to purchase shipping supplies? In this post, discover how you can order shipping supplies online and save some valuable time.
Order Shipping Supplies Online
A few months ago I was talking to an artist I was coaching.  She was telling me how frustrated she was because she is having a difficult time getting everything done during the week. Her online art business is growing but she is finding it tough to keep up with everything.
I think we can all relate to her frustration.
She is a working mom with 2 beautiful children. Selling art for her is a part-time job that helps her to take her family on summer vacations when the children are out of school.
I asked her to write everything she does during the week for her art business.
One thing that stood out was the time she was wasting on purchasing shipping supplies.
Every week she was spending about two hours a week traveling to her local store to purchase shipping supplies. Not only was she losing time but she was also paying top dollar.
I quickly got back to her and recommended for her to order shipping supplies online.
She contacted me about a month later all excited and very grateful. She said the extra six to eight hours she has saved over the past month has made her life so much easier.
We all know how much work goes into selling art.
Discovering ways to save time during the week will not only make your life easier but it will also give you extra time to focus on growing your art business.
Do you order your shipping supplies online?
Online shopping has made convenient for our busy lifestyles.  There are items that I still feel more comfortable purchasing in a store; however, I find that ordering my art and shipping supplies online saves me time and money.
Most shipping services offer free boxes. That alone saves a good amount of money. Keeping the shipping costs down for the customers will make it more enticing for them to purchase your art. Offering free shipping will make the customers very happy and more apt to purchase. If you offer free shipping you need to purchase your shipping supplies in bulk to cut costs. If you are not careful you will be throwing money down the drain. You work too hard to be cutting your profit margin down.
Shipping materials that I use for shipping my artwork:
Boxes – I get them free from my postal service.
Bubble wrap 
Packing tape
Wrapping paper
Shipping labels – I hand write it on the box. This saves me a little money. You might find it easier to print the labels. Some shipping services offer a scale to add the shipping cost and will pick up the boxes right at your house.
Business cards – I add three business cards with each package I send out. This way if someone ever asks about a drawing that I did the buyer might hand out a business card for me.
Note cards – I have my artwork printed on them and handwrite a thank you note on it. This is not necessary but it is something that I like to do.
Depending on your artwork will depend on if you need other supplies.
Online Shipping Supply Sites
These sites are not in any specific order. They are some of the highest rated sites you might want to take a look at first.
Take some time to read the reviews of these sites prior to making a purchase. While you are doing that take some notes on the cost of the supplies and shipping costs.  
Inventory Supplies
Keep an inventory of the supplies you have. The last thing you want to happen is to realize you are out of shipping supplies when you are packaging your art to ship.
Keep in mind how long it will take for you to receive your order.
I like to order my supplies at the end of every month.
This works well for me. I will take a quick inventory of what I have and what I will need for the upcoming month.
Find a schedule that works for you. Soon you too will be happy with the extra time and money you save by ordering your supplies online.
Do you have a favorite shipping supply site that you use? Please share it in the comment section below.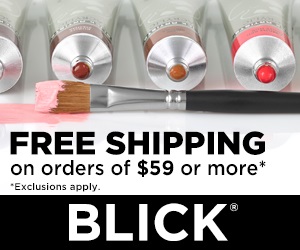 Disclaimer: This post may contain affiliate links. If you make a purchase by clicking on an affiliate link, Nevue Fine Art Marketing may earn an affiliate commission at no additional cost to you. Affiliate relationships include, but are not limited to, Bluehost, Tailwind, Skimlinks, SareASale and StudioPress. To learn more visit Affiliate Link Disclosure Policy
Conclusion:
Ordering supplies online will not only save you time during the week, but you will also be able to shop for the best prices and save money on gas.
You might also be interested in:
How My Blog on Art Marketing Reached 25,000 Monthly Views 
How to Become an Expert Marketing Your Art
If you enjoyed this article don't forget to sign up for my free weekly news letter.
You can also join me on:
Learn how to start, grow and monetize your online art business.
Over 100 videos, PDFs and eBooks to help you start and grow your online art business all for a low monthly membership fee.
New material added monthly.
More resources to help build your online art business. 
Art Marketing Resource – All of the tools I use and recommend for my online art business.
28 Day Blogging Challenge for Visual Artists
Are you ready to start building an online presence?
Take the challenge and join all of the other artists selling their art online.
 By Dave Nevue
Download your copy today, or Purchase on Amazon.
The Productive Artist How to Live Your Dreams The right mindset and time management skills are essential for any business. These topics are often not talked about but are key elements for your success. You will learn how to have a winning mindset and time management skills necessary for operating a successful art business. Available at Amazon or Download today.
For Art Bloggers
By Dave Nevue
This eBook will help you to get familiar with your WordPress Dashboard so you can focus on writing content that will attract potential buyers to your artwork. Download Today.
Graphite Drawing by Dave Nevue
Purchase Prints and Greeting Cards