Whether you are a hobbyist artist or a prolific artist, there will be a time when you realize you have an abundance of artwork lying around. Should you keep your old art?
The starving artist myth has been debunked over the years.
Online art sales are increasing every year, which provides opportunities for artists to build a thriving art business.
Making money in the art world is possible, but it will take planning, dedication, and hard work.
For your art business to succeed, you will have to develop marketing strategies that will sell your old and new artwork.
If you have plenty of room to store your artwork or have a lot of friends and family to gift your paintings and drawings, you are all set. 
What happens when you run out of room in your house, art studio, and your friend's walls are covered with your art?
Today I am going to talk about different things you can do with your old art so you can start generating some extra money.
Disclaimer: This post may contain affiliate links. If you make a purchase by clicking on an affiliate link, Nevue Fine Art Marketing may earn an affiliate commission at no additional cost to you. Affiliate relationships include, but are not limited to, Bluehost, Tailwind, Skimlinks, SareASale and StudioPress. To learn more visit Affiliate Link Disclosure Policy
Local Shops
Selling art is all about name recognition.
The more familiar people are of your artwork, the more valuable your art becomes.
You need to build brand recognition, both offline and online, including social media, Instagram account, Pinterest, and Google's search results.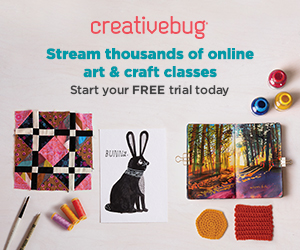 Painting Repeat Patterns by Hand: A Daily Practice by Cleo Papanikolas on Creativebug!
Building brand recognition locally might be easier than you think.
Many local restaurants and family-owned shops are looking for something to hang on their walls like fine art or handmade crafts.
Leasing art or purchasing artwork eats the profit of small businesses with no ROI (return on investment), and many can not afford a high ticket item just for decor.
However, you can suggest to a small business owner a proposition that will benefit both you and the owner.
Ask the owner if they would be willing to display your art in their facility with no cost, just a plack on the frame that displays your name and a way for them to contact you.
You can also tell the owner that if the piece sells in their facility, you will provide them with a percentage of the sale price.
Before you start visiting your shop, you will want to make sure that the old paintings you are going to present are clean, and you might want to consider purchasing a new frame for the painting or drawing.
Keep in mind that the ultimate goal is to sell and make a profit from your old and new creations. 
You want to make sure that you are representing your art with professionalism. Hence, people stop to admire your creations, become familiar with your name, and possibly purchase your old artwork.
A new frame might be all you need to make an old piece of art sell.
You don't have to spend a lot of money on a frame. Most collectors will reframe the art anyways. Visit online stores like Blick and shop for the best prices.
Graphite artists and pastel artists might want to consider changing the mat before framing the artwork.
Open Studio Events
Many artists in my area around Cape Cod do very well hosting an annual or semi-annual open studio.
Everything from new to old pieces is available for purchase.
Consider offering discounts on older pieces if your artistic style has changed over the years, and your more past artwork no longer fits into your new style.
Many people visiting your open studio events never had the chance to see your older work.
Displaying your older and newer artwork together is a great way to get rid of some older pieces. 
Newsletters
Your email list is your art business's biggest asset.
Showcase old and new art for sale in your art newsletter.
There are going to be times when people on your email list will not be in the market for purchasing high ticked artwork but are attracted to a specific piece.
Showcasing the art several times throughout the year might inspire them to make a purchase.
The best strategy is to create a content marketing calendar for displaying older artwork.
Doing so will prevent you from showcasing a piece too often or forgetting about an older piece.
Another reason you will want to highlight older art is that new people will be signing up for your newsletter, and the new people never have seen your older artwork.
Holiday Sale
Just like most businesses, the holiday seasons are where the money is.
The holiday months will be a great time to unload old art and make some money from the pieces hanging around for years.
People start shopping online for Christmas gifts in early October.
Create a flash sale in October and send it to your email list twice in October and every week in November.
Keep the newsletter the same, but make sure that you highlight the art that has been sold.
Highlighting art that has been sold will increase impulse purchases because someone will not want to lose an opportunity to purchase your art at a great price. 
Another great strategy is to promote your sales on the front page of your artist's website.
When a person visits your site, the first thing they will see is the artwork you are promoting.
Final Thoughts On What You Should Do With Old Art
There are plenty of opportunities for you to sell your old inventory.
Be creative with your art marketing strategies and see what works best for you.
You might not be lucky enough to reside in an area like Cape Cod, where open house events do well or where there are local businesses that would be willing to showcase your creative work.
However, there is still an endless amount of tactics you could use, like writing art blog posts about your old art or attending local craft fairs.
So many artists lose out because they are only focused on selling their new artwork, successful artists have developed an art marketing plan that promotes both new and old work.
Popular Art Marketing And Sales Tutorials
Below are some of the most famous art marketing courses that will grow your online art business:
Most Popular – How to Make a Living Selling What You Make by Megan Auman
Most Popular – Build a Successful Creative Blog by April Bowles-Olin
How to Build a Business While Learning Your Craft by Megan Auman
Pinterest Marketing for Makers & Designers by Megan Auman
Did you enjoy this article? Don't forget to sign up for my free weekly newsletter.
You can also join me on:
Learn how to start, grow, and monetize your online art business.
Art Business Planners