How To Be More Effective Marketing Art Online
Have you ever wanted to sell your artwork?
Are those paintings taking up so much space that some need to be sold?
Have you always dreamed of being a working artist for a living?
If any of this sounds familiar and you're struggling to market your art for sale, the good news is that it can be done.
Here are some powerful strategies for marketing art.
Disclaimer: This post may contain affiliate links. If you make a purchase by clicking on an affiliate link, Nevue Fine Art Marketing may earn an affiliate commission at no additional cost to you. Affiliate relationships include, but are not limited to, Bluehost, Tailwind, Skimlinks, SareASale and StudioPress. To learn more visit Affiliate Link Disclosure Policy
Creativity Versus Marketing
Being a passionate artist can be incredibly rewarding, but it's not always compatible with marketing art.
Many artists struggle to sell their art. This is because most artists just aren't great marketers.
When you think about it, marketing is different from painting or drawing.
Artists may be great at painting, but this doesn't mean they can sell what they paint.
Indeed, many artists struggle to think of their art as being sellable at all.
Others make some effort to sell them, but find themselves too busy painting to make a success of it.
Yet others become self-conscious.
When you paint, you're putting your heart and soul into the creative process.
What you paint, it expresses who you are, and this is a truly unique and personal thing.
Selling art has so little to do with the artistic impulse that many artists just can't imagine how they would ever go about making a sale.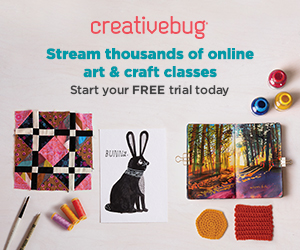 Painting Repeat Patterns by Hand: A Daily Practice by Cleo Papanikolas on Creativebug!
With all of this in mind, it seems almost natural that art and marketing should be diametrically opposed.
But the good news is that it doesn't have to be this way.
If you really want to forge yourself as a valid working artist, it will take real effort and time, but it can certainly be done.
Even better is that as you do it, your thinking will change slowly, and you'll come to realize that selling your art is a good thing for you and others.
After all, you might paint for yourself first and foremost, but when others enjoy seeing it on their wall, this brings more joy to the world.
How To Put Yourself Out There
Before you start selling your art, you need to ask yourself who your audience is.
You can't please everybody, and there will always be those who love your art and those who don't care for it at all.
There's nothing wrong with that, as we're all different.
The trick is growing a thick skin and understanding that your art won't appeal to everyone.
So, the question then becomes:
Knowing your audience is one of the keys to marketing your art in the right way and targeting people who are more likely to buy it.
There are many things you can do to build your presence and start selling once you have some idea of who might buy your art.
Related Resourse:
1. Build A Great Website
It might sound obvious, but these days, the web has given us all of the free and low priced tools we need to start building our own art brand.
The first thing you need to do is build a great-looking website.
Even if you have no experience building a website, there are free website builders you can use.
You can use a platform such as WordPress to start your own blog, but there are so many themes to choose from that you can really make it quite personal.
Given that this is going to be a portfolio, it's best to choose a template that gives you maximum space to show off your artwork.
If you're truly serious, you should definitely look into buying your own domain name.
2. Selling Yourself Is The Key
You might be selling your artwork, but people are always interested in people first and foremost.
Someone might like your art, but if they're interested in you and who you are, they'll find your art more interesting too.
This means that you need to write a great bio for yourself and put it on your website.
Don't be afraid to tell the world about who you are and why you paint what you do.
Having a great bio that is interesting also makes it easier to enter your art into any competitions.
3. Get Social
There's no doubt that big social media platforms such as Instagram and Facebook play a dominant role in marketing.
Just think of all of the social media influencers out there who are expert self-marketers.
It might go against your natural grain as an artist to start talking about yourself and your art, but the one key to being successful on any social media channel is to engage with people.
People want to get to know who you are. If they like your art, they'll want to know more about you.
Brand your social media bio with a shorter and snappier version of your biography.
Post your best work so that everyone can see, and start promoting those links.
The key is to be engaging, which means not just talking about your art incessantly.
We're all tired of being sold to all the time, so as an artist you need to engage sincerely with your followers.
If some of those followers also like your art, then all the better! They might be interested enough to buy or promote you through their own channels.
Become a master at social media marketig with these courses:
Turn Clicks Into Customers On Facebook by Billy Gene
Facebook Marketing For Small Businesses by Nathan Latka
Hype Your Brand On Instagram by Sue B. Zimmerman
Grow Your Audience On Instagram by Pei Ketron
4. Create An Online Store
These days, it's quite easy to take advantage of free e-commerce tools such as Shopify to start your own art store.
You really want to make it as easy and friction-free as possible for your audience.
Just make sure you upload photos of your best work and write an engaging description about each of them.
You can also add the WooCommerce plugin to your WordPress site, which will allow you to showcase and sell tangible and digital products.
Related Resources:
5. Offline Networking
Just because many artists sell online doesn't mean that you should forget offline channels.
Join as many art groups as you can in your local area, and even those online.
Enter art competitions and put your work and your name out there.
You can even join a local art gallery as a member and volunteer to help out.
They may even promote your art through a special exhibition space.
Final Thoughts On Marketing Art Online
Selling your own art can be challenging, but the rewards can be great if you persist.
Many people enjoy the idea of being a working artist, but don't necessarily enjoy the path to get there.
The good news is that putting in the effort can pay off and get you and your art noticed by an audience that cares.
In this sense, marketing art doesn't need to be naturally opposed to creativity.
You Might Also Be Interested In:
Popular Art Marketing And Sales Tutorials
Below are some of the most famous art marketing courses that will grow your online art business:
Most Popular – How to Make a Living Selling What You Make by Megan Auman
Most Popular – Build a Successful Creative Blog by April Bowles-Olin
How to Build a Business While Learning Your Craft by Megan Auman
Pinterest Marketing for Makers & Designers by Megan Auman
You can also join me on:
Learn how to start, grow, and monetize your online art business.
Art Business Planners