Market Your Art With Facebook Stories To Reach A Broader Audience
Are you using video as part of your art marketing strategy?
Are you using Instagram Stories or Snapchat to build your audience?
Facebook was a little behind on the times but has finally released Facebook Stories.
In this post, I will discuss how to market your art with Facebook Stories so you can reach a broader audience.
How To Market Your Art with Facebook Stories
There are so many ways for you to reach new audiences online. You can blog, create videos, create podcasts, use social media, and go on.
Besides the primary digital marketing methods, you can be creative with Snapchat, Instagram Stories, and Facebook stories.
If you are new to Facebook stories, here is a great video I found that will show you how to create great Facebook stories.
Disclaimer: This post may contain affiliate links. If you make a purchase by clicking on an affiliate link, Nevue Fine Art Marketing may earn an affiliate commission at no additional cost to you. Affiliate relationships include, but are not limited to, Bluehost, Tailwind, Skimlinks, SareASale and StudioPress. To learn more visit Affiliate Link Disclosure Policy
How To Market Your Art With Facebook Stories
Now that you have learned how to create Facebook Stories, let's discuss how to market your art with Facebook Stories.
Here are six ways you can start growing your Facebook following and increase your online sales.
Behind-the-Scene
Facebook Stories is a great way for you to be a little more personable with your art business.
You often get caught up showcasing your new artwork, and you forget the real reason people are on social media.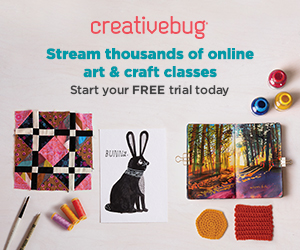 Painting Repeat Patterns by Hand: A Daily Practice by Cleo Papanikolas on Creativebug!
People visit social media platforms to be social and meet new people who have similar things in common.
If people are on Facebook to get to know more about people and keep up to date with friends and family, give them what they want.
Show them behind-the-scenes footage of your art business.
You will be surprised by how many people enjoy footage like this.
You could show them footage of your art studio, and your office, where you get inspiration to create your art.
Many art collectors enjoy the behind-the-senses of their favorite artists and are a way for them to feel connected with them on a personal level.
Expert In Your Field
People who follow you do so because they enjoy your art and message.
You can provide extra value by sharing tips and how-tos on subjects that relate to your niche.
Short stories could be about:
How to pick the perfect colors for your room.
What size art should you buy?
How to care for your artwork.
Your art techniques.
The supplies you use.
Providing valuable information about your art business will grow your fanbase and have you seen as an expert in your field. 
Promote Blog Posts
Are you trying to find different ways to promote your blog posts?
Facebook Stories is a great way for you to start promoting posts on your blog.
Share small sections of your posts and include a call-to-action that directs your audience to the full post.
You can also use this technique for your YouTube videos.
Your blog posts will drive organic traffic to your site for years to come, but it does take time for blog posts to rank in the search results.
You can speed up the process by promoting your blog posts on Pinterest and social media platforms.
Special Offers
Do you provide special offers for your Facebook followers?
You can highlight special offers exclusively for people who see your stories.
This is a great way to increase your sales and build a loyal following on your Facebook Stories.
Testimonials
Sharing testimonials is a great way to build trust with your followers.
How many times have you read reviews on a product before purchasing it?
Amazon has built its business by showcasing reviews of the products they are selling.
You can use the same strategy on your Facebook Stories.
Highlight a different testimonial every month or a couple of weeks. You might want to provide a testimonial before showcasing a new piece of artwork you are promoting.
Engage With Your Facebook Fans
Social media platforms were built so people could have a place online to socialize with others.
Even though you have a Facebook business page to promote your original art and giclee prints, your business needs to connect with your Facebook community.
Once you start receiving feedback from your target audience, you will develop a deeper understanding of your art collectors.
The information you gather will help you create content that they are interested in, which will connect them more to you as an artist and your artwork
Take the time to build relationships with your followers. These people will be more willing to buy your art and share your content with their friends.
Learn More About Your Audience
The last tip I would like to talk about is learning more about your audience.
The more you can get to know about the audience, the more productive your marketing strategies will be.
You will know how to communicate your message better and know what type of content they are interested in.
Ask your following questions.
Questions you might ask:
Ask for their opinion on new art ideas.
Ask them what art is their favorite.
Ask them what size art they prefer.
Ask them what colors they like best.
If you can start incorporating their ideas into your art, you will be creating art that will sell like hotcakes.
Selling Art On Facebook
I have to be honest and tell you that it is more difficult to sell art on Facebook than several years ago.
Facebook has changed its algorithm, making it more challenging for businesses to connect with their fanbase.
This does not mean that marketing your art on Facebook is a bad thing or a waste of time.
It means you will have to think outside of the box and try new ideas, like learning how t6o market your art with Facebook stories.
Other Facebook marketing strategies like posting on a regular schedule, images, videos, and sharing other page's content still produce positive results.
However, you will always have to try different strategies to reach more people on Facebook.
Final Thoughts About Marketing Your Art With Facebook Stories
Facebook allows you to connect with your audience with time-sensitive content.
Thinking outside of the box and developing strategies using Facebook Stories could help you to increase your sales.
Another thing to consider is using the best Facebook page image sizes to showcase your art.
You might also be interested in:
12 Facebook Page Apps for your Art Business
4 Social Media Monitoring Tools For Artists Selling Online
7 Instagram Tips for Visual Artists Selling Art Online
10 Effective Facebook Marketing Tips
What's New with Facebook Video – Online Art Marketing