Whether you are new to selling your paintings at local craft fairs or an experienced art business owner, you know the importance of creating more art. 
Art businesses survive to buy money coming in, and one way to make more money is to create more artwork. There are many ways to supplement your income with your art skills, but multiple products like new paintings, limited edition art prints, and art licensing will increase your earnings.
But the struggle many creators are facing is that they have to work other jobs to make ends meet while working on their art career.
Maybe your dream is to make a living from your art career or make crafts with paper to sell at craft fairs. However, it might be challenging to find time during the day to be creative with all of your daily priorities.
If you have difficulty finding time to work on your art, don't worry. We have you covered. This post will show you the best ways to increase your time management skills so you can make more art to sell.  
Disclaimer: This post may contain affiliate links. If you make a purchase by clicking on an affiliate link, Nevue Fine Art Marketing may earn an affiliate commission at no additional cost to you. Affiliate relationships include, but are not limited to, Bluehost, Tailwind, Skimlinks, SareASale and StudioPress. To learn more visit Affiliate Link Disclosure Policy
How To Make More Art – 10 Productivity Tips For Artists
Have you noticed how many artists and crafters are trying to sell their work online?
The number of crafters selling their work online is increasing every year.
The benefits of selling art online:
You are the boss
You do not have to answer anyone
You decide your working hours
The more you put into your career, the more money you can make
Would you like to be your boss?
Would you like to decide when you will work and when you will have time off?
Would you like to earn extra income selling your art and handmade crafts?
Would you like to increase the value of your time?
There are many benefits of owning a business, but the problem with being the boss is the responsibility of getting everything done.
You will have to devote time for:
Create new art to sell
Marketing
Selling and shipping
Talking to customers
Managing contacts
Accounting
Inventorying
Staying organized
You might be asking yourself, how can I do it all myself when I don't have enough time to finish the favorite book I am reading?
It is easier than you might think.
All you have to do is learn how to manage your time and become more productive.
No matter how overwhelming it might seem at times, You will be able to accomplish all of the essential tasks for your art career while leaving extra time to read your favorite book or spend time with your family.
The good news is that there are new tools popping up every day that will help you to get many marketing jobs done quicker so you can spend more time in the studio.
This post is not focused on tools rather it is focused on how to increase your time management skill level so you can focus on creating great art.
Below are some of the most valuable tips we have discovered over the years to help get you started.
What Works Best For You
Everyone has different responsibilities and lifestyles. Because of this, there is no one solution for being productive.
Trying to mirror someone else's schedule will only leave you discouraged and frustrated.
You have different skills and strengths than others. Therefore, what works well for you might not work for other fellow artists and vice versa.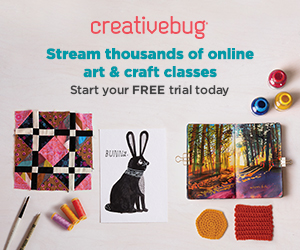 Painting Repeat Patterns by Hand: A Daily Practice by Cleo Papanikolas on Creativebug!
You will also have different responsibilities like maybe you have a day job that limits the amount of time you can devote to your art business. Or maybe you are taking Udemy online art classes to enhance your artistic talent.
What every your responsibilities are you will have to schedule in creative time if you are at all interested in selling artwork.
The first step is to more productive so you can have more art time is to discover when it is a good time for you to work on different projects, like online courses, marketing on different social networks, content marketing, etc.
Learning more about yourself will help you to determine when you are the most productive. Like we have mentioned earlier, everyone is different so you will have to do some soul-searching.
For example, creating art in the morning might not work for you because you help get your children ready for middle school.
Maybe you work the second shift, so the only time you can create art is in the morning hours or when you get out of work.
Discovering when you are most creative will make a huge difference in the quality of your creative work.
Just like discovering when you are more focused on marketing your art will help you to sell more art.
The first step we want you to do is to take a few minutes for self-reflection.
Grab some paper or create a Google Spreadsheet and write down your strengths and weaknesses.
Write down your best time for:
Creating art
Writing blog posts
Answering emails
Marketing on social media
Engaging with your social media following
Packaging and shipping
Accounting
Taking inventory
You might not know when the best times are for you to paint or write blog posts but don't worry. You will learn that as time goes by. For example, instead of saying to yourself at the end of the day, I can't believe I didn't get everything done today, say, what can I do better tomorrow so I can get everything done.
To enhance your time management skills, you have to know when you are more productive for different things.
Time management definition – is the ability to use your time efficiently. For example, if it takes you two hours to create posts for Facebook in the morning because your mind is not focused, maybe working on your Facebook marketing strategy in the afternoon will cut the time in half. That will save you an hour to work on something else for your art business.
Another example would be if you art too tired to paint at night, maybe you could make more art during the week if you woke up an hour earlier to work on new paintings. The main thing is to work on specific projects when you can be more focused on a particular task.
When Are You Most Creative
While you are taking the time to learn more about yourself and your lifestyle, you will want to focus on knowing when you are the most creative for different tasks.
For example, let's say you have half an hour in the morning you can devote to your art blog, but your mind is clouded in the morning. You will be wasting your time if you find yourself drinking coffee while you are scrolling down your Facebook feed for half an hour instead of writing a post.
Maybe you are more focused on writing in the evening or at lunchtime.
It does not matter what your best time for writing is. What matters is that you know when the best time is, and you take advantage of it. Other creative people have learned what works best for their lifestyle, that is what makes them successful.
When you are working on projects, take a piece of paper and write down how they went.
Did you accomplish the projects quicker than you thought you could, or did it take longer to complete?
Were you focused on getting the job done?
Where their distractions?
What could have been better?
Would there be a better time to work on the project?
Look over your answers the following day and see if there is a way you can schedule your day to get everything done more efficiently. Look for different possible solutions that will make your day run smoother.
Remember, the objective is to make more fine art so you can earn more money. The wonderful thing about selling your art is you are in total control. You have the ability to grow your business as large as you can dream it to be.
Write Weekly Goals
The next step is to write goals.
Write down everything you want to accomplish for the week.
Below are some jobs that are on my weekly goals list to give you an example of what you might have:
Create two new pieces of art
Write three blog posts
Send one newsletter
Schedule Pinterest pins with Tailwind
Schedule daily Tweets and Facebook posts
Answer emails
Package and ship sold artwork
After documenting what you would like to accomplish, start writing a plan to complete the list.
Writing goals will help you to develop an effective plan and keep you focused on essential tasks.
At the end of the week, assess the outcome of your weekly plans and goals.
See if there is something that you could have done better to help you get more done or even save time doing what you did.
The point of writing down your weekly goals is:
To keep you accountable
Prevent you from derailing
Learn what is working and what is not working
Prevent you from forgetting an important task
Increase your creative potential
Goal Resources:
How to Write Goals You Can Achieve Workbook
Schedule Work Time
Now that you have an outline of your goals and know when you are the most productive for creating new art, writing blog posts, answering emails, and so on, take a calendar and start filling it out.
Be realistic with your workweek.
If you can only devote 15 hours a week towards your art business, you can only schedule 15 hours of work.
Take the spreadsheet that you have created and fill it out.
Give it an honest try for three weeks and document how it worked for you.
After three weeks, look over your notes and revise anything that is not working for you.
You might find yourself revising your schedule for the next few months, but that is ok.
Every time that you revise your plan, you will become more productive with your days.
The bottom line is that you will be making more art than you were in the past.
The work schedule you write will hold you accountable to complete essential tasks instead of putting them off on the backburner.
Block Off Time
As we have mentioned earlier, you will find it challenging to complete all the jobs necessary to build a successful art business.
Why not take advantage of some of the downtimes you have during the day and make it a productive time?
You can do this by blocking off time during the day for specific tasks.
For example, instead of trying to write a blog post when you first wake up. How about scheduling Pinterest pins with Tailwind or find the perfect hashtags for your Instagram posts with Tailwind.
Maybe you can engage with your social media followers on your work breaks.
You will soon notice that you can get smaller tasks done during some downtime during the day.
The other projects that take more time and concentration, like studio work, writing blog posts, and answering emails, should be scheduled when you are most focused and productive.
Break Up Big Tasks
There are going to be jobs that take a great deal of time to complete.
For example, some graphite artists can not create a graphite drawing in just a couple of hours. On the other hand, many photorealism drawings can take well over forty hours to complete.
Another example is writing blog posts.
Writing blog posts and preparing them to be published takes time.
Instead of trying to tackle big jobs all at once, try breaking them up into smaller tasks.
For instance, below is how I write three blog posts a week:
Spend 2 hours Monday, Tuesday, and Wednesday writing the posts
Thursday spend one hour gathering images for the post and inserting them in the posts
Friday Proofread the posts and schedule them for the upcoming week
This schedule works well for many professional bloggers.
To be more productive with your time, break up large tasks into smaller jobs so you can get more done in less time. Keep an open mind when it comes to breaking up larger jobs. You do not have to get everything done today. Look at the bigger picture when you are sitting at your work desk scheduling your work week.
Avoid Distractions
Breaks are essential for your health, mentally and physically.
But with all the distractions around you like smartphone alerts, text messages, and social media, you can easily find yourself losing track of what needs to get done.
Working at home or in the studio is difficult. You are alone, and nobody is checking up on you to see if you finished everything on your to-do list.
It would be best to keep yourself accountable and focused on the goals you are trying to accomplish.
Researchers have discovered that scheduling a ten-minute break every hour to move keeps people focused on the jobs they are working on.
Try different strategies until you find what works best for you.
The objective is to limit distractions so you can make more art.
Prioritize Tasks
There are going to be jobs that come in during the week that you have not accounted for.
Maybe you have sold a painting, and you need to prepare it for shipping.
Perhaps you are receiving print orders that you must address.
When new tasks come in, you will have to sort them into two different categories, "Must Get Done" and "Do Later."
Below is how to manage incoming tasks:
Record the job
If you can accomplish the task while you are sitting there, get it done.
Revise your to-do list if it is something that takes a little more time but is a priority.
If it is not that critical, document it and put it on your next week's tasks.
Following the strategy above will help you reduce unnecessary stress and prevent you from derailing your objectives.
If you want to sell more art, you have to make more art. Planning will help you to do just that.
Write Weekly Goals
We have talked about goals and scheduling your workweek
Now we want to talk about the importance of writing weekly goals.
The only way you can be productive with your time and develop strategies to grow your art business is to write goals.
Writing weekly goals will help you to reach your larger goals quicker.
Weekly goals help you stay focused on the big picture and help you be more productive with your time.
You can assess what is working at the end of every week to see any adjustments you will need to make for the upcoming week.
Take a few minutes on Sunday to decide what you would like to achieve for the upcoming week.
Write them down and plan how you are going to achieve them.
The to-do list will only take a few minutes, and when you wake up on Monday, you will be focused on what needs to get done to grow your art business.
Write Realistic To-Do Lists
To-do lists are essential to keep you focused on what needs to get done.
However, they can easily discourage you if you are not careful.
If you write unrealistic to-do lists, you will find yourself becoming stressed and unmotivated.
When you are writing your to-do list, place them into these categories:
Do they complement your objectives?
Are they important?
Can the job be broken down into smaller tasks?
Can the job be done at a different time?
Wishes, things you would like to do but do not compliment your goals at the time.
Delete everything on the last two categories and start addressing the critical tasks. Doing this will help you to keep your to-do list realistic and productive.
Be Consistent
The last tip we would like to talk about is being consistent.
You have to be mentally prepared for the change.
Everything that you do is a habit that you have created over the years.
So if you would like to make more art, you will have to change your lifestyle and create new habits.
The tips outlined above will help you to do just that.
All you have to do is do them for 27 days, and they will become a part of your new lifestyle.
Final Thoughts On How To Make More Art
Change is not easy. But if you genuinely want something, change is a good thing.
Do you want to earn an income selling art, or do you want to be the person who says I wish I could sell my art?
It is your life, and you have total control of your actions.
Not addressing habits that distract you from your goals will only prevent you from achieving them.
Act today and start becoming more productive with your time. Doing so will help you to have more time for both your creative side and family life. You might even want to become friends with other artistic endeavors so you can come up with fresh ideas on how to grow your art business. The bottom line is that owning a business is a lot of hard work and you will need to learn how to work smarter not harder if you want to succeed. Your best work will come when you are refresh and focused.
More Related Productivity Articles
Get Things Done Entrepreneurs understand the value of time. They understand that there is limited time to accomplish daily tasks. Productivity is essential for any business. As an artist operating an art business, you must find ways to get things done promptly. The days of finishing a … [Read more…]
Productivity Tips For Bloggers Well-written blog posts will drive a tremendous amount of traffic to your art website. Social media will allow you to connect with your fans, but your blog will allow you to reach a broader audience and increase your art sales. It doesn't take much to publish … [Read more…]
Productive Marketing Art Tips Would you like to sell more art online? Is your online marketing plan taking up to much of your time? Are you finding it challenging to finish your commission projects? Does it seem impossible to create an inventory for your next local craft … [Read more…]