Disclaimer: This post may contain affiliate links. If you make a purchase by clicking on an affiliate link, Nevue Fine Art Marketing may earn an affiliate commission at no additional cost to you. Affiliate relationships include, but are not limited to, Bluehost, Tailwind, Skimlinks, SareASale and StudioPress. To learn more visit Affiliate Link Disclosure Policy
How You Can Make Money From Art
The internet has made it possible for artists to earn a decent income by selling art worldwide and the wide variety of opportunities relating to art.
Successful artists have discovered how to make money from art and their art skills.
If you want to make an art career as a painter, you will sometimes have to do more than rely on freelance customers or gallery representation.
Thinking of different ways to monetize your original art and create different income streams is essential for your art business's growth.
In this post, I will cover several different you can make money from art. take a look at all of the options and see which ones will be the easiest for you to get started.
For example, if you do not feel comfortable in front of a video camera, maybe writing an eBook about your art techniques will be best for you.
Review your art business goals before starting a new project.
Everything you do is a reflection of your brand.
You need to ask yourself, is this going to help me reach my art business goals.
Download How To Write Goals You Can Achieve by clicking on the eBook if you do not already have your art goals documented.
Make Money With Art Blogs
I am starting with monetizing art blogs because you are already using your art blog to drive traffic to your artist website.
Why not earn some money from something you already have in motion.
If you do not have an art blog yet, you can get an affordable professional art blog with just a couple of clicks of a button with SiteGround or BlueHost.
How can you make money from art blogs?
The easiest way to get started is to have ads on your blog.
Most people who place ads on their blog start with Google Adsense.
I have a better solution for you, and I wish I knew of this many years ago.
There are ad companies like Monumetric and Mediavine that have helped many bloggers make a living just from their blog.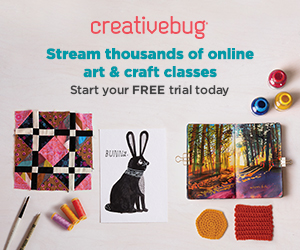 Painting Repeat Patterns by Hand: A Daily Practice by Cleo Papanikolas on Creativebug!
I started with Google Adsense, and I found that my site speed was slow, and I was not making that much money from ad placements.
One day a friend recommended Monumetric.
There is a small fee for signing up, and your blog has to receive over 10,000 unique page views a month.
The fee is to have a group of people set up the ads for your site. Their goal is to make you the most money from your ad placements.
If your blog is generating over 10,000 page views a month, I recommend looking into Monumetrics to start earning money from your art blog.
Writing blog posts can be a challenge at times, and there have been many times that I didn't have time to write a full blog post because I was either working on a commission project or getting ready for an art show.
Someone recommended that I hire a writer at Fiverr for times when I could not find time to write posts.
I was skeptical initially, but I gave it a try because it was not a large investment.
The post came back, and I was pleasantly surprised. I made a few adjustments, and my post was published, which drove more traffic to my site.
You can also make money from your blog to include affiliate links of products or services you have used and recommend.
When you are writing a post about a painting technique or framing, use affiliate links to earn a little commission when a person clicks on the link and makes a purchase.
The buyer does not get charged anymore if they purchase from an affiliate link, you will receive a commission for advertising the product on your blog posts.
Top Affiliate Programs:
The easiest way to make money from art is by monetizing your art blog.
YouTube Channel
If you enjoy being in front of a video camera and enjoy sharing with people about the art techniques, you might want to consider creating a Youtube channel.
To see if you are delegatable for Youtube ads, visit Youtube Partner Program.
It is no secret that many people have earned much money from Youtube ads.
You will have to find a way to brand your Youtube channel and learn how to build your Youtube following if you plan to make a decent income fro Youtube.
Use this simple calculator to see how much money you can make from your videos.
Sell Reproductions Of Original Art
Illustrators, photographers, painters, and drawing artists benefit from selling fine art prints and giclee reproductions.
Selling prints of your original artwork opens up the door to a broader audience who can not afford to invest in an original painting.
You can choose to print fine art prints at home, with a local printing service or a print-on-demand service.
Print-on-demand services allow artists to sell prints of their original artwork with no upfront costs.
All you have to do is create an account, upload your images, and when a print is sold, the POD service will fulfill the order and ship it directly to the buyer.
You will then receive a commission of the sale.
Each POD service has different terms and conditions, so be sure to read their policies to decide the best fit for your art business.
Popular print-on-demand sites:
To learn more about print-on-demand services, visit, Print On Demand Sites Fore Artists – What You Should Know.
Teach Online Art Classes
Do you like to show or teach your art technique with emerging artists?
If you do, teaching online classes might be something you will want to consider doing.
Every year more people are learning from online courses.
Painters, drawers, crafters, and photographers are just a few creative people who earn a decent income selling their online courses.
I know some artists who quit their full-time job and make an art career from their art blog and selling online courses.
Make Money From Art With Workshops
Workshops are similar to creating online courses, but they are less daunting.
Planning a full course takes time, and you will have to invest in a great deal of time for creating the course and editing it before you can launch the course.
Workshops allow you to teach your skills to people one-on-one or in a group.
The hardest challenge you will face is where you will hold the event and planning the first workshop.
I have a friend that does a pastel drawing workshop one a month in her home.
She allows people to try out different brands of pastels and various papers.
The class is relaxed and fun for everyone.
Renting Original Art To Businesses
There are many businesses, both large and small, who are looking to rent original art for their facility.
Most businesses can not justify purchasing high ticketed paintings, so they rent originals from local artists.
Renting your art to local businesses will produce a monthly income, and build name recognition in your area.
People will start to see your artwork in local restaurants, dentist offices, and even hospitals.
If they enjoy your artistic style, they will look at your signature or small plaque under the painting and search for your art online.
To learn more about renting art, visit Art Rental Services – Where To Rent Your Art.
Publish An Ebook
It has never been easier for people to write and publish their eBooks.
Sites like Gumroad allow you to sell digital products directly from their website.
All you have to do is create an account, upload your eBook, add a cover, set your price, and promote your eBook on your art blog.
You can also sell eBooks on Amazon. I have done this in the past, but I have found that I make much more money promoting my eBooks and selling them through Gumoroad.
You can even offer affiliate programs on Gumroad that allow other people to promote your eBook.
They have to set up a Gumroad account to receive payments, add the affiliate link on their website or social media accounts and receive a commission for a sale made.
If you would like to become an affiliate for my ebooks or workbooks, just click here and tell me what products you would like to promote.
After you have been accepted, you will receive the affiliate links in your Gumroad account. You will receive 40% commission for every sale from your affiliate links.
BE AN INFLUENCER
The more you build your name recognition, the easier it will be to make money from art.
If you do well on social media, you might notice that brands begin to contact you for sponsored content.
Companies like Blick or even supply brands are searching for artists like you to promote their products.
Take a look at iFluenz, Influence.co, and AspireIQ for services to help you with the process.
Final Thoughts On How To Make Money From Art
The starving artist myth no longer exists for today's artists.
Making money from art has never been easier.
You can be creative and develop passive income streams like selling eBooks, teaching art online or offline, and giclee prints to supplement your income.
Take some time to think about how you can earn money from the art industry.
Your creative work will help to grow your online business larger than you could have ever imagined.
Would you like to learn how to build a blog that generated over $15,000 a month?
Debbie Gartner explains exactly how she created a blog that makes her six figures a year.
You Might Also Be Interested In:
The form you have selected does not exist.
Popular Art Marketing And Sales Tutorials
Below are some of the most famous art marketing courses that will grow your online art business:
Most Popular – How to Make a Living Selling What You Make by Megan Auman
Most Popular – Build a Successful Creative Blog by April Bowles-Olin
How to Build a Business While Learning Your Craft by Megan Auman
Pinterest Marketing for Makers & Designers by Megan Auman
You can also join me on:
Learn how to start, grow, and monetize your online art business.