Do not listen to anyone that tells you drawing cannot be learned. Drawing is a skill that can be learned just like riding a bike, driving a car, reading, writing, playing guitar, singing or playing a sport. Learning the skills of drawing is simply learning from other artists and spending the required amount of time practicing the skills learned. In this post, you will discover that learning to draw is easier than you thought.
Learning to Draw
Disclaimer: Please note that some of the links on this post are affiliate links. I will earn a small commission when you purchase a product or service from an affiliate link at no extra cost to you which helps with the costs of operating Nevue Fine Art Marketing. I will only recommend products I have used, found helpful to my art business and are companies I trust. CLICK HERE to learn more.
For today's drawing lesson I would like to talk about an important skill you will want to enhance. It is about observing what you see. You do not need a lot of drawing supplies for this lesson, all you will need is a sketchbook and a pencil. Maybe a cup of coffee or tea would be good. I will be asking you to do a lot of observing today.
Are you ready to start taking your drawings to a new level?
Drawing Tools You Will Find in My Studio
Below is a list of all the materials I use for my drawings. I purchase all of my drawing supplies online at Blick Art Materials.
Drawing Paper
Blending
Pencils
Value Finder
Erasers
Extras
Disclaimer: This post may contain affiliate links. If you make a purchase by clicking on an affiliate link, Nevue Fine Art Marketing may earn an affiliate commission at no additional cost to you. Affiliate relationships include, but are not limited to, Bluehost, Tailwind, Skimlinks, SareASale and StudioPress. To learn more visit Affiliate Link Disclosure Policy
Learning to Draw – Observing Part 1
Do not be too concerned with drawing a perfect circle. Instead, focus on the placements and proportions of the objects.
These questions are going to sound elementary but they are things you should always be thinking about when you are looking at your subject.
Which object is in front of the other object?
Which object is taller?
How much taller is the tallest object?
Is the smaller object half the size of the larger object, a third of the size, three-quarters of the size, etc.?
Are both objects the same width?
How much wider is one object compared to the other object?
Is one object overlapping another object?
Which side is the object overlapping?
Now that you have studied the drawing and answered the questions, you are ready to draw what you see.
A large part of a drawing is observing the simplest things.
You could draw the perfect circle and straight lines but if the height and width of the objects are not correct something will look off.
If you are interested in drawing realism drawings you have to make sure your proportions are correct.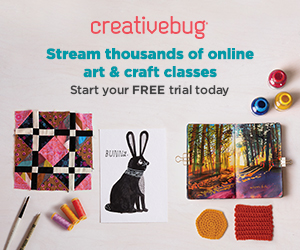 Painting Repeat Patterns by Hand: A Daily Practice by Cleo Papanikolas on Creativebug!
To be more accurate with my drawings I use the grid method.
This helps me to break down my subject into smaller sections allowing me to observe the proportions and contour of the subjects. Once the proportions and the contour are correct I will then focus on adding in the details.
Here are a couple of videos about the grid method.
Now it is time to grab your sketch pad and your pencil.
Draw example A three different times using three different pieces of paper.
After you have finished, look at your drawings and the reference image.
Do they look exactly the same?
If they don't what is wrong?
Is the height of the circle correct?
Is the circle overlapping the rectangle correctly??
Is the height of the rectangle correct?
Observing the difference between your drawing and the reference image is also enhancing your observing skills.
Let's take this practice a step further.
After you have drawn the subject accurately, practice drawing the rectangle first then adding the circle over the rectangle.
Next, you will want to practice drawing the circle first then drawing the rectangle behind the circle.
This practice will help you with when it is time to draw the negative of the reference image rather than the subject's contour.
Do not be too concerned about drawing shadows at this point. I will be discoursing light, shadows and value changes in more detail in the future.
Learning to Draw – Observing Part 2
Let's take a look at example B.
What is wrong with this example?
You know something looks off but can you identify the problem?
The mind is amazing and knows how something is supposed to look. If a subject you are looking at is not correct you will know it. You might not know exactly what the problem is but you will be able to identify that something is not right.
Even people who are not artists will be able to tell that something is wrong. They will not be able to explain what it is but they will know that something is not correct.
Here is what is wrong with example B:
The shadows are going in opposite directions. This would not happen with natural lighting.
The shadow on the circle is straight. If the shadow does not follow the contour the object will look flat.
Did you notice the shadow following the height of the rectangle? This would not occur unless there is a different object casting a shadow over it.
Learning to Draw – Observing Part 3
The last thing I would like you to do is tell me what is wrong with example C.
In this example, the shadows are both in front of the objects. This would be correct if the light was coming from behind the objects.
However, the shadow of the circle is going to the left while the shadow of the rectangle is going to the right.
Drawing Basics the Art of Observing
Like I have said earlier, drawing is a skill that can be enhanced.
Everyone can put a pencil on a piece of paper.
Everyone can draw straight lines and curves with a little practice.
The areas where people struggle is:
Proportions
Identifying the light source
Seeing soft value changes
Your drawings will become more accurate when you become better at observing your subjects.
You should work on this skill every day. It is actually easier than you think. Just start becoming aware of everything you are looking at throughout the day. Study people's faces, your pets fur, shadows, identifying the light source, identifying the direction of the light, objects next to other objects. etc.
Here is another object to observe.
Let's take a few moments to talk about this mug.
The first thing I would look at is the height of the mug and the length of the saucer.
Are they the same?
Is the height of the mug longer or shorter than the length of the saucer?
This can be a  challenge and your eyes can play tricks on you. To get an accurate answer I would use a divider.
Is the top of the mug wider than the bottom of the mug?
Does the bottom of the mug curve in?
At what point does the mug start curving in?
Where does the handle start and where it ends?
Notice the curve of the handle.
Where is the light coming from?
Notice the shadow.
You can see that there are a lot of things to think about even is the subject is simple like a coffee mug.
Conclusion:
After today you will be looking at things a little different. You will be looking through the eyes of an artist. You will notice and study every little detail that most people take advantage of.
The more you practice this on a daily basis the more natural it will become.
Popular Craft Marketing And Sales Tutorials
Are you ready to take your art business to the next level?
Investing in marketing courses and tutorials will maximize your profit and speed up the growth of your business.
Below are some of the most popular art marketing courses that will grow your online art business:
Most Popular – How to Make a Living Selling What You Make by Megan Auman
Most Popular –  Build a Successful Creative Blog by April Bowles-Olin
How to Build a Business While Learning Your Craft by Megan Auman
Pinterest Marketing for Makers & Designers by Megan Auman
28 Day Blogging Challenge for Visual Artists
Are you ready to start building an online presence?
Available on Amazon or Download your copy today.
The Productive Artist How to Live Your Dreams
The right mindset and time management skills are essential for any business. These topics are often not talked about but are key elements for your success. You will learn how to have a winning mindset and time management skills necessary for operating a successful art business.
Available at Amazon or Download your copy today.
Get More Done in Less Time The Part-time Artist
Proven strategies that will help you to get more work done in less time so you can sell more art and earn more money.
Available at Amazon or Download your copy today.
Did you enjoy this article? Don't forget to sign up for my free weekly newsletter.
You can also join me on:
Learn how to start, grow and monetize your online art business.
Art Business Planners