It is the first week of October. Is your artist website ready for the holiday rush?
Is Your Artist Website Ready For The Holiday Rush
Disclaimer: Please note that some of the links on this post are affiliate links and will be clearly marked as so. I will earn a small commission when you purchase a product or service from an affiliate link at no extra cost to you which helps with the costs of operating Nevue Fine Art Marketing. I will only recommend products I have used, found helpful to my business and are companies I trust.
This is the time of year when you will have an opportunity to sell your artwork that has not sold throughout the year, sell new artwork and build a larger following so you can have a more successful year selling art online next year.
This is the last post of the Sell More Art This Holiday Season Series that hopefully will make this year more profitable and productive for you.
Here are the other articles in the series in case you missed them:
In today's post, I would like to talk about your artist website.
Is your artist website ready for the holiday rush?
Now is the time to take a quick look at your site and fix any problems it might have.
Your goal is to make it a pleasant shopping experience for your visitors.
If you can make it easy for your guests to purchase an item and they are happy with your product when they receive it you will have an art collector for life.
Your artist website is your online storefront designed to generate opportunity and sales.
Platforms like WordPress provide websites for artists to display their work, but it is your responsibility to make sure everything runs smoothly.
Even if you do not sell your art online your site will be your digital portfolio for galleries and a way for you to let your followers know where they can purchase your artwork.
Why does it seem like some artists sell more art than others online?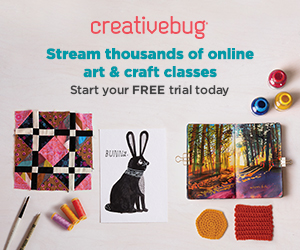 Painting Repeat Patterns by Hand: A Daily Practice by Cleo Papanikolas on Creativebug!
There are many factors as to why some artists are more successful but the bottom line is that the artists who do well at selling their art online have learned how to build a website that showcases their artwork and they have learned how to market their art online. It is really that simple.
So let's take a look at your website and see if there is something we can do to make it better for you.
Use this post as a checklist to make sure you are on target.
Artist Website Design
Is your website out of date or have you updated it in the past couple of years?
The first thing I would like to talk about is having your site mobile friendly also know as having a responsive site. All this means is that your site will look perfect on any device.
People are shopping more on their mobile devices so you want to make sure your site is responsive.
I use and recommend StudioPress Themes for WordPress (affiliate link)
Next, I want to talk about the look of your site.
When a person lands on your site for the first time do they know what your site is all about? 
Do they know you are an artist?
Do they know what style of art you create? 
Do they know you have art for sale?
Is your site easy to navigate?
You will lose an opportunity of landing a sale if your first-time visitors do not know what your site has to offer.
What Are You Selling
Branding your artwork and yourself as an artist is important for the growth of your art business.
Would you display your art in a local business without a label next to it?
Would you allow a business to showcase your art without a label that describes your art the artist?
I hope the answer is no.
I am bringing this up because I see so many artists uploading their artwork online without giving themselves proper credit.
Every time you post an image of your artwork you should include your name, the title of the artwork, and a link to where they can find out more information about the art and a way for them to make a purchase.
Related Resource:
Create an Artist Brand Workbook
Go through your site and make sure that every image has all of the information required.
Art Prices
I can not emphasize enough how important it is to display your prices.
Every landing page that showcases your art needs to have a price.
Don't make it hard for potential buyers to make a purchase.
Your shoppers are as busy as you are during this season, the last thing they will want to do is search around for prices or even worse have to contact you for a price.
Related Resource:
Art Pricing Guide – How to Price Art to Sell eBook
One-Click Buy Button
Along with your prices, you should have a BUY IT NOW link that directs them to a shopping cart.
Have you been on a site where you wanted to make a purchase and you had to click on multiple pages before you got to the checkout?
Did you make the purchase or did you leave the site?
Most shoppers will abandon a shopping cart if they have to click too many times.
Make it easy for your shoppers to pay for their products and provide a link that will direct them directly to their shopping cart.
Conclusion:
I hope that this Sell More Art This Holiday Season Series will help you to sell more artwork this year.
Every now and then it is a good idea to go back to the basics and fine-tune your site and art marketing strategies.
I hope you and your family have a happy and safe holiday season and I hope you sell a ton of art.
Is Your Artist Website Ready For The Holiday Rush Overview:
Artist Website Design
What Are You Selling
Art Prices
One-Click Buy Button
Disclaimer: This post may contain affiliate links. If you make a purchase by clicking on an affiliate link, Nevue Fine Art Marketing may earn an affiliate commission at no additional cost to you. Affiliate relationships include, but are not limited to, Bluehost, Tailwind, Skimlinks, SareASale and StudioPress. To learn more visit Affiliate Link Disclosure Policy
28 Day Blogging Challenge for Visual Artists
Are you ready to start building an online presence?
Available on Amazon or Download your copy today.
The Productive Artist How to Live Your Dreams
The right mindset and time management skills are essential for any business. These topics are often not talked about but are key elements for your success. You will learn how to have a winning mindset and time management skills necessary for operating a successful art business.
Available at Amazon or Download your copy today.
Get More Done in Less Time The Part-time Artist
Proven strategies that will help you to get more work done in less time so you can sell more art and earn more money.
Available at Amazon or Download your copy today.
Did you enjoy this article? Don't forget to sign up for my free weekly newsletter.
You can also join me on:
Learn how to start, grow and monetize your online art business.
Art Business Planners