It is getting more and more difficult to receive organic reach on Facebook. It seems like the only way to keep above water is to play by Facebook's rules. You have two options; you can change your marketing strategy with every change that Facebook throws at us, or you can pay to "boost" your posts so a percentage of your fans will notice your content. In this post, I am going to share with you 5 tips to increase social media engagement with video.
5 Tips To Increase Social Media Engagement With Video
Disclaimer: Please note that some of the links on this post are affiliate links and will be clearly marked as so. I will earn a small commission when you purchase a product or service from an affiliate link at no extra cost to you which helps with the costs of operating Nevue Fine Art Marketing. I will only recommend products I have used, found helpful to my business and are companies I trust.
Paying to "boost" your posts can become costly, and you are not guaranteed a return on your investment.
Most artists selling art online do not have a large marketing budget to play with.
The only other option artists have to build an online presence with social media is to keep up with the changes.
I found this great article "26 Ways to Use Video For Your Social Media Marketing" by Ana Gotter, posted on Social Media Examiner.
Ana explains how you can produce professional videos that will help you to build brand awareness on social media platforms.
There are five tips in Ana's post that I have found very useful.
I have immediately seen positive results with the valuable tips I am highlighting below. When you have mastered those strategies go and visit Ana's post 26 Ways to Use Video For Your Social Media Marketing so you can become familiar with more ways you can produce professional videos your audience will want to engage with.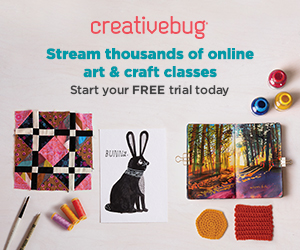 Painting Repeat Patterns by Hand: A Daily Practice by Cleo Papanikolas on Creativebug!
Experiment With Video Lengths
When it comes to the ideal video duration, a lot depends on the type of video you want to share with your audience. Testing different video lengths will give you an idea of what works best for you.
Before you get started shooting or editing your video, you should know the maximum video lengths per platform.
These include:
Facebook: 120 minutes
Twitter recommends keeping videos under 30 seconds
Instagram: 60 seconds
Snapchat: 10 seconds
Vine: 6 seconds
Note: While you don't have to reach the maximum time length, you're not allowed to go over it. If you really want to get around the maximum video duration on social media platforms, you can post a link to a YouTube video, which will allow you to share longer content. Unfortunately, this doesn't work on Instagram, where you can't share links except in ad campaigns.
Optimize For Autoplay
Twitter, Facebook, and Instagram offer Autoplay as a feature. When users scroll through their news feeds, your video automatically plays as it passes over their screen. This encourages users to watch your video because it's already playing.
Feature movement within the first few frames to enhance the Autoplay feature and grab attention quickly.
There is a caveat, however. Users are more likely to turn off Autoplay on their mobile devices to reign in unwanted data charges. Alternatively, you can target longer video campaigns to desktop users and see if that increases your views and engagement overall.
Though Autoplay helps increase views when Facebook and Twitter users have it enabled, be careful not to count on it too much.
Grab Attention Early
It's vital to grab your audience's attention within the first few seconds of your video. You need to capture viewers' interest within the first 10 seconds (or less) or they'll stop watching and move on to something else. This forces you to be concise and get right to the point. Vine's success with six-second videos proves it's possible to catch a user's interest in 10 seconds or less.
Within the first few seconds, the following video tells viewers what it'll be about, and offers a solution to a problem.
Hooks are an important part of capturing interest because they explain why viewers should care or be interested. You should place hooks within the first or second frame of the video before users have a chance to scroll away.
Create How-To Videos
How-to videos are immensely popular across all social media platforms. Whether you're teaching viewers how to make fluffy German pancakes or demonstrating clever life hacks, these videos aren't just for Pinterest.
How-to videos should teach users about concepts, tricks, or lessons that are relatively straightforward and simple. Think seven-layer dip compared to beef Wellington from scratch. These will be easy for users to follow, and the easier they are, the more likely people will try them out later.
You also need your content to fit into a short video, which will perform better. When in doubt, you can use video editing tools to speed up the visual of the video, which fits more content into condensed times.
Optimize For Search
Just about everything your business posts on social media should be optimized for search engines. With social media sites becoming increasingly more like search engines themselves, optimization can make all the difference when it comes to relevant users finding you and your video.
While the text that shows up in your video won't register in searches, the headline, and descriptions you post with your video will. Add keywords or key phrases to help users find your content on all platforms, and add relevant hashtags on Twitter and Instagram to boost search results.
Disclaimer: This post may contain affiliate links. If you make a purchase by clicking on an affiliate link, Nevue Fine Art Marketing may earn an affiliate commission at no additional cost to you. Affiliate relationships include, but are not limited to, Bluehost, Tailwind, Skimlinks, SareASale and StudioPress. To learn more visit Affiliate Link Disclosure Policy
Conclusion:
I really believe that #4, "Create How-To Videos", is very important for all artists.
It is a great way to reach a new audience and will help you to be seen as an expert in your field.
I hope that you enjoyed these, 5 tips to increase Social media engagement with video.
Keep in mind that if you are interested in building your business without breaking the bank, you will need to keep up with the changes.
5 Tips To Increase Social Media Engagement With Video Overview:
Experiment With Video Lengths
Optimize For Autoplay
Grab Attention Early
Create How-To Videos
Optimize For Search
Social media marketing resources that will help you to become an expert marketing your artwork on your favorite social media platforms:
Social Media Sanity: How to Manage your Time on Social Media with Tiffany Han (affiliate link)
Social Media Bootcamp with CC Chapman, Kim Garst, Ariel Hyatt, Amber Naslund (affiliate link)
Social Media Design Toolkit with Janine Warner (affiliate link)
Social Media Marketing with Lindsay Adler (affiliate link)
Connect With Your Customers on Social Media with Erin Dollar (affiliate link)
You might also be interested in:
9 Effective SEO Tips for Selling Art Online
7 Effective Website Traffic Generating Tips for Visual Artists
7 Powerful Features Every Art Blog Needs
First Steps on Content Marketing for Visual Artists
Did you enjoy this article? Don't forget to sign up for my free weekly newsletter.
You can also join me on:
More resources to help build your online art business. 
Art Business Planners