Even though videos are attracting more social media views, images are still a strong second. I have created this image editing resource for social sharing so you can create images easily that will inspire people to share.
Image Editing Resource
Disclaimer: Please note that some of the links on this post are affiliate links and will be clearly marked as so. I will earn a small commission when you purchase a product or service from an affiliate link at no extra cost to you which helps with the costs of operating Nevue Fine Art Marketing. I will only recommend products I have used, found helpful to my business and are companies I trust. 
65 percent of the population are visual learners. This might be one of the reasons why images produce a large amount of engagement for social media networks.
Being an artist you have an upper hand over others business owners. You will be able to produce breathtaking images that have a great chance of going viral. The more people who share your images on social media platforms the larger your audience will become.
Below is a list of some of the best free image editing software services to make creating beautiful images people will love to share on social media.
PicMonkey
Picmonkey is one of my favorite image editing sites. There is a free plan, or you can pay for a premium plan for extra features.
The free program offers more than you need to create beautiful images. You can edit, resize and add effects with one click. If you would like to add text, PicMonkey has a broad range of text that you can pick from.
The best feature is that it is very easy to use. You will not have to spend lots of time learning how to edit and create images.
Canva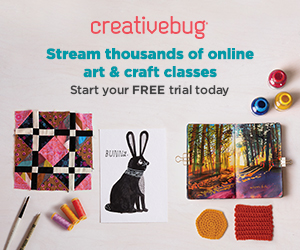 Painting Repeat Patterns by Hand: A Daily Practice by Cleo Papanikolas on Creativebug!
Canva is my other go-to site for editing and creating images. If you are going to create an image from scratch for social sharing, Canva makes it easy. Most social media sites have different image dimensions. Canva has the most popular social network image sizes as temples.  Pick what social network you are going to share on, click and create.
BeFunky
BeFunky is another great image creating a site, similar to Canva and PicMonkey. BeFunky provides templates for social media headers, blogs, and business. You will enjoy their user-friendly interface.
Adobe Photoshop
Even though Adobe Photoshop is a paid software I had to include it in the list.
I use Photoshop to edit images of my artwork.
Tools like PicMonkey and Canva make it easy to create images fast for social media but when you are displaying images of your artwork you will want to make sure you are using the best image editing software available and in my opinion, nothing compares to Photoshop.
Related Post: The Importance of Photographing and Displaying Images of Art
Photoshop is a powerful software that will take some time to learn.
Below are some Photoshop tutorials from CreativeLive (affiliate link) that will help you to get the most out of Photoshop:
30 Days of Photoshop with Dave Cross (affiliate link)
Photoshop 101 with Ben Willmore (affiliate link)
Photoshop Essentials with Dave Cross (affiliate link)
Free Stock Images
Are you looking for images to use for your artist blog?
There will be times when you are looking for something other than images of your artwork to spice up your artist blog posts.
Below are a couple of Free Stock Image sites I use for my blog posts:
Pexels
If you are looking for motivational images to use on your blog or social network sites, Pexels has over 4,500 free stock photos to choose from. All of the images are under the Creative Commons License. This means you can copy, edit, redistribute and use commercially.
Unsplash
Unsplash is similar to Pexels, offering images under the Creative Commons License. You will be sure to find what you are looking for here. They provide ten new images every ten days.
Disclaimer: This post may contain affiliate links. If you make a purchase by clicking on an affiliate link, Nevue Fine Art Marketing may earn an affiliate commission at no additional cost to you. Affiliate relationships include, but are not limited to, Bluehost, Tailwind, Skimlinks, SareASale and StudioPress. To learn more visit Affiliate Link Disclosure Policy
Conclusion:
I hope that you found this image editing resource for social sharing helpful. These are some of the best free image editing tools available.
What are some of your favorite image editing tool?
Image Editing Resource For Social Sharing Overview:
PicMonkey
Canva
BeFunky
Adobe Photoshop
Pexels
Unsplash
You might also be interested in:
Best Way To Sell Art Online | Strategies That Work
Increase Art Sales: 5 Tips To Boost Social Media Shares
How I Sell My Art Online With Tailwind
Why Artists Selling Art Online Need A Social Media Marketing Strategy & How To Get Started
Why Professional Quality Images are a Must for Art Websites
Did you enjoy this article? Don't forget to sign up for my free weekly newsletter.
You can also join me on:
More resources to help build your online art business. 
Art Business Planners