Last Updated on
Today's blogging challenge is to write an instructional post or a "How to" post. Providing "How to" posts will help you to build authority and help someone with a struggle they might have.
How To Write An Instructional Post For Art Blogs
I can still remember the days when I was younger and I need to gather information for a school project. I would hop on my bike or walk to the Public Library.
The trip to the library was not taken too many times because I soon realized I could never find what I was looking for.
As I was fumbling through all of the index cards I realized I didn't know how to find what I was looking for. Because I am an introvert, it was difficult for me to walk up to someone and ask for help. Discouraged, I would walk out the doors empty-handed.
Many years went by and the internet was born. The talk around town was someone getting a new home computer. Back then you would often hear me say, "I don't need a computer. What would I do with a computer?"
Time went by and computers became more popular.
The time came when I decided I wanted to purchase a computer. I had no idea what I was looking for so I ask a friend to help me. We went to the store and by the end of the night, he had my computer up and running with AOL Mail. I was very excited as he taught me some basics to help get me started.
He left and I took some time surfing the net. All of a sudden the feeling I had in the Library came back. I would type in words in the search field and would not get the results I was looking for. I do have to tell you I am not a good speller and back then there was no spell check.
Once again I felt discouraged and thought about how much money I wasted.
Google and other search engines have made it easy for people to find the information they are looking for today.
Instead of typing in a keyword and scrolling through pages to hopefully find what you are looking for, all you have to do is type in a question. And there is spellcheck.
The solution you are looking for pops up right before your eyes.
How To Sell Art Online Free
Before I go into how affordable selling online is, I do want to mention, nothing is free. Everything has a cost.
There is some good news for artists and small business owners. You have the opportunity to sell products and services online and it will not break the bank. For less than a cup of coffee a day you can purchase hosting and have a professional Artist Website that will showcase all of your art. Now, of course, it will cost a little more if you hire someone to build your website for you. But with all of the content available via text and videos, you can create a website very easily.
I had someone build my first website in the early 2,000s and it cost me at that time a little over $4,000.00. I passed that business on and every website that I owned from that point on I have built myself. I didn't know what I was doing in the beginning but I learned and so can you.
Take some time to watch some videos on how to build a WordPress website on YouTube. Watch a lot of them before you start building your site. This way when it is time, you will be familiar with everything.
You can build an online store in no time at all, and like I said earlier all you will be required to pay upfront is a domain name and a hosting service.
Ok, so there you have it. There is a small price you will have to pay for selling your art online. But let's face it, owning a business for less than a dollar a day was unheard of before the internet.
Marketing An Online Store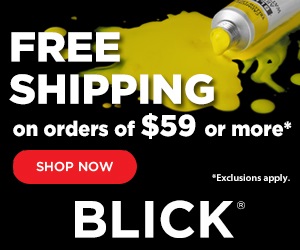 After you have your online art store up and running, filled with your beautiful artwork available for people to purchase, you will need to promote your store.
I have seen many changes with online marketing in the past fifteen years. However, there is one thing that stays consistent. That is content marketing.
The question is, "How do you learn about online marketing and content marketing?"
This is how I learned everything I know about online marketing and sales.
Doing
Teaching
Asking
Assessing
Doing
I have simply learned everything I know by trying out ideas. I am not afraid of trying something new. My thought process is, I can only grow if I try.
This doesn't mean that everything you do will give you positive results. But when an idea doesn't work, you learn something from the experience. More doors and opportunities open.
Teaching
I have learned from instructing guitar and helping artists build a business over the past twenty-five years, I learn the most from teaching.
When you learn something new, teach it to someone. Not only will you learn that strategy better but you will also be helping someone else along the way.
Asking
Asking for help has always been difficult for me. The good news is, it is very easy to ask Google questions.
If you are an introvert like I am, start by asking Google. In time, you will learn how to ask others for help and not feel uncomfortable.
Just like you are willing to help others, there are people willing to help you.
Assessing
Everything needs to be assessed. You need to know what is working and what is not working. You need to figure out why something works while other ideas fail.
Take time every week to see what is working for you.
To sum it up, to be an art marketing expert, you will need to do, teach, ask and assess.
So, start by teaching people what you know and start writing "How To" posts.
Why Do People Search On The Internet?
One reason people search on the internet is to solve a problem. For you to reach a larger audience, you will need to understand your target audience's struggles and challenges. What are their problems? What are they trying to solve? How can you solve their problems?
Information is at your fingertips 24/7.
When was the last time you didn't have your smartphone within arm's reach?
When was the last time you didn't have a mobile device on the side table next to you while watching TV?
When was the last time you looked at a full commercial without surfing the net?
If you are looking for a new recipe what do you do? You go to Google search.
If you want to learn what snacks are best for your pets where do you go?
If you want to learn what colors work best for small rooms where do you go to find the answer?
With so many people going online, you have the opportunity to reach a larger audience than you could have ever imagined just by writing instructional or "How To" posts.
Write An Instructional Post By Solving A Problem
Before you can start to write an instructional post, you will want to decide what problems your target audience has and how you can help them. Every time you can solve a reader's problem, you will increase the chance of them remembering you and becoming a regular visitor to your site. They will begin to trust you and be more apt to purchase from you.
The best way to start coming up with ideas on problems to solve is to look back at what you have learned during your art journey.
Here are just a few ideas to help get you started:
What colors best accent a room?
How large should a painting be for a wall?
What are the best frames for art?
How to protect paintings or drawings?
The best way to clean paintings?
If you would like to help the learning artists, you could provide tutorials or "How To" videos based on your technique, or how you started your business.
Break Down The Problem
After you decide on what topic you will be writing about, take the time to break down the steps it will take to solve the problem. Taking the time to bullet point the steps will save you time writing the article as well as prevent you from missing any important information regarding the solution of the problem.
Depending on how complex the problem is, I might create subcategories for particular bullet points.
Add In The Details
After you have all of the steps needed to solve a problem written down it will be time for you to fill in all of the details required to accomplish each step.
The instructions should be clear and easy to follow. Write as if the person you are writing for knows nothing about the subject you are writing. Include every little detail even if you feel it is insufficient. Your goal is to solve the problem for the reader. The more detailed you can be the better.
Images
If possible, include images for each bullet point. Many people are visual learners and will learn by looking at a picture versus reading the text.
Including both images and text will ensure you are helping both types of learners.
Videos are also becoming more popular with "How To" content. You can easily upload a video to YouTube than embed it into your WordPress blog or website.
Your posts are sure to be a hit if you include detailed instructions, images, and video. You will have a better chance of attracting a new audience, and the audience you already have will go to you first when they need helpful advice.
Review
After you have finished including all of the details, read the post and see if there is anything you missed.
Is your post easy to understand?
Does each bullet point include every step required to accomplish each task?
Will your post help the text learner as well as the visual learner?
Will your post help the beginner as well as someone already familiar with the topic?
Before publishing your post, ask someone to read your post and ask them if they would be able to follow the steps you have provided. The best people to ask are the ones who do not know anything about the topic you are writing.
Write An Instructional Post And Be The Best
One way to attract a new audience is by providing the best content you can produce. The content does not have to be perfect. Your post just has to be better than the best content available.
How do you provide the best content?
The first step is to take a look at what is available. Do a search on Google and read the top three search results for the topic you are writing about.
Ask yourself, "What can you provide that will make your content better and more helpful to your audience."
Your objective is not to copy the posts that you have read. Your goal is to have your posts provide more value for your readers.
Content Marketing Basics Course
Are you interested in learning more about content marketing?
Are you ready to reach a larger crowd and attract your target audience?
Do you want to rank higher in Google's search?
I created the Content Marketing Basics Course to help you to implement a content marketing strategy that will help you to save time and see results. There are over 40 videos, a downloadable eBook and PDF's packed with easy to understand and follow tactics that will help you grow your art business and start separating yourself from the competition.
Complete the course at your own pace. The material will always be available for you to go back to.
To find out more visit, Content Marketing Basics Course.
Conclusion:
Today you are going to write an instructional post. You might not be able to complete the project today, but you will have a good start.
Begin by studying what others are doing. Decide what you are going to cover. Write your bullet points, then start adding in the value.
The Productive Artist How to Live Your Dreams The right mindset and time management skills are essential for any business. These topics are often not talked about but are key elements for your success. You will learn how to have a winning mindset and time management skills necessary for operating a successful art business. Available at Amazon or Download today.
Did you enjoy this article? Don't forget to sign up for my free weekly newsletter.
You can also join me on:
Learn how to start, grow and monetize your online art business.
The Complete Blogger Template Toolkit 
OVER 450+ Templates You Need to Quickly Create Stunning, Jump-Off-The-Screen Image to Grow Your Blog-- Without Having to Learn Design!