Do you find it difficult at times to get motivated to paint or draw? If you are a selling artist, you will have to find ways to keep yourself motivated. In this post, you will discover some helpful tips on how to stay inspired for creating art.
How To Stay Inspired for Creating Art
Inspiration is the fuel for creativity.
When an artist has inspiration, it shows in their work. The artist can work for hours without stopping. The connection between the artist and their creation cannot be separated. A train could crash through their art studio and they wouldn't even notice.
There is a difference between paintings or drawings that have been created by an inspired artist or an uninspired artist painting as if they were in an assembly line waiting for the day to end.
An inspired artist has a vision and a message they would like to share with the world.
An uninspired artist is just trying to get the job done so they can go on to something else.
Creative People and the Selling Artist
Drawing, painting, and crafting are hobbies that are enjoyed by many people. Some people like to create just for themselves while others like to make gifts for family and friends. Crafting lets a person's inner voice come out without even saying a word.
When selling artwork becomes a part of the equation, stress is entered.
There will be times that you are asking yourself, "Is this good enough?"
You will have deadlines, paperwork, marketing, and art to create in a timely manner for selling.
There is no time to be uninspired if you are an artist selling art.
You must find ways to keep yourself motivated and inspired.
5 Motivation For Artists Tips
Here are 5 tips that help me stay motivated for creating art even during the toughest times.
Learning
Learning is my biggest inspiration.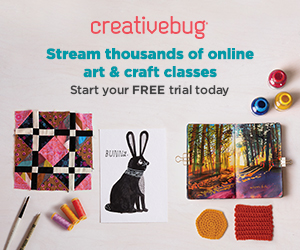 Painting Repeat Patterns by Hand: A Daily Practice by Cleo Papanikolas on Creativebug!
Throughout the day, I never stop learning about drawing and marketing. There is so much to learn that I feel like I will never learn it all.
Learning something new excites me and keeps me motivated to try new things.
Take ten or fifteen minutes a day to learn something new that will benefit your business.
You could learn something that will enhance your artistic skills, your blogging skills or strategies for social media marketing.
It is as easy as watching a YouTube video or pulling up your favorite blog during your coffee break.
What is Your Passion
What inspires an artist to create?
Why do artists create art?
I have asked many artists these questions.
The answers are always different.
Some people are inspired by family members while others were attracted to an artist's work.
If you want to sell art it is important to create things you have a passion for.
When you are drawing or painting subjects that you love to create you will never get bored. It will not feel like a job when you are at the drawing table or easel.
You will always put your best effort in, have pride in what you are doing and you will continue to learn how to enhance your artistic skills.
What inspired you to become an artist?
What was the first painting or drawing you saw that made you want to give it a try?
What subjects are easy for you to replicate?
If there was only one subject you could paint or draw for the rest of your career what would you be content with?
Art Inspiration Ideas:
Start collecting reference images of the subjects you have a passion for.
Find other artists who create the same subject and find inspiration from them.
Watch video of how other artists create similar artwork.
Visit Pinterest and Etsy to see what other artists are creating.
Follow other artist blogs.
It is easy to stay motivated when you have a passion for what you are doing.
Get Rid of Distractions
Before you start working, remove any distractions.
Turn off your smartphone and computer if you are not using them for creating your art.
If you are using your smartphone, turn off the social media updates. You can view them when you are done crafting.
You need to stay focused on what you are doing when you are creating art.
A simple distraction could have you wasting valuable time and drain your creative spark.
There are going to be interruptions that you will not be able to avoid. Those distractions will have to be dealt with.
Other distractions like the "Facebook update ding", email alerts, text messages, etc can be avoided.
Books and Magazines
Books and magazines are a great way to stay inspired for creating art.
I am always inspired when I look at art. It is the same feeling when I listen to live music.
Find some books or magazines of your favorite artists and keep them around the house. Throughout the day you can easily motivate yourself by flipping through them.
Looking at other people's talent is always inspiring.
Work Hard
Every day put in 100%.
Push yourself to be as productive as you can. There will be nobody to help motivate you when you work alone. You need to be able to motivate and push yourself.
When the workday is over you have a sense of pride in everything you have accomplished.
The feeling you get at the end of the day will motivate you to wake up the next morning inspired and ready to get to work.
Artist Motivation Quotes
I would like to end this post with some of my favorite quotes. Sometimes just reading a quote can inspire you to get the job done.
"Every child is an artist. The problem is how to remain an artist once we grow up." ~ Pablo Picasso
"You don't take a photograph, you make it." ~ Ansel Adams
"We don't make mistakes, just happy little accidents." Bob Ross
"A picture is a poem without words" ~ Horace
"Painting is easy when you don't know how, but very difficult when you do." ~ Edgar Degas
Disclaimer: This post may contain affiliate links. If you make a purchase by clicking on an affiliate link, Nevue Fine Art Marketing may earn an affiliate commission at no additional cost to you. Affiliate relationships include, but are not limited to, Bluehost, Tailwind, Skimlinks, SareASale and StudioPress. To learn more visit Affiliate Link Disclosure Policy
Conclusion:
There are going to be times when it is difficult to get started.
You have to find ways to reduce those feelings and when you do feel less than motivated you need to work through them.
5 Stay Inspired for Creating Art Tips Overview:
Learning
What is Your Passion
Get rid of Distractions
Books and Magazines
Work Hard
You might also be interested in:
Pyrography by Dave Nevue
Hide And Seek Black-capped Chickadee Wood Burning