Places To Sell Art Online
Have you been thinking about selling your art and crafts online but do not know where to start?
The options available are limitless and, at times, overwhelming for emerging artists who are interested in selling their creations.
Artists can own a WordPress website for about the cost of one cup of coffee a day.
There are third-party online art galleries available that will allow artists and crafters to sell original art, fine art prints, and handmade crafts.
Artists can sell your art on social media sites like Instagram. Facebook, Twitter, Pinterest, and YouTube or they can generate income selling prints of your work with POD sites (print-on-demand sites.)
As you can see, the options are limitless.
Every year more and more artists and galleries are selling more art online.
High priced original fine art, limited edition giclee prints, art prints on merchandise, and one of a kind handmade crafts are being purchased by people worldwide.
Artists dreaming of having their artwork showcased in a local gallery is a thing in the past. Today young artists are dreaming of building a thriving online art business.
The question is, "Where do you start?"
We have come up with a list of the best e-commerce solutions for artists and crafters interested in selling their work online and a brief overview of how to market your products to people worldwide, so your art and crafts are not just collecting dust.
What Are You Selling
Before we start talking about online marketing strategies, you need to have a clear vision of what types of products you will be selling and what selling platforms will be best for your unique goals.
Below is a list of the most popular products sold by artists and crafters, along with the best online tools to use. I will be explaining the selling services and platforms in more detail later in this post.
First let's go over what types of products are being sold online.
Original Art You Package And Ship
Any tangible items you create and ship from home will fall into this category.
Who is this for?
Fine artists
Mixed media artists
Photographers
Crafters
Sculptors and more
Where to Sell These Products Online:
Website
Social media
Online art marketplaces
Wikipedia Defines online art marketplaces as:
An online marketplace (or online e-commerce marketplace) is a type of e-commerce site where product or service information is provided by multiple third parties, whereas transactions are processed by the marketplace operator. Online marketplaces are the primary type of multichannel e-commerce and can be a way to streamline the production process.
Commission Or Custom Artwork You Package And Ship:
Commission work is a service an artist or crafter offers to a buyer, which allows the buyer to have a custom painting, drawing, or craft made for them.
Who is this for?
Commission artists
Commission illustrators
Commission photographers
Handmade crafters and more
Where to sell this service online:
Website you own
Social media sites
Online art marketplaces
Large seller marketplaces
Photographers And Digital Artists Selling Digital goods:
These products are for any artists creating digital items, including digital downloads.
Who is this for?
Photographers
Digital artists
Artists selling prints of their original artwork
Where To Sell Digital Products:
Website you own
Social media sites
Print on demand sites
Where Can Artists Sell Art Online
Now that you have a clear vision of what you will be selling let's talk about the basic ways you can sell your artwork online.
What do you think the best platforms are for selling art online?
Some common answers you might hear are:
Facebook
Twitter
Website
Blog
YouTube
Email
Pinterest
Instagram
These are all accurate answers, and in one way or another, they will all help you build brand awareness, name recognition, and grow your audience, but there is one thing you must have if you intend to sell your artwork online.
You need to have a website or an online art gallery where people can visit purchase your products and services.
It does not matter if you want to sell paintings online if you're going to sell art prints online, sell digital items, or even hand-made candles. You need a platform that showcases your products and a money gateway to collect money from the buyers like PayPal or Stripe.
Here is a list of the most popular platforms artists and crafters use to build an online business.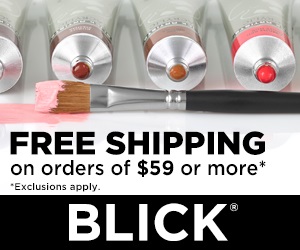 Disclaimer: This post may contain affiliate links. If you make a purchase by clicking on an affiliate link, Nevue Fine Art Marketing may earn an affiliate commission at no additional cost to you. Affiliate relationships include, but are not limited to, Bluehost, Tailwind, Skimlinks, SareASale and StudioPress. To learn more visit Affiliate Link Disclosure Policy
Online Art Galleries
An artist's website is an online store that will showcase your artwork and provide a way for your audience to purchase products.
Owning a website will provide you total control of the look and feel of your site. Creating a unique brand that will separate yourself from all of the other artists selling artwork online is posable with website building platforms like WordPress.
Another benefit of owning a website is that you will not be competing with other artists on the same platform or be subjected to high commissions, online gallery closures, and competing with prices.
The best news is that anyone can design and launch a professional website without any programming experience.
If you have the experience of operating a Facebook page, you have the skills needed to build an online store with most top web providers.
Below are 4 popular platforms artists are using to sell art online:
WordPress
FASO
Shopify
Square
To see how other artists are building their websites visit 7 Amazing Artist Websites – Inspiration For Artists
WordPress
Before you can start selling your art on WordPress, you will need to purchase a domain name and hosting.
A domain name is a network address that will direct people to your site.
For example, this sites domain name is www.nevuefineartmarketing.com
Web hosting is the place where all the files of your website live. It is like the home of your website where it actually lives. (Source: wpbeginner)
Hosting is relatively inexpensive and starts at $3.45/mo. including free domain names from BlueHost. (Most third-party website builders have a monthly fee of 29.99 and up)
BlueHost makes it easy to launch your WordPress website with their 1-click WordPress installation.
Other popular hosting services used by bloggers and artists are SiteGround and HostGator.
WordPress has become one of the leading online selling and blogging tools available. There are over 455,000,000 websites built on WordPress in 2020.
Besides the cost of hosting, themes and plugins are free to help you build a brand for your art business.
There are also options to purchase premium themes and premium plugins that offer more features.
NFAM uses premium themes from StudioPress Themes for WordPress, and an example of a premium NFAM uses is Social Warfare.
WordPress is the right solution for severe artists and crafters of all styles.
You will be able to build a site that sells tangible and digital goods, incorporate a POD service on your WordPress site as well as install payment gateways.
You will have the most freedom out of any service I cover with WordPress, and best of all, it is straightforward to learn how to use it.
WordPress Tutorials:
WooCommerce is a free WordPress plugin that allows you to create an art gallery that will showcase your products and provide a way for customers to make a purchase.
Related Posts:
FASO
FASO is a third-party service that makes it easy for artists to start selling their artwork on a professional-looking online art gallery.
7 Features That Make FASO Stand Out
Promote Your Exhibits to Over 27,500 Collectors in Informed Collector
Promote Your Workshops to Over 55,000 Artists in Fine Art Views
Promote Your Art to Over 27,500 Collectors Just for Joining FASO
Get Automated Newsletters Marketing Through Their Get New Alert Feature
Promote Your Art to Over 70,000 Art Enthusiasts Whenever You Upload Your Artwork
Get Valuable Exposure with Free Entries in Their BoldBrush Painting Competition
Get Listed in Their FASO Member Directory, Which Gets Over 40,000 Pages Views a Month
There are four different plans available and each of them offers a free 30-day trial.
FASO is a platform for artists who have art for sale but do not have time in their day to build a website.
In the long-run, a WordPress site will be a better choice if you are planning on selling your artwork long-term.
WordPress will be more cost-efficient and you will not have any theme, widget or plugin limitations.
If you have art to sell and you want to get it online quickly, FASO will be a good solution for you. While you have your items listed for sale on FASO take some time out of your day to learn how to build a WordPress site.
You can always switch over at a different time if you choose to do so.
Shopify
Shopify is a popular e-commerce platform for small businesses.
Shopify Features:
Professional display
Marketing tools
Online Selling tools
Social media selling tools
Order management
Customer follow-up tools
Responsive and customizable themes
Pricing starts at $9/month
Shopify makes selling on Pinterest, Facebook, and Amazon easy with a click of a button.
Squarespace
Squarespace is a free online store that focuses on processing online, mobile, and on-site credit card Payments. There are no monthly fees. You only pay credit card processing fees and $0.30 per sale.
Even though Square focuses on processing credit card transactions they also offer a free online store with every Square payments account.
Square also offers mobile credit card swipers if you plan on selling your art at local craft shows.
Weebly
Weebly is a website builder that offers free and premium plans.
You will have access to useful tools and customizable webpage designs to help you build a unique website.
Monthly plans range from free to $26 per/month.
Features * Check to see what plans offer the features you are interested in.
Free SSL Security
Add 3rd party embed code
Connect a custom domain
Advance site stats
Free domain
Password protection
Shopping cart Unlimited items
Item badges
Item Options
Quick shop
Digital goods
Inventory management
In-store pickup
Automatic tax calculator
And more
Check all plans for available features.
Online Marketplaces
Besides building an artist website, you can also sell your art on a variety of online marketplaces.
Online marketplaces are sites that allow independent sellers to sell their products on the site.
One positive for selling your artwork in an online marketplace is that they will bring in the buyers for you. The downside is that you will be competing with a large group of artists trying to sell their artwork.
In most cases, you will see a pricing war between artists, which lowers the value of the artist's work.
Popular Online Marketplaces For Creative People
eBay
eBay is an online marketplace for buyers and sellers to come together and trade almost anything
eBay started in 1995 and has played an important role in how people shop and conduct business.
In the late 1990s, many people did not feel safe purchasing products online. eBay proved that selling and buying products online is safe, and today, online sales have never been higher.
Many artists found success with eBay with no restrictions on the medium they sell.
eBay and Etsy's main difference is that eBay is an auction platform, and Etsy is a selling platform.
Etsy
Etsy started in 2005 for crafters and artists to have a place to sell their unique handmade creations.
Etsy's motto, "Shop for anything from creative people anywhere", has built a large following of art and craft collectors searching for one of a kind handmade goods.
Their mission is to reimagine commerce in ways that build a more fulfilling and lasting world. We are building a human, authentic, and community-centric global and local marketplace.
You will find artisans selling original paintings, handmade jewelry, pottery, sculptures, furniture, wall decor, and so much more.
Etsy allows you to build an Etsy shop for free and listing fees are very affordable at $0.20 per listing, not including selling fees.
If you are just starting out you might want to take a look at Etsy first. They have been around for some time and have built a solid reputation for both artists and buyers.
Related Post:
How to Open an Etsy Store Tutorial
Amazon
Amazon now allows artists to sell art on amazon. They started selling used books online in 1994 and has built an empire selling almost everything under the sun and offering premium plans for free shipping and 2-day delivery.
In 2013 Amazon decided to enter the fine art business. There are a pre-approval process artists will have to apply for, and only certain types of art are excepted.
SAATCHI ART
Saatchi was founded in London by brothers Maurice and Charles in 1970. Saatchi is a well-known name for artists and art collectors. Even though the company was sold in 2014, the mission and values have stayed the same throughout the years.
Price ranges for original art on Saatchi are between $500 – $10,000 and up.
It is free to launch a storefront on Sactchi, but they take a 35% commission for each sale.
Artfinder
Artfinder launched in 2010 and is based in Miami and London. Artists will have to submit there best artwork and be accepted to sell on Artfinder.
After acceptance, an artist can start working on a free storefront and uploading digital images of their artwork. There are no listing fees on Artfinder, but they take up to 40% commission per sale. Only original art is allowed on Artfinder, including paintings, digital art, sculpture, drawings, printmaking, and photography.
Print-on-Demand Dropship Vendors
POD (print-on-demand) dropship vendors are online marketplaces that offer prints on merchandise.
One benefit of using a POD service is that they process the orders coming in, print the product, and ship the product to the customer. The downside is that you have no way of gathering the customer's information for your email list, and you will be competing with a large group of artists selling prints of their artwork.
Many print on demand services offer prints on:
Fine art paper
Canvas
Greeting cards
T-shirts
Sweatshirts
Calendars
iPhone cases
Android phone cases
Computer sleeves
Canvas bags
Face masks
Mugs
Wood
Metal
Go through the top print-on-demand services below to see what merchandise they offer and see what platform is best for your business goals.
Popular Print on Demand Sites
Fine Art America – has been around since 2006 and has become a well-known name for artists and photographers selling prints of their originals online.
To read how easy it is to sell prints, visit How To Get Started Selling On Fine Art America.
Zazzle – is a platform where artists sell art prints on a wide variety of products and earn a commission marketing and selling other artist's creations.
Red Bubble – allows you to sell prints of your art on over 70 unique products to people worldwide. They offer 24/7 support and watermark features to protect your designs.
CowCow – offers prints on over 400 different products including clothing, accessories, bags, etc. There is no restriction on design space, and you get to set how much profit you will earn per sale.
Society6 – allows photographers, illustrators, artists, and digital artists to sell reproductions of their original work. Uploading digital images is easy on Society6, and as the artist, you retain all rights to your artwork.
Related Posts:
Where Is The Best Place To Sell Art Online
Your business goals will determine the best place for you to sell your art.
Key things to think about before picking an e-commerce platform like the ones mentioned above are:
Can you change and modify the look and design of the site?
Can you change the menu and categories to make it easier for your guests to find what they are searching for?
Is there a blogging platform?
Are there social media share buttons?
Does the platform have a way to collect money for a sale?
Does the platform allow you to sell both tangible and digital products?
Does the platform have a way for you to collect email addresses?
Is there a contact page so a customer can contact you?
How fast is the platform?
Does the platform offer a custom domain?
How much does the platform cost each month?
Online Art Marketing
Now that you have a platform to showcase your artwork and collect money online, you will want to focus on how you can get your artwork seen by the buying public.
The first step is to start thinking like a business person.
Once you start selling art, you are in business.
Many artists frown on or are intimidated by the business side of selling art.
Being in business is neither bad nor difficult.
You do not need a college education in marketing to be successful in selling your artwork.
Here is everything you will need to do to sell your original art online and reproductions.
How To Sell Your Art Online Overview
Creating Artwork and Photographing Art
Having a Place Where People Cans View and Purchase Your Art
Writing Goals
Writing an Artist Statement
Building a Brand
Developing a Content Marketing Strategy
Developing a Social Media Marketing Strategy
Building Your Email List
Enhancing Your Time Management Skills
Photographing Artwork
If you are thinking about selling your art, you probably already have a collection of art you would like to sell.
Keep working on enhancing your artist skills and build a large collection so your buyers will have a wide variety to choose from.
Photographing and editing your artwork is an important skill many artists overlook.
The image you are showcasing on your artist website and art blog will determine if you land a sale or not.
Take the time to learn how to take accurate images that properly represent your art.
Below are some photography courses for you to take a look into:
You will also want to invest in a quality camera.
Your smartphone will take good enough photos for marketing on social media but you will want to use a quality camera for your art listings.
Below is a list of cameras artists and professional photographers are using today.
Also take a look at these camera kits and camera bundles.
If you are planning on printing art prints at home visit Best Printers For Art Prints
If you are going to scan your art you will need a good scaner.
Having A Place Where People Cans View And Purchase Your Art
By now you probably have a good idea on what platform you will be using to showcase and sell your art.
Review what we talked about and decide what the best solution will be for your goals and business.
Writing Business Goals
Know what your objectives are before deciding what platform you will work on.
Will you be selling original artwork?
Will you be selling limited edition prints?
Will you be selling unlimited prints?
Will you be selling greeting cards or other merchandise?
Will you be teaching classes?
Will you be selling eBooks or courses?
How much money would you like to earn every month?
How much will you have to sell to reach that goal?
Setting goals is crucial for the growth of your art business.
The goals you set will be the blueprint of your marketing strategy and allow you to make better marketing decisions, and you will be able to analyze what is working for you and what is not working for you.
Related Resources:
Writing An Artist Statement
Selling art is all about building relationships with your target audience.
Your artist statement will be an easy way for your audience to get to know who you are as an artist.
This Artist Statement Workbook will help you to write a perfect artist statement.
If you do not have an artist statement yet, put it on your to-do list.
Building Your Brand
What do you think of when you hear the phrase, "Just do it?"
Nike.
What do you think of when you see the golden arches when you are on a trip?
Over one billion hamburgers sold, McDonald's.
Branding is important for every business no matter how large or small the business is.
If you want to separate yourself from all of the other artists online, you will have to create a brand that yells your art style.
Defining your brand is like a journey of business self-discovery. It can be difficult, time-consuming and uncomfortable. It requires, at the very least, that you answer the questions below:
What is your company's mission?
What are the benefits and features of your products or services?
What do your customers and prospects already think of your company?
What qualities do you want them to associate with your company?
(Source: John Williams, Entrepreneur)
You can read more by visiting The Basics Of Branding.
Related Resources:
Create an Artist Brand Workbook
Megan Auman created the online video course Brand Your Creative Business to help make it easy for you to build your brand quicker and so you will stand out on the crowded internet.
There are 22 videos that will show you:
How to create your logo in Illustrator
Explain why branding matters
The core emotions behind your brand
How to create a tagline
How to create your brand's story and so much more.
Developing A Content Marketing Strategy
You might have heard me say this before, "Your artist blog is the fuel that will drive traffic to your art listings."
Blogging is more important today than ever.
With all of the competition out there, you have to hustle and create a lot of content that will attract your target audience.
Have you noticed that it is becoming more difficult to reach an audience on social media?
Read more on how Facebook is changing in 2018, How Facebook's New Goals Affect Artists.
This is the beginning of the end for free advertising on social media platforms.
You will have to pay to play if you want market your art on social media.
According to Shane McGeorge Below are 5 benefits of blogging for small businesses:
Exceptional Boost To Search Engine Optimization (SEO)
Develop And Strengthen Relationships With Existing And New Customers
Establish Your Business As An Industry Leader
Connect People To Your Brand
Create Opportunities For Sharing
You can read more by visiting 5 Powerful Benefits Of Blogging For Your Small Business.
Related Resource: 28 Day Blogging Challenge for Visual Artists
Developing A Social Media Marketing Strategy
Social media is becoming more difficult for businesses to market on.
However, social media is still a great way for you to connect with your audience and build brand awareness.
You must constantly change your social media marketing strategies because social media is constantly changing.
Take some time every week to see what is working for other businesses and see if you can start to implement some of their strategies.
The people who do well on social media are the ones who spend a lot of time testing new ideas. If a strategy is not working for you discard it and try something new.
Related Posts:
Building Your Email List
Like I have mentioned earlier, your artist blog and email list are the only two things you will have control of.
Besides focusing on your artist blog, spend some quality time building your email list.
Your email list will be the only guarantee you have of reaching your audience.
Related Resources:
Learn SEO
SEO (search engine optimization) allows search engines to understand what your site has to offer to recommend it to the right people.
You will want to learn about:
On-page SEO
Off-Page SEO
Keyword Strategy
Here are some great books to get you started:
Keyword Research Tools:
Enhancing Your Time Management Skills
The last thing I would like to talk about is enhancing your time management skills.
So many people struggle with time management but the good news is that you can learn how to be more productive with your time.
Every year I strive to be more productive. You should do the same.
Here is an eBook I wrote that will help you to be more productive and get more done.
The Productive Artist – How to Live Your Dreams
Final Thoughts On Selling Your Artwork
Selling your art online is exhilarating but it does take a lot of learning and effort.
Spend time every week to learn how to become an expert at marketing your artwork online.
Write down your goals, decide what platform you will use to showcase your work, and start learning everything you can about digital marketing.
Dedicate time every week to observe how other artists sell their art online.
More Art Business Related Articles
Sell Art By Blogging – Reach Millions Of People Online