Disclaimer: This post may contain affiliate links. If you make a purchase by clicking on an affiliate link, Nevue Fine Art Marketing may earn an affiliate commission at no additional cost to you. Affiliate relationships include, but are not limited to, Bluehost, Tailwind, Skimlinks, SareASale and StudioPress. To learn more visit Affiliate Link Disclosure Policy
Reach A Broader Audience Selling Limited Edition Prints
Are you searching for different revenue streams for your art business?
Have you thought about selling limited edition giclee prints?
Selling limited edition prints or even open edition prints is an excellent way to reach a broader audience.
In this post, you will discover how to sell limited edition prints and the benefits.
What Are Limited Edition Prints
Limited edition prints are a specific number of prints an artist will make available for a particular painting, drawing, or photograph.
The number of prints in an edition will vary and be determined by the artist. Once the set number of prints has been sold, no more reproductions will be available, making the prints more valuable and a collector items.
Limited Edition Print Rules
Limited edition prints mean that an artist decides how many prints will be available for purchase.
The artist will determine the number of available prints.
Limited Edition Print Guidelines:
Determine what size prints will be available for the limited edition. It is a good practice only to offer one size because collectors who purchase limited edition prints purchase based on the size and the number of prints available
Determine the number of prints available for the edition. The lower the number, the more valuable the print will be, allowing you to charge more.
Never change the number of prints available for the edition, no matter how quickly they sell or how many people enquire about purchasing the prints after they have sold. Selling additional prints above the number disclosed for the limited edition will only upset collectors who made a purchase and tarnish your brand's reputation.
Number, date, and sign each print. You have the choice of signing the front, usually on the border or the back of the print. Just make sure that you are consistent with the edition.
Increase The Profit Of An Original Painting
Let's say that you sell an original painting for five hundred dollars, and it cost you one hundred dollars to create the piece.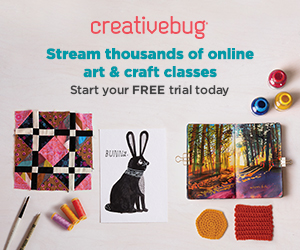 Painting Repeat Patterns by Hand: A Daily Practice by Cleo Papanikolas on Creativebug!
Your profit is four hundred dollars. That is the amount you will be able to put in your bank account.
What would you say if I told you that you could increase the profit margin by offering reproductions of your original artwork?
For example, if you decided to sell one hundred prints at a hundred dollars apiece, and it cost ten dollars to create each print.
You would earn an additional nine thousand dollars just by offering a limited edition reproduction of your painting.
Now the profit of one painting will be $9,400.00.
Reach A Broader Audience
Many people would love to purchase art for their homes but can not financially afford an original painting.
These are the people who are willing to invest in a limited edition print of an original painting.
A limited edition is an investment, just like purchasing an original painting because there is a limited number of prints available to the public. 
However, it is more affordable for the average person on a tight budget.
Not only can you market to your art collectors who collect and invest in original artwork, but you can also sell to people who have a passion for your artistic style and who can not afford an original painting.
You Can Charge More For Limited Edition Products
Limited edition prints are sold at a higher price than an open edition print because there is a limit on how many will be available.
The lower the amount available will increase the print value, meaning you can charge more for each copy.
For example:
100 prints available – $100.00 per print
500 prints available – $45.00 per print
Decide what strategy will work best for your art business goals.
Open-ended prints are when there is no limit to how many prints you can sell. This will lower the print value to art collectors, but you can sell an unlimited amount of prints.
Pricing Limited Edition Prints
Your name recognition will determine your limited edition prints' prices, and if your original work and prints are high in demand.
A basic pricing guide is to charge between two and four times the prints' cost if you are new to selling signed and numbered prints.
For Example:
Cost per print $10 x 2 = $20 selling price
Or
Cost per print $10 x 4 = $40 selling price
Smaller editions can be priced higher than larger prints because the fewer prints available increases the value of the reproduction.
For example:
100 prints, selling price $40
500 prints, selling price $20
Increase your edition prices when you start to see that most of your editions are selling out.
Related Resource:
What Is A Good Number For Limited Edition Prints
The average number of prints available for a limited edition ranges between 250 – 500 copies.
Keep in mind that the value of the prints increases with a lower edition.
Start with 250 to see how quickly they sell out. If you discover that you are selling out fast, you can increase the number of prints available for the next launch.
A rule of thumb is not to go over 1,000 prints in limited editions.
Where Do You Sign Limited Edition Prints
Signing and numbering limited edition prints guarantees that the print is authentic and shows how many are available.
Most limited edition prints have the signature of the artist on the bottom right corner under the artwork. Most prints have an inch border around the artwork.
The edition number is on the bottom left under the artwork. The first number is the print number, and the second number is how many prints available in the edition.
For example:
3/250 would mean that it is the third print sold out of 250 copies.
If the print does not have a border, the signature and edition number will be located on the back.
To avoid fraud, use a sharp pencil to sign and number your prints. It is easier for someone to make copies of reproductions if the signature and number are written with ink.
Increase The Value Of Your Prints
As an art business owner, one of your goals is to increase the value of your artwork. When you build name recognition and increase your artwork's worth, you can charge more for original artwork and reproductions.
Some artists feel that they are missing out when they sell out of a limited edition. The truth is that running out of an edition increases the perception of deficiency and will inspire art collectors to make a purchase quicker during your next launch.
Selling out of a product is a powerful marketing tool you can take advantage of.
For example, you can say:
Purchase Now, Last time, they sold out in 5 days.
Don't Miss Out. The last sale sold out in 10 days.
It is time to increase your prices when your artwork is in demand, and you can not keep your art in stock.
Where To Sell Limited Editions
You can sell limited edition prints anywhere you sell your fine art or art prints.
Popular places artists sell limited editions:
Art shows
Craft shows
Galleries
On their artist's website
Related Resource: How To Sell Art Prints Online
Final Thoughts On How To Sell Limited Edition Art Prints
Now that you know how to sell limited edition art prints, it is time to decide on the printing process.
Selling limited editions attract art collectors and you will want to make sure that the prints accurately represent your works.
First, you will have to take or higher a photographer to photograph and make a large digital image of the original.
The next step is to find a local printer or find a printing service online that uses acid-free paper with high-quality ink for your giclee prints.
After you have your copies, go through them and discard any with imperfections and sign and date the prints in the edition.
The last step is to promote your sale online and offline.
You Might Also Be Interested In: