Do you want to start selling your crafts online to people worldwide? One of the best platforms to start selling handmade items is Etsy.
Etsy is a platform where people can buy and sell homemade items. It's easy to use, setting up a shop is free, and it makes it possible to reach more customers than if you just sold your crafts at craft fairs or markets.
Etsy was established in 2005 by a team of artists and craft sellers. It quickly took off, becoming one of the significant DIY platforms to sell handmade items on the internet. Today there are over 1 million active shops on Etsy, with an estimated valuation at $2 billion.
Are you ready to start selling your crafts to people worldwide?
This article will show you how to sell crafts on Etsy and make the most out of this platform by growing a solid following to sell more products. 
Disclaimer: This post may contain affiliate links. If you make a purchase by clicking on an affiliate link, Nevue Fine Art Marketing may earn an affiliate commission at no additional cost to you. Affiliate relationships include, but are not limited to, Bluehost, Tailwind, Skimlinks, SareASale and StudioPress. To learn more visit Affiliate Link Disclosure Policy
Is Etsy A Good Place To Sell Crafts
The most significant benefit of Etsy is its ease of use. Setting up a shop is free, and once you've done that, listing new items is simple, just like on eBay or Amazon. You don't need special equipment or coding skills to sell crafts online using Etsy. It is as simple as uploading an image of your crafts and writing a few sentences describing your product.
Consumers on Etsy are more likely to purchase craft-type items since the website is focused on that type of product. You already have a built-in consumer base to reach potential buyers by selling your crafts through this website.
How Much Does It Cost To Sell Crafts On Etsy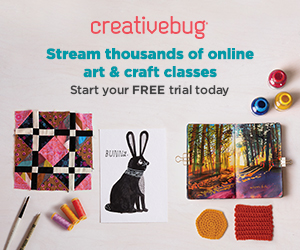 Painting Repeat Patterns by Hand: A Daily Practice by Cleo Papanikolas on Creativebug!
Selling products on Etsy is very affordable. Most e-commerce sites charge a monthly fee to use their services.
It is free to open an Etsy shop. All you will have to pay is a $0.20 listing fee per item. A listing lasts for four months or until they sell out. There will be a 5% transaction fee and a 3% + $0.25 processing fee when an item sells.
The low costs of selling goods on Etsy make it a relatively low risk to open an Etsy shop. When you list five items on Etsy and none sell, the cost is only $1. When comparing other platforms, they may charge a monthly fee no matter if you sell anything or not. Etsy makes it easy for crafters to start selling products online.
Do I Need A Business Licence To Sell Crafts On Etsy
Etsy is very clear about this. You must comply with the laws of your country when it comes to selling on Etsy. This means you are responsible for collecting taxes and following all applicable laws in your area so that you don't get into legal trouble by starting a shop. You can read more about their guidelines regarding taxes here. Taxes 101: Understanding The Essentials.
Etsy does not require an individual to have a license to open an Etsy store. However, the state you reside in may require you to hold a license and permit to operate your company and sell goods legally. It is best to check with your local government for the specific requirements of your state.
Can I Customize My Etsy Shop
The shop home page is a virtual storefront of your business and is often the first impression of your brand. A well-designed homepage captures the attention of your visitor and introduces the products or services you offer.
Etsy offers an easy way to customize a banner and shop icon (a logo). Even though you are limited to what you can customize on your Etsy shop, you can help your stand out with a professional banner and logo.
How Do Buyers Find Etsy Sellers
Etsy has a search bar in the top right corner with filters that shoppers can use to find what they want quickly and easily.
The easiest way to get new products noticed is by sharing direct links of their landing pages via social media sites like Facebook, Twitter, and Pinterest.
A social share button on all listing pages allows others to spread their favorite items across various social networks quickly.
How Do Buyers Pay For Their Purchases On Etsy
When an item sells, the seller will need to send the product and ship it according to their shipping time frame. Once they receive confirmation from Etsy that their article has been shipped, the payment is automatically deposited into your bank account via PayPal or Direct Deposit, depending on your preference.
How Do I Control Who Can See My Shop
Shoppers can search for shops based on the items sold by using the shop categories or keywords. The seller can choose to make their shop private, but it is not recommended unless you have a specific reason for doing so. A public shop allows more people to see and buy your products.
How Do I Send A Private Message On Etsy
You can send a message to someone by scrolling down their shop page. There will be a "Send Conversation" button on the left side of their profile picture. Click that to compose your message. Be polite when messaging people (or for any reason, really).
What Information Do I Need To Open An Etsy Shop
The basic information needed to open an Etsy shop is your name, email address, and password. You will also have to fill in a few more details like your location and payment type.
Your Name: This can be anything you want it to be. Since this is the name you will be using for your business, think about it carefully. It is best to pick something that is going to stand out among the other sellers on Etsy. Think of a name that makes sense for your brand and products.
Email Address: To open an account on Etsy, you must have an active email address so they can contact you if there are any issues with your account or transactions. You must also have access to this email for them to send you messages.
Password: Make it hard for people to guess and use letters and numbers (do not use only letters). Something like "k5d067n" is a good option. Do not use something personally identifiable like your pet's name or your birthday.
Your Location: There are two options for selecting your location. Either you can choose the country of residence (the address you want to use), or you can enter where you will be sending goods if it is different from the country of residence. Make sure to double-check your location because you don't want to confuse buyers or have your items returned.
Payment Type: You can select which payment method you want to accept (PayPal, Direct Deposit, Check by Mail). For most people, PayPal will be the best option. Give it a few days for them to send you an email with your new account details.
How Do I Accept Payments On Etsy
The good news on this one is that you do not have to process payments yourself if you don't want to. Etsy offers Direct Deposit and PayPal as a way for your customers to pay for their purchases. Etsy provides these payment methods, so the only thing you need to do is check your balances and reconcile them from time to time.
How Do I Change My Shop Settings
Shop settings can be found under the "Your Shop" tab on top of your dashboard. You will find a lot of helpful information here, like payment settings, shipping rates, titles/titles visibility, and so much more. There are also places to add links, leave notes and even advertise in the classified section.
How Do I Add A New Shop Item
Once you have a shop up and running, it is straightforward to add new items. Just find something that matches your brand and description, write a nice little blurb about it (make sure you mention all the essential details), add a good image, and hit "save." You are done.
How Do I Add A New Category To My Shop
You can add new categories (and subcategories) by going to your shop dashboard -> create a collection. This is one of the few times you should be adding text, so have some fun with it. You can also add a few links to items in your shop that are already for sale.
How Do I Add A New Item To An Existing Shop Listing
If you have an item listing in your shop but want to add something else quickly, go to the image tab of the item and click "add a new image." This allows you to quickly edit your already existing listing and add a few more products.
How Do I Set Up Shipping Fees
You can choose your shipping fees under the "Shipping" tab on your dashboard. You will select a zone based on where your buyers are and charge different rates for each region. If you want to make it more specific, you can also add additional information like handling and packaging costs.
How Set Up State Sales Tax
You will need to sign up for a sales tax permit. This is how the government gets its share of your hard work. We recommend doing it because it can be a pain if you don't already have one, and they find out how much money you are making from selling online. Some good sites will walk you through the process.
How Do I Promote My Crafts On Etsy
Besides using good SEO, you can do a few other things to promote yourself on Etsy. One popular approach is to interact with your buyers and get them involved in some way. This could be as simple as adding a personalized note or something more elaborate like organizing giveaways in which only paying customers can participate. Don't forget to leave contact information on all the items you have for sale.
How Do I Promote My Etsy Crafts On Social Media
Social media is a great way to connect with your customers and potential buyers. The best thing about social media is that you have total control over who gets to see you, meaning only people interested in what you have will visit your Etsy store. However, if you're not careful, social media can be a considerable distraction for online sellers.
How Do I Promote My Etsy Shop Using Google
Good search engine optimization (SEO) will draw new customers to your shop. You will need to do your homework on this if you want to succeed in selling online. We wrote a blog post about SEO for online sellers, and it helps newcomers get off the ground quickly.
Are you becoming frustrated because nobody is visiting your art gallery? Artist websites that generate a lot of traffic have keywords and related topics that make it possible for art collectors to discover the site. Keywords – How To Generate More Traffic To Your Art Gallery Original Pen … [Read more…]
Final Thoughts On How To Sell Handmade Crafts On Etsy
Selling your crafts on Etsy is very easy. Make sure you take the time to do everything correctly, though, or else you might lose some potential buyers or have them leave negative feedback about their experience with you.
More Article Relating To Etsy
Etsy was established in 2005 as a way for people to find unique handcrafted products they could not find elsewhere. Over the past 15 plus years, thousands of creatives have built an Etsy Store to share and sell their creations online and have done very well doing so. Over the years, Etsy has … [Read more…]
Discovering new Etsy sellers is essential for searching for new products to buy or an Etsy store owner trying to find potential customers. If you are a buyer and searching for new handmade products for your home or gifts, Etsy is the place to shop for one-of-a-kind unique items. Once you find a … [Read more…]
How To Setup Etsy Store There are so many options an artist has to start an online art business. The best place to start is with a platform that has worked well for other artists. Etsy has established an online presence that allows artists like you to sell unique handmade goods. In this … [Read more…]
Selling Digital Products Are you interested in learning about selling custom digital file on Etsy? Are you trying to find other ways to make money from art you have already created? In a post, I wrote How To Sell Prints On Etsy With Printful, I talk about how easy it is to sell … [Read more…]