Last Updated on
The internet has made it easy for artists to share their artwork with people around the world. The problem is that sharing your images on the internet can increase the odds of someone stealing your work. In this post, discover how to protect your art images on WordPress.
Build a Beautiful Artist Website – Weebly – Get Started With this Special 10% Off Affiliate Link for Nevue Fine Art Marketing Fans.
Protect Your Art Images On WordPress
Disclaimer: Please note that some of the links on this post are affiliate links and will be clearly marked as so. I will earn a small commission when you purchase a product or service from an affiliate link at no extra cost to you which helps with the costs of operating Nevue Fine Art Marketing. I will only recommend products I have used, found helpful to my business and are companies I trust.
It is very easy for someone to save your image on their computer by right-clicking and selecting Save Image As.
Even though it is so easy for people to steal images online, I still have to believe that there are more good people in the world than bad.
As a visual creator, you have to protect your art business and your artwork. The images you share online is the primary source of your income.
Taking extra precautions will help you protect your business.
How To Protect Your Art Images On WordPress
The following steps will be an easy way for you to protect your art images on WordPress.
Go through each strategy and decide what will work best for you. You can use one strategy or all three if you would like.
Taking the extra steps to protect your art blog images is like a brick and mortar store installing video monitoring systems on their premises.
How To Add Watermarks To Images
I would like to start by showing you how to add a watermark to your images.
A watermark is a faint sign or symbol that is placed over an image. It is usually the name of an artist or a business.
Many artists and photographers add watermarks to their images to protect their work and build brand awareness online.
People will start to become familiar with your name or business name by simply by having a watermark on all of your images.
For more information on branding your art business visit Create an Artist Brand Workbook.
Adding watermarks to your images might be easier than you think. There are plenty of free or premium image editing software services for you to choose from.
The two image editing software I most commonly use are Photoshop and Canva.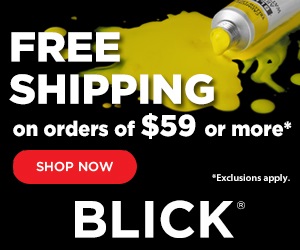 Be careful if you are going to be adding watermarks to your images. Watermarks might distract the beauty of your artwork and discourage sales.
If you are planning on selling your artwork online you want your images to reflect what it looks like in real life. It is a fine line protecting your images and losing sales.
For more information on the importance of image quality visit, High-quality images sell art online.
It is possible to add watermarks to your images so they do not create too much of an eyesore on your artwork.
Here is how you can accomplish that with Canva.
How To Add A Watermark To Images With Canva
Visit Canva.
Upload an image to your desired image dimensions.
Click the "T" Text link on the left sidebar.
On the top menu bar select the desired font style and color.
Type in your text.
Drag and drop the text to the desired location.
Click the Transparency link on the top right of the menu bar. The link looks lick a checkered box.
Adjust the transparency to your liking.
Properly placing the text on the image and adding a transparency will eliminate the eyesore so your audience can enjoy your artwork.
Watermarks will discourage most people from stealing images, however, there are some people who know how to erase the watermark and will still be able to use the images.
Protect Your Art Images On WordPress – Disable Right Click
You can take another step to protect your images on your artist blog by using the WP Content Copy Protection plugin.
WP Content Copy Protection is a simple plugin that will disable right-clicking on your entire page.
With this plugin people will not be able to right-click and save images from your artist blog posts.
This plugin has a high rating and there are over 30,000 active installs.
If you want to go the extra mile this might be an app for you to look into.
Protect Your Art Images On WordPress – Resize Image
The top two solutions are good but resizing your image will be the best solution for you.
Resize your image to no larger than 500 pixels x 500 pixels at a resolution no more than 72 pixels per inch.
This will make the image size too small for someone to print but will look good enough to view on the computer.
If someone would print an image this size, the height and width of the print would only be about 2 inches x 2 inches. A print that is that small would make it difficult for someone to sell and make a profit.
This is one of the safest ways to protect your work.
To quickly resize my images I go to PicResize.com.
PicResize is a free online image resizing site that makes resizing images a breeze.
How To Resize Images With PicResize
Visit PicResize.com.
Click Browse and upload an image from your PC.
Click Continue.
Choose the desired dimensions from the Resize Drop-down Box.
Skip to step 4 and choose the desired Image Format.
When you are finished click the I'm Done Resize My Image link on the bottom of the page.
You will be redirected to a page where you can:
View Image
Resume Edit
Save to Disk
Save to Web
Sell Art Online – Image Quality
In this post, I talked about how to protect your images online.
I feel that it is also important to talk about how the quality of your images will affect your online art sales.
You could have the nicest WordPress artist website, a brand that separates you from all other artists selling art online, a winning pricing strategy but if your images do not represent your original artwork you will have a difficult time landing a sale.
Here are a few in-depth posts that talk about image quality:
How To Promote Your Art On Pinterest
Pinterest is a search engine that is often overlooked by artists and others trying to sell their crafts online.
If I knew years ago how much traffic my art blog would receive by marketing on Pinterest, I would have started a Pinterest Account sooner.
Here are some posts that will help you to promote your art on Pinterest:
How to Use Pinterest to Drive Massive Art Blog Traffic
Visit How to Start Selling Art on Pinterest to get access to 14 free posts that will help you get the most from your Pinterest marketing strategy.
Online Pinterest Marketing Courses:
Unlock the Power of Pinterest With Melanie Duncan (affiliate link)
Pinterest Marketing for Makers & Designers With Megan Auman (affiliate link)
Learn More About WordPress
Have you been searching for an easy way to learn more about WordPress?
If you are just starting you might feel overwhelmed with your WordPress artist blog.
I have written two eBooks and created two video courses that will show you all of the basics you will need to know to create a professional artist blog.
These tools will save you a lot of time searching and digging for solutions to your problems.
eBooks:
Video Courses:
Conclusion:
It is always a good idea to take extra steps to protect your artwork and your business. These are easy ways to protect your art images on WordPress and will give you peace of mind.
Take some time to decide on the actions you will be taking to protect your artwork.
How To Protect Your Art Images On WordPress Overview:
Protect Your Art Images On WordPress
How To Add Watermarks To Images
How To Add A Watermark To Images With Canva
Protect Your Art Images Ion WordPress – Disable Right Click
Protect Your Art Images On WordPress – Resize Image
How T,o Resize Images With PicResize
Learn About WordPress
Sell Art Online Image Quality
How To Promote Your Art On Pinterest
You might also be interested in:
Pyrography by Dave Nevue
Purchase
Hide And Seek Black-capped Chickadee Wood Burning
The Complete Blogger Template Toolkit 
OVER 450+ Templates You Need to Quickly Create Stunning, Jump-Off-The-Screen Image to Grow Your Blog-- Without Having to Learn Design!