Last Updated on
How To Promote Your Artworks In Social Networks – Engagement And Interesting Content Marketing Cases
Note This Is A Guest Post by Nicole Garrison. You can learn more about Nichole at the end of this post.
Would you like to write a guest post for Nevue Fine Art Marketing? Click GUEST POST to learn more.
Social media has changed business by eliminating the narrow confines of communication. Before the era of interactive computer-mediated technologies, customers were simply impersonal entities. Now, people feel more engaged because they can connect directly with the brand. The thing about sites like Facebook, Instagram, and Pinterest is that they help build profitable relationships. And they deliver the advantages of a complex community that talks a lot and shares ideas.
Source: https://www.pexels.com/photo/facebook-application-icon-147413/
There are good reasons for brilliant artists to join social media. Think about it.
You can share your creativity and get discovered.
The world gets to see the person behind the artwork.
While the aesthetics of what you create matter, it's the story behind the pieces of art that people fall in love with. If you think that social networking sites are all about selfies and simple snapshots, you're mistaken. You can increase your audience and reach numerous potential buyers.
In this article, we've outlined engaging and interesting content marketing cases.
Instagram: Kit King
In case you didn't know, sharing is the secret to online success. Make sure that photos of your art pieces aren't sitting just on your website. Not too many people will get to see them. The best thing you can do with those pictures is to post them on Instagram, the platform for mobilizing visual work. Instagram is visual and has a unique way of delivering complex messages. If you don't believe us, take a look at Kit King's account.
Screenshot
Kit King is a Canadian artist that is famous all around the globe. Her creations depict society, as well as its obsessions and contemporary norms. She absolutely loves Instagram because it" is very visual, and since art is a visual language, it's the perfect place to engage with and build your audience." Kit King has 346K followers on Instagram, so she must be doing something right. The fine artist frequently shares her paintings and drawings on social media.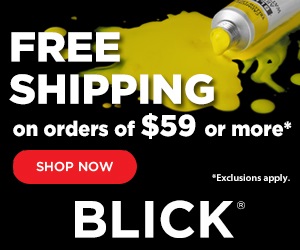 Source: https://www.google.com/url?sa=i&source=images&cd=&cad=rja&uact=8&ved=2ahUKEwi6mKDohMTlAhWB2qQKHVVeDRUQjRx6BAgBEAQ&url=%2Furl%3Fsa%3Di%26source%3Dimages%26cd%3D%26ved%3D2ahUKEwi0gdnNhMTlAhWCGuwKHVN6CJgQjRx6BAgBEAQ%26url%3Dhttps%253A%252F%252Fwww.facebook.com%252FKit.King.Art%252F%26psig%3DAOvVaw3-EB4WF-yRsZ01Xvb4iy72%26ust%3D1572526702006824&psig=AOvVaw3-EB4WF-yRsZ01Xvb4iy72&ust=1572526702006824
Instagram allows artists to show their imagery and words aren't even necessary. Well, most of the time, they're not. The great thing about this social platform is that you can do just about anything you want in terms of imagery. Why don't you craft your own gallery of art so that people can follow along?
Twitter: Robin Eisenberg
There's not a person who doesn't know who Robin Eisenberg is. She is a renowned American illustrator and designer. Robin Eisenberg is on Instagram, Twitter, and, of course, Facebook. She loves posting all kinds of GIFs. The artist finds this activity to be particularly rewarding on a business and creative level.
Source: https://cdn2.lamag.com/wp-content/uploads/sites/6/2018/05/robin-esienberg-space-pod-jacuzzis.jpg
Twitter is the preferred social media site. But why? Probably because millions of people are on Twitter and you can easily drive traffic to your blog, art portfolio, Etsy store, and so on. Robin Eisenberg doesn't keep a secret of the projects that she's working on. On the contrary, she lets followers know what she's been up to lately.
Source: https://i2.wp.com/www.lataco.com/wp-content/uploads/robindesk_new1.jpg?fit=3191%2C3191&ssl=1
Think about doing the same thing. Showcase your art on Twitter. If you use one-of-a-kind pictures, your tweets will be noticed, shared, and engaged. Insert images, repeat tweets if you don't have any more inspiration, and wait for the results.
YouTube: Tanya Shatseva
For those who don't already know, Tanya Shatseva is a traditional artist who spends her time depicting metaphysical scenes and subjects from dream-like states. Unlike the other artists presented in this article, she uses YouTube for self-promotion. If you visit her YouTube account, you can see her do her magic.
Source: https://blog.society6.com/app/uploads/2017/05/tanya-shatseva-youtube.png
YouTube is quick and easy to use. If you want others to see a different side of you, use this marketing channel. Upload tutorials or tips. The more time and energy that you put into making them, the better. Tanya Shatseva has 68,8 k followers on YouTube. If you'd like to grow such an audience, you should better make individual videos. Tanya Shatseva once said that "YouTube is a special one and can't be compared to others. If you are able to film your art process it's a must because it involves people in your creative world like no other platform does!". You get the point.
Content Marketing Matters for Every Artist, So Make It Work for You
Art is a very important part of your life. If you don't sell some of your masterpieces, it'll be impossible to make ends meet. Thanks to social media, you can make a good living from your artwork. The examples that will be presented next clearly show that there's no room for disappointment when it comes to interactive computer-mediated technologies.
If you don't know where to begin, here are some pointers.
✔ Create an Infographic
Content marketing isn't about what you take but about what you give. Making an infographic will help you expand your skills and increase traffic to your site. Promote your infographic/infographics on Facebook, Twitter, or Instagram, and build links. People won't resist the temptation of sharing them.
You're an artist, not a wordsmith, which is why you should have the piece of content checked before it`s published. What you need to look for are grammar and spelling errors. Online tools such as Grammarly, TopWritersReview, and Hemingway Editor come in handy when it comes to such matters.
✔ Be Original and Be Prolific
Being original means much more than simply coming up with a new idea. Think out of the box if you want your project to go viral. Visuals are engaging and memorable, but words last a lifetime. Tell a story. Let the world know how you started creating art. Maybe you'll get features on an important critic's blog. It's difficult if not impossible to pinpoint career moments, but you have to give it a try. When and why did you decide to dedicate your life to the arts?
✔ Take Everything Live
As mentioned earlier, people don't simply invest in pieces of art. They invest in the artist, so what makes them buy is emotion. Think about taking everything live. To be more precise, allow people inside your life. You don't have to film every second of your daily life, just to remind followers of what's most important to you. Although YouTube is the go-to place for live films, don't forget about Instagram Live or Google Live.
Nicole D. Garrison is a content strategist, writer, and contributor at a number of platforms for marketing specialists. She is a dedicated and experienced author who pays particular attention to quality research. At her free time, Nicole is a passionate runner and a curious beekeeper. Moreover, she runs her own blog LiveInspiredMagazine.
Popular Art Marketing And Sales Tutorials
Below are some of the most famous art marketing courses that will grow your online art business:
Most Popular – How to Make a Living Selling What You Make by Megan Auman
Most Popular – Build a Successful Creative Blog by April Bowles-Olin
How to Build a Business While Learning Your Craft by Megan Auman
Pinterest Marketing for Makers & Designers by Megan Auman
28 Day Blogging Challenge for Visual Artists
Are you ready to start building an online presence?
Available on Amazon or Download your copy today.
The Productive Artist How to Live Your Dreams
The right mindset and time management skills are essential for any business. These topics are often not talked about but are critical elements for your success. You will learn how to have a winning mindset and time management skills necessary for operating a successful art business.
Available at Amazon or Download your copy today.
Get More Done in Less Time The Part-time Artist
Proven strategies that will help you to get more work done in less time so you can sell more art and earn more money.
Available at Amazon or Download your copy today.
Did you enjoy this article? Don't forget to sign up for my free weekly newsletter.
You can also join me on:
Learn how to start, grow, and monetize your online art business.
The Complete Blogger Template Toolkit 
OVER 450+ Templates You Need to Quickly Create Stunning, Jump-Off-The-Screen Image to Grow Your Blog-- Without Having to Learn Design!