Last Updated on
Are you noticing that your audience is not staying on your artist blog posts for any length of time? In this post, I am going to talk about how to optimize art blog posts with great content so you can keep your readers on your site longer.
How To Optimize Art Blog Posts With Great Content
One struggle many artists who are selling their art online line face is the lack of traffic their artist blog and online art gallery receive.
There is so much content being published online on a daily basis it is difficult to stand out.
According to Brian Solis, 4.6 billion pieces of content are produced daily.
The question is, "What can you do to have your content noticed online?
The answer is simple. Write content that people like to read.
In order for you to be noticed online, you have to write for your audience. The content must be good enough to have them want to read every word and share it with their friends.
You might be saying to yourself, "I am an artist, not a writer."
I thought the same thing in the past.
Needless to say, writing blog posts was a challenge for me in the past.
What took me four hours to complete years ago only takes me thirty minutes today.
I am constantly learning with every post I write. Just like my drawings, paintings, and photography, I continue to enhance my skills. You can do the same.
Over the years I have learned some tips on how to optimize art blog posts for SEO that I would like to share with you so you can start attracting a larger audience.
Plan Before You Write
Having a plan before you write will save you a lot of time.
The first step is to have a list of topics you would like to write about.
Before you sit down at the computer, look over the list of blog ideas you have and decide on a topic you would like to cover.
You will notice that there will be times when you are motivated and inspired to write about a particular subject, just like when you are creating art.
When you find something that you are inspired to write about ask yourself these questions:
What do I want my readers to get out of this post?
What is the message of this post? Is it to educate, motivate, inspire or sell?
What is the purpose of this post? Is it to attract your target audience or sell to the collectors you already have?
What would you like your readers to do after they finished reading your post? Do you want them to purchase your drawings or paintings? Do you want them to sign up to your newsletter? Do you want them to share your post with their friends and family?
Create a blueprint of what you would like to achieve from your post. Every post you write should have a clear mission.
Optimize Art Blog Posts With Structure
Every blog post should have a structure.
A basic structure for a post would be:
Introduction
Body
Conclusion
Call-to-action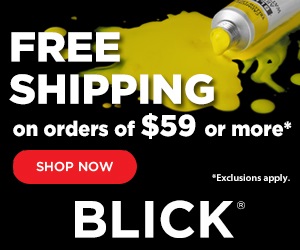 Write down what you would like to have in all of these sections. Create bullet points for the body of the post.
Create A Flow
Many people read blog posts from a mobile device.
You want to make it as easy as possible for them to read your text.
Most people shy away from large blocks of text when they are reading from a mobile device or PC.
In fact, studies have shown that most people skim through blog posts to gather only what they need.
To make your posts more reader-friendly, keep the paragraphs short, use white space and stick to the point.
Optimize art blog posts with easy to understand text that is scannable.
Optimize Art Blog Posts With Headings
Heading tags serve two purposes.
One benefit is to organize your content into smaller specific sections.
Doing this makes a great reading experience for your audience.
Not everyone will have the time or the desire to read every word you write.
By using header tags in your post you will make it easy for people to scan your content and gather the information they are interested in.
The second benefit is that it is good for SEO.
You will make it easy for Google and other search engines to understand what your content is about by using keywords in your header tags. This will help them to refer your blog posts to the right audience.
Bullet Points And Numbers
Using bullet points or numbers will make it easy for your readers to gather important points you are trying to make.
For example, if you are teaching your readers how to purchase the perfect painting for their home you could use something like this:
How to Buy Art for Your Home:
Best Colors for Rooms
Best Size
Best Lighting
How to Care for Your Art
People will gravitate to the bold text and numbers and read what you have to say.
Create a Flow With Signal Words
Signal words help to keep your audience reading your posts.
Signal Words:
First of All
Secondly
Next
After
Finally
Indeed
Nevertheless
Surely
First of all your goal is to attract people to your blog posts.
Secondly, you want them to read your post.
Finally, you want your reader to follow through with the call-to-action.
Length Of Blog Posts
Keep your readers in mind when you are writing your blog posts.
People are busy and they do not have a lot of time to read lengthy posts.
In fact, many people search for content when they are waiting for something like waiting in a grocery line, dentist office or children's events.
For SEO purposes you will want to reach a three hundred word minimum.
On the other hand, Google likes longer detailed content.
The best way to go about this is to write different length posts.
You can have longer more detailed content for SEO and you could write medium and shorter length posts for the readers who are on a tight time schedule.
Include Keywords In The Blog Post
Make sure you incorporate the keywords you would like your post to rank for in the body of your posts.
The keywords tell Google and search engines what your blog posts are about. This helps them to refer your content to the people searching for that particular information.
Do not overdo it. Google does not like keyword stuffing.
A rule of thumb is to have the keywords reach between 2% and 6% of your text.
You can easily see the percentage with your Yoast SEO plugin.
Add Internal Links In Your Blog Posts
Internal links are links that redirect a reader to another piece of content you have written.
Doing this adds extra value to your readers and Google will take note of this.
Incorporating internal links to your blog posts will help you in a couple of ways.
First, you can keep your posts shorter and add extra value by linking to a more detailed post about a particular subject. If the reader needs more information about a topic they can click on the link and get the extra information.
This brings me to the second point, keeping your readers on your site longer.
Google takes note of how long people are on your site.
If they notice that people are spending a large amount of time on your site they will reward you by ranking your posts a little higher in the search results.
Proofread Your Post Before You Hit Publish
Take a few moments to proofread your post before you publish them. You will be surprised at how many simple grammar and spelling errors you might find.
I have found that if I read the post out loud I will catch more errors. It also helps me to structure the sentences better so they flow.
Review Your Yoast SEO Content Analysis Tool
The last thing that you should do is to review your Yoast SEO Analysis tool to see if there are any SEO improvements you will need to make prior to publishing the post.
Analysis tools will grade your content.
Green – Excellent
Orange – Needs improvement
Red – Poor
The Yoast SEO plugin helps artists to optimize art blog posts for higher search rankings.
Conclusion:
Writing great content will not only help you to rank higher in the search engines but it will also have your reader visiting your site on a regular basis.
One of your goals is to turn your readers into loyal art collectors. You can do this by writing content that they enjoy to read.
Remember it is not about what platform you are selling your art on, it is about driving traffic to your art listings.
Good luck building your tribe.
You might also be interested in:
28 Day Blogging Challenge for Visual Artists
Are you ready to start building an online presence?
Available on Amazon or Download your copy today.
The Productive Artist How to Live Your Dreams
The right mindset and time management skills are essential for any business. These topics are often not talked about but are key elements for your success. You will learn how to have a winning mindset and time management skills necessary for operating a successful art business.
Available at Amazon or Download your copy today.
Get More Done in Less Time The Part-time Artist
Proven strategies that will help you to get more work done in less time so you can sell more art and earn more money.
Available at Amazon or Download your copy today.
Did you enjoy this article? Don't forget to sign up for my free weekly newsletter.
You can also join me on:
Learn how to start, grow and monetize your online art business.
The Complete Blogger Template Toolkit 
OVER 450+ Templates You Need to Quickly Create Stunning, Jump-Off-The-Screen Image to Grow Your Blog-- Without Having to Learn Design!