Building an online presence is becoming more complicated, which makes it more challenging to sell your art.
But did you know that learning how to market artwork online free is still possible?
You do not have to spend a lot of money to have your art seen by people worldwide.
The art marketing tips outlined below will help you to build a successful online art business.
How To Market Artwork
Online Free
Marketing your art online is becoming more expensive with some of the changes we have seen on social media over the past couple of years.
Not too long-ago artists would share their art on Facebook and receive 1,000s of likes and shares.
Today you are lucky to have your posts reach 2% of your Facebook followers.
Related Post: How Many People See Your Facebook Posts?
The only option you have is to pay for your posts to be seen by more people on social media sites like Facebook and Instagram, and the costs could add up quickly if you are not careful.
These are some challenging times many artists face, but there are still ways you can market your art online for free and build a broad audience.
Below are some marketing strategies that are free or inexpensive to start, but if you work hard at them, you will see some fantastic results.
7 Marketing Art Online Free Strategies:
Start An Artist Blog
Guest Post On Other Blogs
Join Online Forums And Facebook Groups
Create Videos
Be Active On Pinterest
Social Media
Spend Your Time Wisley
Start An Artist Blog
Many of you might be selling your art on Etsy or a third-party website builder with beautiful images of your creations and detailed information about the product and pricing.
The problem many artists encounter is the lack of traffic their artist website receives.
Are you frustrated that no one is visiting your site?
Your website traffic and art sales are low because people do not know your site exists.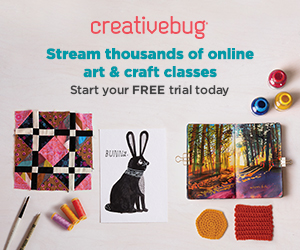 Painting Repeat Patterns by Hand: A Daily Practice by Cleo Papanikolas on Creativebug!
The most effective way for people to discover your artist website is by developing a content marketing strategy (blogging).
When people are interested in purchasing the style of art you create, they search for it on Google.
Write about things that your potential buyers are interested in that connect with your artist brand and artwork.
When they search for a topic that you have written about, they will find you in Google's search.
The more you write, the better your chances of being discovered become.
Related Posts:
Do you have a blog but find it challenging to maintain it?
If you do, you might want to consider my 28 Day Blogging Challenge for Visual Artists eBook. In this eBook, I share with you all of the strategies that I use for my blog. As of this time, my blog is receiving over 100,000 page views a month.
If you have never blogged before, I highly recommend taking April Bowles-Olin's online video course – Build a Successful Creative Blog.
After just three short days with April, you'll possess the perfect foundation for better copywriting and creating an influential, traffic-generating blog.
Guest Post On Other Blogs
Guest posting on other blogs is an excellent way for you to reach a larger audience while waiting for your artist blog to rank in the search engines.
Spend between ten and fifteen minutes a week searching for other art sites with blogs and ask if you can guest post for them.
Offer to write a how-to post, helpful art tip, or an inspirational story that will help their readers.
Come up with a few topic ideas for them to choose from.
When you write a guest post, you will include a brief description of who you are and a link back to your artist website.
If people enjoyed what you have written, they would want to discover more about you and click on your link.
Your post will also benefit the website you are writing for because it will increase their site's value.
To help you get started, you can write a guest post for Nevue Fine Art Marketing. For more information, visit Guest Blogging For Nevue Fine Art Marketing.
Join Online Forums and Facebook Groups
Becoming an active member of art-related forums and Facebook Groups will help you reach an audience interested in what you have to offer.
There is an endless number of forums and Q&A sites for you to research.
Find the ones that best fit your expertise and start becoming an active member.
Below are a few forums to help get you started:
Facebook Groups are becoming more popular for people with niche interests.
If you already enjoy spending time on Facebook, joining a couple of groups that focus on your art business will be another great way to network with other artists.
Below are a couple of Facebook groups for artists:
Related Post: Facebook Groups For Artists – How To Increase Brand Visibility
Create Videos
YouTube ranks second for search engines right after Google.
If you like to be in front of a camera, creating videos might be something you would want to consider doing.
You can upload your videos on YouTube, Facebook, Instagram, Pinterest, and even your blog posts.
Create videos that are helpful for your audience.
Video Topics ideas:
How to frame a painting
How to clean a painting
What style of art is best for your home
How to sell original art online
Online art sites
Related Post: How to Promote Your Art Online With YouTube
Be Active On Pinterest
Pinterest drives more traffic to my site than all of the other social media platforms combined. 80% of my social traffic comes from Pinterest.
Pinterest statistics you need to know:
90 percent of weekly users use Pinterest to make purchase decisions
55 percent of Pinners are looking specifically for products
Pinterest drives 33 percent more traffic than Facebook, proportionately
For more Pinterest Statistics, visit 23 Pinterest Statistics That Matter to Marketers in 2019.
Just like blogging, it will take time before you start seeing results on Pinterest, but in a few months, you will start to visit your website traffic increase.
Below are some posts to get you started on Pinterest:
Social Media
For you to sell fine art online, you must find a way to show your artwork to as many people as possible.
Social media platforms are great tools for artists trying to build brand awareness online.
Images and videos work well on most platforms, which is great for artists because you tell a story with visual images.
The downside is that if you are not careful, you might waste a lot of time on social media platforms.
Just because people are engaging with your social media posts does not mean that they will purchase it.
You need to develop strategies that will drive them to your artist website, where they will be more inspired to purchase your work.
Spend Your Time Wisley
The last thing I would like to talk about is being productive with your time.
Only work on strategies that are producing results that compliment your goals.
You are wasting your time on Facebook if your goal is to drive traffic to your artist website and your Facebook posts are only producing likes.
I use a weekly/monthly planner to schedule my daily plans. The planner also makes it easy for me to see what strategies are producing the best results.
Every week analyze what is working for you to develop strategies to spend your time on those tactics.
Final Thoughts On How To Market Artwork Online Free
The seven strategies highlighted above will help you to sell your art online for free.
All of the strategies take time to produce results, but you will see exceptional progress over time if you are consistent with your efforts.
Popular Craft Marketing Online Video Courses
Are you ready to take your art business to the next level?
Investing in marketing courses and tutorials will maximize your profit and speed up the growth of your business.
You Might Also Be Interested In:
The form you have selected does not exist.
Below are some of the most popular art marketing courses that will grow your online art business:
Most Popular – How to Make a Living Selling What You Make by Megan Auman
Most Popular –  Build a Successful Creative Blog by April Bowles-Olin
How to Build a Business While Learning Your Craft by Megan Auman
You can also join me on:
Learn how to start, grow, and monetize your online art business.
Dedicating time to learn how to market artwork online free will help you to grow your art business and separate yourself from all of the other artists selling art online.