Resin art may be the perfect medium if you're an artist looking for a unique way to express your creativity. Using resin for art is easy to learn and can produce stunning results with minimal effort. Whether a beginner or an experienced artist, this guide will provide all the information you need to get started. Let's explore resin art, the materials and tools required, and how to create beautiful artwork with resin.
Related Post – Secrets To Creating Stunning Art With Resin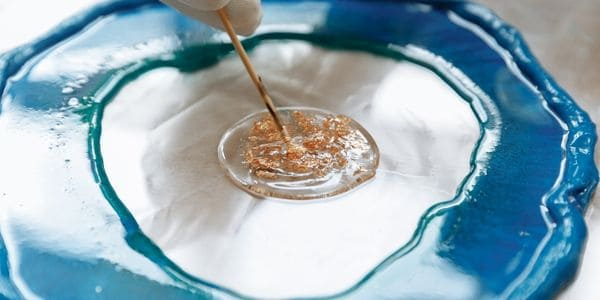 Disclaimer: This post may contain affiliate links. If you make a purchase by clicking on an affiliate link, Nevue Fine Art Marketing may earn an affiliate commission at no additional cost to you. Affiliate relationships include, but are not limited to, Bluehost, Tailwind, Skimlinks, SareASale and StudioPress. To learn more visit Affiliate Link Disclosure Policy
What Is Resin Art
Epoxy resin art is artwork that uses epoxy resin to create stunning resin paintings and sculptures. This process combines two components—resin and hardener—to create a durable plastic material that can then be manipulated into an artistic form. The result can vary from a thickly poured piece of abstract art to intricately painted patterns and designs on canvas or wood panels. Once cured, the resin creates a glossy finish that adds depth and dimension to any artwork it encases.
Materials & Tools Needed
To create resin art, certain supplies must be gathered first. These include epoxy resin (which comes in both low-viscosity and high-viscosity formulas depending on the desired effect), hardener (which activates the curing process of the resin), measuring cup or beaker, stir sticks, gloves (for protection from chemicals), protective eyewear, face mask (to protect from fumes), mixing containers with lids for storing unused portions of mixed resin, cups for holding pigment powders or other additives like mica powders or glitter, cups for mixing pigments/additives with uncured resin before pouring onto substrate surface (canvas/wood panel). You will also need paintbrushes or other tools if you paint or draw directly onto the surface before pouring your mixture.
Best Epoxy For Resin Art
Alumilite Amazing Clear Coating & Casting Resin Kit
Amazing Clear Cast is a top-notch epoxy resin that creates a strong, crystal-clear coating when cured. It can easily be colored with Alumilite dyes, alcoholic inks, or other non-water-based colorants for an array of creative possibilities.
Best Epoxy For Resin Art
Alumilite Amazing Clear Coating & Casting Resin Kit
Amazing Clear Cast is a top-notch epoxy resin that creates a strong, crystal-clear coating when cured. It can easily be colored with Alumilite dyes, alcoholic inks, or other non-water-based colorants for an array of creative possibilities.
Clear Casting Resin by Craft Smart®
Clear Casting Resin is an affordable, water-clear epoxy resin that works well for making jewelry, molds, and decorative pieces. It has a low-viscosity formula which makes it easy to pour and spread across a surface before curing.
Alumilite Amazing Deep Pour and Turning Epoxy
Alumilite Amazing Deep Pour and Turning Epoxy are specially designed for deep pour projects. It has a slow-curing formula that allows it to be poured up to one inch thick with no fear of overheating or bubbling. It also works great for casting and turning pieces, making it ideal for creating intricate shapes and designs with ease.
There are many more brands to choose from but if you are just starting these are three of the most popular.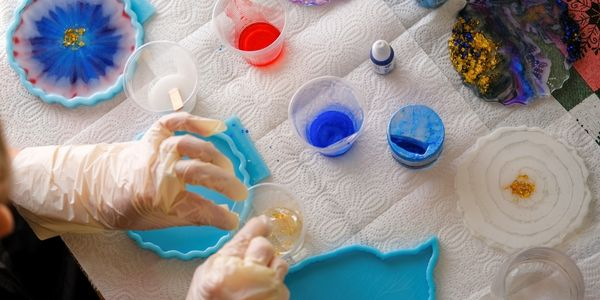 How To Make Resin Art
Once you have gathered your materials, you are ready to start creating.
Here is a step-by-step guide for how to start doing resin art.
1. Prepare Your Substrate
Choose the substrate you want to use (canvas/wood panel) and make sure it is clean and free of dust or dirt.
2. Measure Out Resin & Hardener
Follow the instructions on your epoxy resin kit to measure out the desired amount of resin and hardener mixture. Make sure they are combined thoroughly before pouring them onto the substrate.
3. Add Pigments/Additives (Optional)
If you want to add any pigments or other additives to your epoxy, mix them in a separate container with uncured resin until fully blended before pouring them onto the substrate surface.
4. Pour Resin Onto Surface
Once your pigment/additive mixture is ready, pour it carefully onto the substrate surface using a measuring cup or beaker. You can also use paintbrushes or other tools for more intricate designs.
5. Spread Resin Evenly
Using a stir stick or other tool, spread the resin evenly over the substrate surface to get an even coating.
6. Let Dry & Cure
Allow the resin to cure overnight or until fully hardened before handling it. Cured resin can be sanded and polished for a smooth finish if desired.
7. Enjoy Your Artwork.
Once your artwork is complete, admire your new creation! You can display it proudly as a testament to your creativity and skill in creating beautiful works of art with epoxy resin.
Now that you know how to make resin art, put your newfound knowledge into practice and show off your creative side. Start experimenting with different colors, textures, and techniques to create unique works of art that will be cherished for years. With a bit of practice, you'll soon be an epoxy resin artist.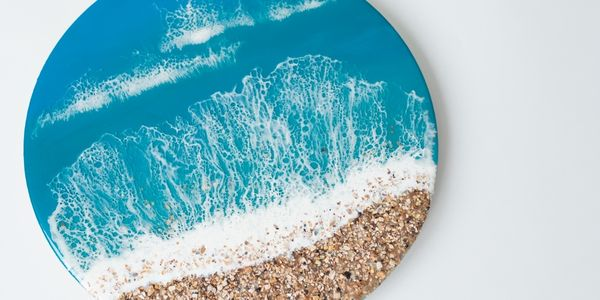 Prepare The Back Of Your Resin Painting Artwork Surface
Preparing the back of a resin painting artwork can seem intimidating, but with the right materials and tools, it's surprisingly easy. To give your artwork a professional-looking finish, sand the surface until smooth with ultra-fine grit sandpaper. Once you've achieved that perfect surface, use a foam brush to apply several thin layers of sealer. This will not only keep moisture out, but it'll also help ensure durability for years to come.
Preparation is key when giving your resin painting the best support and longevity – so don't get intimidated and have fun creating something beautiful.
Calculate How Much Epoxy Resin
Creating amazing resin artwork needs the right craft supplies, and one of the most important variables when creating your piece is measuring out the exact right amount of resin. Measuring how much resin you need to cover the artwork surface is easy once you understand a few math rules. The weight and size of the artwork determine how much resin you need.
To start, measure the length, width, and thickness of your piece in inches and then multiply these numbers together. This will give you the total volume of your artwork in cubic inches. To get the number of ounces needed for coverage, divide this number by two; each gallon of resin weighs approximately 128 oz, so measure accordingly. Now pour the measured amount evenly over your artwork for perfect results.
Which Painting Surfaces Are Suitable For DIY Resin Art?
When creating Resin Epoxy art, it's important to take into consideration the type of painting base you will be using. Wood, canvas, and stones produce beautiful results for this type of art creation.
Wood is a great choice if you prefer a flat surface and a natural look. Canvas provides the strength and flexibility needed when working with resin and epoxy mediums such as oils, acrylics, or glazes.
Stones are an interesting option due to the reflectivity that they can produce in artists' work as well as giving a unique texture to the artwork itself. In any case, no matter what painting ground you choose for your Resin Epoxy Art project, remember to use proper safety gear during your painting process and make sure you have sufficient ventilation so your finished product can look its best.
Which Colors And Dyes Are Suitable For Resin Art
Resin art is a beautiful and popular way to add color and texture to crafts, jewelry, décor, and more. For the best results, it's important to recognize which colors and dyes are suitable for use with resin. Though many traditional pigments can work with resin and will provide vibrant, longer-lasting colors, certain types of pigment powders – like watercolor paints or inks – will fade over time or risk bleeding into the resin layer. Additionally, acid dyes such as acid blues and acid yellows may cause unwanted efflorescence on the cured surface as they react with other chemical components in the resin.
Luckily, a variety of great alternatives exist like epoxy or acrylic paints for surfaces that will be seen directly; ranging from pastels to florescent hues that feature bright undertones even when used in deeper layers of the mixture. Beyond that, mica powder can create stunning basic tones while still maintaining a surprisingly opaque hue when used correctly.
The Difference Between Casting Resin And Epoxy Resin
Cast resin and epoxy resin may sound like the same product, but each of these materials is different. While cast resin is composed of plastic and oil-based chemicals that are designed to set up quickly and harden, epoxy resins consist of plastic and other chemical substances that are synthesized and allow for greater versatility when curing. Used in a variety of craft projects and industrial applications, the former tends to be highly viscous while the latter creates something harder with more clarity when it dries.
Ultimately, whether one chooses cast resin or epoxy will depend on the desired outcome — yet both offer reliable performance at an affordable price.
How To Make Deep Pour Resin Art
Making deep pour and surface pour resin art is simple and fun, and the results can be stunningly beautiful. To begin, start with a prepared substrate like wood, MDF, glass, or canvas, which will provide the base for your artwork.
Once the substrate is ready to go, mix 1 part A-component of a two-part epoxy resin with 1 part B-component according to the manufacturer's instructions. Start by pouring the uncured resin over your prepared surface in layers as needed to create your desired look.
For a deep pour, use thicker sections of cured resin instead of multiple thin layers for maximum depth. When you reach your desired depth for a deep pour resin work, let it sit undisturbed until completely cured – this typically takes at least 24 hours or more.
You may also wish to try creating surface pour resin art – once enough layers have been poured on top of each other to form a single sheet or sheet-like shape, level out the top layer with an artist's putty knife or blowtorch in order to have an even finish.
Casting Further Resin Layers
To cast further layers onto an existing resin piece, you need to carefully prepare the surface and apply appropriate release agents. For example, if you are using epoxy resin then use a window cleaner containing ammonia or rubbing alcohol as a release agent. You should roughen the surface of your initial layer with sandpaper in order to give adhesion points for the new layer. Make sure to be generous when applying the release agents: too little can hinder drying. Once you've finished prepping and applying the release agents, apply your resin as normal, adding in any desired color pigment or other additives which will not cause warping. Leave covered until fully cured and then remove from the form after 24 hours. With multiple layers added correctly, you'll be able to create intricate pieces with more depth than ever before.
Conclusion:
Making resin art is an amazing way for artists to express themselves creatively while producing stunning pieces of artwork. With just a few simple supplies and steps you can be well on your way toward creating something beautiful with this unique medium. So whether you're looking for something new or just want to try something different; try creating resin art – you won't regret it. Make sure to always practice safety when working with chemicals like epoxy resins as they can be hazardous if not handled properly so always take extra precautions when necessary.
Related Posts:
Make Your Art Projects A Snap With These Resin And Acrylic Pour Calculators
Discover the Perfect Acrylic Pouring Ratio: A Guide to Getting the Perfect Fluid Art Consistency