In this giraffe drawing tutorial, I will share the techniques I use to paint giraffes with hard and soft pastels.
Giraffes are the tallest mammals on Earth and can run as fast as 35 miles an hour over short distances. The long neck of this beautiful majestic animal can make it challenging to find the best reference for your composition. This original pastel pencil drawing of a giraffe is a closeup of the mother's head behind her baby.
If you enjoy drawing wildlife, you will enjoy drawing giraffes.
Pastel Painting Supplies
Supplies used for this elephant drawing: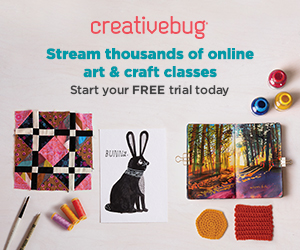 Painting Repeat Patterns by Hand: A Daily Practice by Cleo Papanikolas on Creativebug!
Reference image courtesy of Wildlife Reference Photos For Artists.
I use Clairefontaine Pastelmat Card for all of my pastel paintings. Clairefontaine Pastelmat is acid-free paper with thin cellulose fibers fixed on it, making it possible to add multiple layers of pastels without a fixative. The rough paper allows you to layer and blend pastels easily. If you are interested in adding even more layers, you can use a fixative between layers.
There are many brands of pastels to choose from, but my favorites are listed above.
Before you sit down to draw, you will need a high-quality image of a giraffe. I am using a photo I purchased from Wildlife Reference Photos For Artists. Wildlife Reference Photos is a great site to buy reference photos of wildlife. Once you make a purchase, you have the right to use the reference for your artwork, and you can sell the original and prints of your original artwork.
If you are not planning on selling your art, you can get some great reference images at Pixabay. Pixabay has thousands of royalty-free stock images to choose from. Just make sure you read the royalty-free licenses before selling any artwork unless you own the image or purchase the rights from sites like Wildlife Reference Photos.
How To Create A Colorful Giraffe Drawing With Pastels
This tutorial is more about showing you how to paint realistic animals with pastels. I will show you all of the steps I use to create my wildlife animals. I will not be telling you exactly what colors I will be using because I use up to 60 – 70 different colors for each painting. Instead, I will explain the steps I use for the project.
Step 1
After you have sketched the giraffe on the Pastelmat with a pencil or pastel pencil, start adding the background colors. Most of this drawing will be done with pastel pencils, but I am using PanPastels for the background because you can cover larger areas quickly.
The background of this drawing will be blurred, so only concentrate on adding in the primary colors you see. You will work on the background more when you are finished drawing the giraffes.
Working on the background first will allow you to draw the contour of the giraffe over the background colors more easily.
Disclaimer: This post may contain affiliate links. If you make a purchase by clicking on an affiliate link, Nevue Fine Art Marketing may earn an affiliate commission at no additional cost to you. Affiliate relationships include, but are not limited to, Bluehost, Tailwind, Skimlinks, SareASale and StudioPress. To learn more visit Affiliate Link Disclosure Policy
Step 2
Chose a variety of midtone colors of the giraffe and start mapping out the midtones with pastel pencils. The midtone colors are the colors that are not the lightest or darkest. You will be adding those colors later.
Step 3
Next, draw in the lights areas and darken the spots using a darker brown pastel pencil. Start adjusting the background colors so you can see the colors of the giraffe more. At this point, the giraffe should look three-dimensional.
Step 4
Draw the calf using the same steps as the mother giraffe. Add the midtones, then work from light to dark. Add in the details when you are finished drawing the midtones by using darker and lighter values.
Step 5
Work on the finishing touches. Blend the values of the background and continue to add layers to the giraffe's fur.
More Drawing Tutorials
Step By Step Elephant Drawing With Pastels Elephants is the world's largest land animal. These highly sensitive and caring animals have made them fascinating creatures to be studied, and they play an important role in our ecosystem. Unfortunately, they are at risk of extinction. There is good … [Read more…]
There are many different types of pastels to choose from for artists interested in using pastels as a medium. Fine artists have a choice between soft pastels, oil pastels, and hard pastels. Each pastel will have its unique dramatic effect, available colors, and blendable formula. For example, … [Read more…]
Would you like to learn how to sell drawings online and make money? We have written a post, How To Sell Paintings Online, for artists who sell original artwork and prints online, which has helped many painters build a thriving online art business. Even though the concept of … [Read more…]