Disclaimer: This post may contain affiliate links. If you make a purchase by clicking on an affiliate link, Nevue Fine Art Marketing may earn an affiliate commission at no additional cost to you. Affiliate relationships include, but are not limited to, Bluehost, Tailwind, Skimlinks, SareASale and StudioPress. To learn more visit Affiliate Link Disclosure Policy
Choosing A Domain Name For Your Art Business
One of the biddest challenges emerging artists face is naming their art business and deciding a domain name for their artist website.
The name of your business will be the first impression a person has of your art business, and the first impression paints a picture of what they can expect when doing business with you.
The domain name of your art business website will be the address a person uses to go directly to your online gallery.
The challenge is to keep the domain name short, if possible, and include keywords to help search engines understand what your site offers.
In this post, you will discover valuable tips on choosing a perfect domain name for your business.

A domain name is an HTTP address that people use to access a website. Usually, the domain name is the same as the business.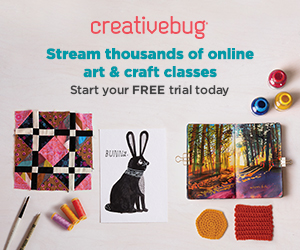 Painting Repeat Patterns by Hand: A Daily Practice by Cleo Papanikolas on Creativebug!
Think of your domain name as being your home address in a phone book.
Your domain name will be the web address that people will use to reach your artist blog or website.
Your readers will put your domain name in the search box, and the home page your website will appear.
How To Choose A Perfect Artist Domain Name
What would be the right domain name for your business?
As an artist, you want people to connect your artwork with your name.
This makes it easy for artists to create perfect domain names for their blogs or website.
Many artists will use their first name and last name or just their last name for a domain name.
If you have a common name such as "Smith," you will want to search to see if that domain name is available.
Adding Keywords To Your Domain Name
Using only your name might not be the best choice for your website name or domain name.
It is essential to make people aware that you are an artist when they come across your name online.
You might want to consider being more specific by incorporating what your business has to offer with keywords like, art, artist, fine art, or paintings.
Adding keywords can quickly be done by including your niche in the domain name.
A website address example would be "YOURNAMEFINEART.com.
By adding "fine art" after your name in the domain, you are letting people know what type of site they are going to be visiting and what to expect when they land on the site.
For an art blog, you might want to consider using something like "YOURNAMEARTBLOG.com."
Adding the keywords "ARTBLOG" in a blog URL will inform your readers that this is a blog about your artwork where they will be able to find the latest information about you and your artwork.
Before Creating An Art Blog
Before you create your blog, take the time to think of your blog's perfect domain name.
You need to make sure that you will be happy with the name long-term.
Ask yourself these questions:
Do I want to use my first and last name or just my last name?
Do I want to use art, fine art, abstract art, etc.?
Do I want to add my niche, such as portrait, oil painting, wildlife, etc.?
Is the artist domain name I want to use available?
Will my artist domain name be easy to remember?
Does my artist's domain name reflect my art business and or blog?
Keep The Name Rememberable
The name of your art business needs to be rememberable if you want people to revisit your site.
Using complicated words or words that have nothing to do with art will be easily forgettable, and when it is time to purchase a new painting, art collectors will visit sites they remember.
If someone who visits your site for the first time can remember your art business name, you got it right.
How To Check If A Domain Name Is Available
It is easy to find if a domain name is available.
Visit HostGator and click on the link Domain.
You will be redirected to a page that will allow you to type in the name and see if the domain name is available or not.
If the domain name is available you will have an option to make a purchase.
Final Thoughts Artist Domain Name
Take some time to think of what the perfect domain name will be for you.
Make sure your domain name is easy for your followers to remember so they can go directly to your website.
You might also be interested in:
How My Blog on Art Marketing Reached 25,000 Monthly Views