Disclaimer: This post may contain affiliate links. If you make a purchase by clicking on an affiliate link, Nevue Fine Art Marketing may earn an affiliate commission at no additional cost to you. Affiliate relationships include, but are not limited to, Bluehost, Tailwind, Skimlinks, SareASale and StudioPress. To learn more visit Affiliate Link Disclosure Policy
How To Create A Painting Series
A painting series is a group of paintings that share a common thread like the same subject, color palette, similar elements.
The competition for painters online is increasing every day, and it is becoming more difficult for artists to gain name recognition on social media platforms and in Google's search.
Successful artists are creative with their art marketing strategies and develop different ways to learn an income from their artistic skills.
Creating a painting series is one way you can build brand awareness online and increase the artwork's value.
An art collector can view a series and know that the paintings were created from the same artist and build a personal connection with the artist because they will better understand the artists' message.
Creating art in a series will not only help you to market your art more effectively but it will also increase the value of your art.
Benefits Of A Painting Series
Creating a series will help you to market your paintings to a smaller group of people.
Marketing a product to a small group of people is known as niche marketing.
For example, it would be easier for you to land a sale if you had a large painting series of horses, and you focused on promoting your paintings to people who have a passion for horses.
Another benefit of painting a series is that it will help you improve your artistic skills, which will increase your artwork's value.
The old saying is true. Practice makes perfect.
You will become more proficient at painting horses if you only painted horses for five or ten years.
Using the same color palette or painting the same subject, you will have you seen as an authority for that specific technique or theme.
For example, an art collector would feel more comfortable investing a large amount of money on a horse painting painted by an artist who has an extensive series of horses than an artist who only painted one horse over their career.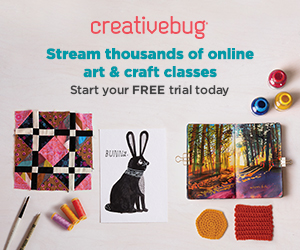 Painting Repeat Patterns by Hand: A Daily Practice by Cleo Papanikolas on Creativebug!
The value of the painting is based on the name recognition of the artist. A horse painting from an artist known as an equine painter will be more valuable than a horse painting from an artist known for painting nautical paintings.
Art Series Ideas
Deciding on a subject matter will be the first thing you will want to consider when planning your painting series.
Pick a specific theme in which your paintings will revolve around.
After you have decided on what subject you will be focusing on, you will also want to determine the size of the paintings and the color palette you will be using for the series.
You can even go further by deciding if your paintings will be verticle or horizontal.
The style of frames you choose can aslo be a part of your art series.
Creating a roadmap for your painting series will help you to stay focused on the end game.
Your journey might change during the process, but your chosen series will keep you focused on your art business goals.
Art Series Examples:
Wildlife
Domestic dogs
Domestic cats
Birds
Equine
Flowers
Nautical
Sailboats
Figure paintings
Mountains
Country
The above are just a few ideas for an art series, and each concept can be narrowed down even further like:
Wildlife – big cats
Sailboats – vintage sailboats
Nautical – Cape Cod beaches
Equine – Clydesdale
Body Of Work Of An Artist
Emerging artists often become impatient when they are trying to build a following of art collectors online.
Like I have mentioned earlier, it is becoming more challenging to build name recognition online because new artists are trying to sell their artwork online every day.
The good news is that art sales are increasing every year, making it possible for artists to make a decent career selling art online.
However, you will have to become a digital marketing master if you want to grow a thriving art business, and a painting series is one strategy you will want to consider doing.
Your paintings have to have a meaning and a message if you want to turn potential art collectors into loyal art collectors.
Painting The Same Subject
Some artists cringe when they think about painting the same subject multiple times.
When you decide on a series, you are not stuck on painting the same thing.
There is an endless amount of wildlife subjects to paint if you want to be known as a wildlife artist.
There is a large variety of horses to paint if you want to be knon as aneqine artist.
You do not only have to paint red roses if you want to be known as an artist who paints flowers.
What Do You Want To Be Known As
As I have mentioned earlier, it will be easier for you to sell your art to a smaller group of people who share the same passion.
How do you find your niche?
Finding a niche is easier than you might think.
These questions will help you to decide your niche:
What do you want to be known as?
What subject do you love to paint?
What subject is the easiest for you to paint?
What subject do you have a personal bond to?
I have a love for animals and have been drawing and painting animals for most of my life.
There was a time when I was only doing dog commissions, but then I wanted to branch out and start creating pastel paintings of other types of animals.
For a year, I only painted birds. Then I decided to do a big cat series.
My path did change over the years, but the central theme is still the same, animals.
I can easily see myself only creating pastel paintings of wildlife for the remainder of my career.
You have to do the same for your art career.
What will make you want to rush to your studio every day to paint?
When you have decided on your niche, you will be able to market your art business more effectively.
Final Thought On Painting Series
A painting in a series is logical, unified, consistent, and has a message and meaning.
Consistent themes make it easy for your fans to understand the message behind your paintings.
Your loyal art collectors will enjoy traveling your artistic journey because they know where you are going.
Seling your artwork online, in art galleries and even art shows will be easier if you exhibit uniformity in your work.
You will be identified as an authority in your niche which will build personal relations with your following.
A large variety of subjects that do not connect with one another will lower the value of your artwork and have you seen as an amateur.
As I mentioned earlier painting the same themes does not have to pigeonhole your art career instead you will be able to master your compositions and you will be able to explore other ideas that relate to your niche.
By crafting a story with your series paintings you will increase the value of your art and you will have an opportunity to increase your revenue stream by selling prints of your originals.
Take some time to really think about how you want to be remembered as an artist.
It doesn't matter if you are into acrylic painting, watercolor painting is pastel painting, the main theme behind your artwork is what will grow your art business.
Would you like to learn how to build a blog that generated over $15,000 a month?
Debbie Gartner explains exactly how she created a blog that makes her six figures a year.
You Might Also Be Interested In:
The form you have selected does not exist.
Popular Art Marketing And Sales Tutorials
Below are some of the most famous art marketing courses that will grow your online art business:
Most Popular – How to Make a Living Selling What You Make by Megan Auman
Most Popular – Build a Successful Creative Blog by April Bowles-Olin
How to Build a Business While Learning Your Craft by Megan Auman
Pinterest Marketing for Makers & Designers by Megan Auman
You can also join me on:
Learn how to start, grow, and monetize your online art business.
Art Business Planners